How Britain's new 'workshop on wheels' will revolutionise track maintenance
Over the next five years, Network Rail will spend and invest £38 billion as part of its Railway Upgrade Plan to deliver better, faster, greener services, and improved punctuality, reliability and safety, while simultaneously keeping the railway open to enable four and a half million journeys to take place, every single day. The railway is the lifeblood on which the nation depends, generating wealth valued at £12.8 billion a year, yet in parts, the maintenance of this crucial infrastructure still relies on technology that fundamentally hasn't changed from when it was first invented in the 1840s. With the delivery of the country's first Mobile Maintenance Train (MMT), Craig Mathys, Programme Manager at Network Rail describes how these exciting and popular new 'workshops on wheels' are set to revolutionise track maintenance, modernise and streamline old-fashioned procedures, while bringing massive cost and time efficiencies and increased workforce safety…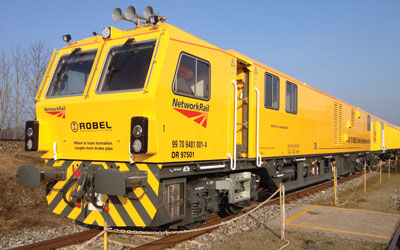 Over the next five years, Network Rail will spend and invest £38 billion as part of its Railway Upgrade Plan to deliver better, faster, greener services, and improved punctuality, reliability and safety, while simultaneously keeping the railway open to enable four and a half million journeys to take place, every single day. The railway is the lifeblood on which the nation depends, generating wealth valued at £12.8 billion a year, yet in parts, the maintenance of this crucial infrastructure still relies on technology that fundamentally hasn't changed from when it was first invented in the 1840s. With the delivery of the country's first Mobile Maintenance Train (MMT), Craig Mathys, Programme Manager at Network Rail describes how these exciting and popular new 'workshops on wheels' are set to revolutionise track maintenance, modernise and streamline old-fashioned procedures, while bringing massive cost and time efficiencies and increased workforce safety.
Grim, sometimes
Picture this. It's a scenario many railway engineers will be all too familiar with. It's 3:00am, dark, cold, wet and windy. The rain is coming down horizontally, visibility is poor and its way below freezing. You're working on the tracks wrestling with a troublesome piece of maintenance, and the clock is ticking towards deadline. If it's not complete on time, you'll be responsible for train delays that could cost thousands. The pressure is on and there's not even the prospect of a hot drink anytime soon. At times, being a railway engineer is a grim task.
A helping hand
Our latest investment in maintenance will help to make all of this a thing of the past, helping to revolutionise the way our engineers work on track. In September 2015, the first of eight Mobile Maintenance Trains (MMTs) arrived from the manufacturers Robel in Germany. We think of it as a 'workshop on wheels' as it has everything our people need to repair and carry out maintenance on-site. Each train will have a workshop, two built-in two tonne cranes to move heavy equipment, multiple power points (400V, 110V, hydraulic and pneumatic) and will be able to carry all the tools and supplies the engineers could need, including equipment to deal with unforeseen repairs and emergencies, alongside a welfare area with kitchen and toilet. But the MMT's key feature is the large, extendable work area that allows access to the track below, provides cover, floodlighting and, crucially, protection from passing trains. Instead of teams travelling by road, loading up equipment into vans and then carrying them to the site, the MMT will simply transport the teams and gear to where the work needs to be done, which not only speeds the process up, but will also reduce workforce fatigue.
Reducing disruption
The MMTs will reduce the amount of disruption engineering usually causes as they may eventually be able to work on a section of track without having to close the railway next to it. This will limit disruption during the day when engineers carry out repairs, while allowing better use of the railway at night for freight trains carrying everything from high street goods and mail, to cars for export and coal for power stations. In the safety of the work unit our engineers can make repairs on a section of track or, using a slow 'creep' mode, are able to make rolling repairs. There are shutter blinds fitted in the upper section of the work unit, allowing natural light and ventilation in good weather, but they can also be closed to offer shelter and protection in bad conditions. The adjustable side walls of the work unit also serve to dampen sound, reducing noise pollution. Furthermore, as the floodlighting is within this housing, it significantly reduces light pollution too; all great news for residents living close to the railway who would ordinarily be disturbed by the commotion of late night engineering.
Investment
So far, we've ordered eight MMTs at a cost of just over £5 million each. But the investment is more than worth it. Based on our predictions, we expect the MMTs to bring a cost saving of around £1 million per year, per train – so they will pay for themselves within years. The business case was based on there being health and safety benefits as well as substantial cost savings on a range of activities. As an example, replacing a broken rail currently takes three shifts if done manually, but if using an MMT it will take just one shift.
Flexibility
Our first MMT will be used purely for maintenance. On an average shift, the team crewing it might be carrying out re-padding, correcting track geometry faults, hot and cold weather preparation; there's a whole host of different tasks it could carry out which is why the flexibility the MMT offers is so important. It's no exaggeration to say the MMTs will revolutionise the way we execute maintenance on the railways, in terms of deployment of staff, the speed of set-up, the delivery of work and the working environment. Not only does it offer an excellent barrier from trains and protection from foul weather, it's a much better environment to work in; warm, dry and perfectly well illuminated with fantastic lighting all the way through. The MMTs reduce the risk of manual handling accidents because of the specialist lifting equipment, and as it allows staff to get to site and set-up more quickly we can compress more work into a shorter period of time. Clean up is now much easier as scrap and rubbish can be taken away after the job, transported in the MMT, instead of another shift having to be arranged to remove it.
Keeping crews going
From a front-line point-of-view, the welfare part of it is absolutely out of this world. Teams are now travelling back and forth to sites on the train, cutting a lot of the fatigue risks, and once they've finished the job, they can have a proper cup of tea and use a proper toilet. It's just the basics, but that's what keeps the team going.
Many tasks on the railway can only be carried out when the railway is closed to traffic – but with passenger numbers growing and demand for freight increasing at record levels, the need to keep the railway open round-the-clock is greater than ever before. These new trains mean our frontline staff can complete a wide range of maintenance and repairs more quickly and efficiently, reducing the need for costly and disruptive closures of the tracks. They'll also keep our people safe, warm and dry and better able to focus on getting the job done.
Fit for their tasks
By the end of 2015, three of the eight MMTs will be working on the network. The first MMT will be based at Darlington, with the second based at Paddock Wood in Kent, and the third based at Derby. The remaining five will be stationed at Basingstoke, Retford, Romford, Peterborough and Horsham. The entire fleet will be operated and maintained by Colas Rail under a three-year deal, and it is intended that each will have their own specialisms and come supplied with bespoke hand-operated tools in order to fit the tasks they will do. The Paddock Wood MMT, for example, will be focused on rectifying rail defects.
Biography
Craig Mathys is Programme Manager Mobile Maintenance Trains at Network Rail. He has 10 years of experience of Maintenance Management and Delivery, with five years of experience in Programme Management. Craig has a Bachelor of Science in Engineering (Electrical), BB & A Hons (Bachelor of Business and Administration with Honours), and NEBOSH National Diploma in Occupational Safety and Health.