How Britain's new 'workshop on wheels' will revolutionise track maintenance
Posted: 9 December 2015 | Craig Mathys, Programme Manager at Network Rail | No comments yet
Over the next five years, Network Rail will spend and invest £38 billion as part of its Railway Upgrade Plan to deliver better, faster, greener services, and improved punctuality, reliability and safety, while simultaneously keeping the railway open to enable four and a half million journeys to take place, every single day. The railway is the lifeblood on which the nation depends, generating wealth valued at £12.8 billion a year, yet in parts, the maintenance of this crucial infrastructure still relies on technology that fundamentally hasn't changed from when it was first invented in the 1840s. With the delivery of the country's first Mobile Maintenance Train (MMT), Craig Mathys, Programme Manager at Network Rail describes how these exciting and popular new 'workshops on wheels' are set to revolutionise track maintenance, modernise and streamline old-fashioned procedures, while bringing massive cost and time efficiencies and increased workforce safety…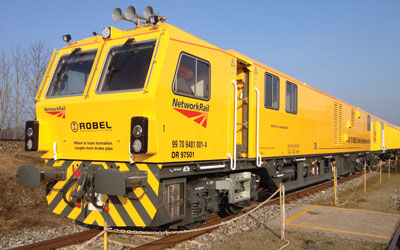 Over the next five years, Network Rail will spend and invest £38 billion as part of its Railway Upgrade Plan to deliver better, faster, greener services, and improved punctuality, reliability and safety, while simultaneously keeping the railway open to enable four and a half million journeys to take place, every single day. The railway is the lifeblood on which the nation depends, generating wealth valued at £12.8 billion a year, yet in parts, the maintenance of this crucial infrastructure still relies on technology that fundamentally hasn't changed from when it was first invented in the 1840s. With the delivery of the country's first Mobile Maintenance Train (MMT), Craig Mathys, Programme Manager at Network Rail describes how these exciting and popular new 'workshops on wheels' are set to revolutionise track maintenance, modernise and streamline old-fashioned procedures, while bringing massive cost and time efficiencies and increased workforce safety.
Grim, sometimes
Picture this. It's a scenario many railway engineers will be all too familiar with. It's 3:00am, dark, cold, wet and windy. The rain is coming down horizontally, visibility is poor and its way below freezing. You're working on the tracks wrestling with a troublesome piece of maintenance, and the clock is ticking towards deadline. If it's not complete on time, you'll be responsible for train delays that could cost thousands. The pressure is on and there's not even the prospect of a hot drink anytime soon. At times, being a railway engineer is a grim task…
The rest of this article is restricted to logged-in members. Login or subscribe free to read it.