High speed handbacks: reducing delays and saving money
Accuracy, quality and speed; how Network Rail are using 'high speed handbacks' to reduce delays and save the British tax-payer money Hundreds of thousands of passengers and businesses across Britain are benefitting from the successful completion of Network Rail's £150m Christmas investment programme as part of its Railway Upgrade Plan, resulting in better, more reliable […]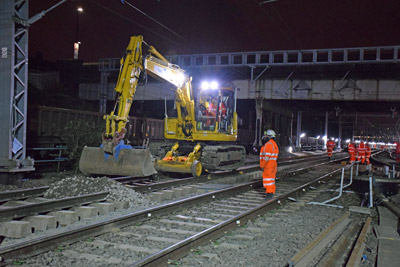 Removing old track at Acton Wells
Accuracy, quality and speed; how Network Rail are using 'high speed handbacks' to reduce delays and save the British tax-payer money
Hundreds of thousands of passengers and businesses across Britain are benefitting from the successful completion of Network Rail's £150m Christmas investment programme as part of its Railway Upgrade Plan, resulting in better, more reliable train services and improved passenger facilities. An extraordinary amount of planning goes into preparing for large-scale engineering projects such as those delivered at Christmas. Planning starts months and sometimes years in advance, looking at train services, passenger impact, resources, equipment, availability of engineering and haulage trains, staff, safety concerns and costs – all interconnecting aspects that must be evaluated and considered to ensure a smoothly and successfully run project that finishes on time and on budget even as Britain was battered by a succession of Atlantic storms. Thankfully, that is exactly what happened this Christmas and the work was a resounding success, prompting transport secretary Patrick McLoughlin to "pay tribute to the men and women who have been working in challenging weather conditions for much of the time." High praise indeed.
High speed handbacks: 
A new, advanced approach to railway engineering
A new, advanced approach to railway engineering, never before implemented on this scale, is one of the reasons for this success, helping to reduce delays for passengers and saving taxpayer-funded Network Rail hundreds of thousands of pounds by allowing trains to run at high speed following the completion of many of its railway engineering projects. Global Railway Review speaks with Steve Featherstone, Programme Director for Track at Network Rail, to find out how this was possible and get more insight into the techniques used. 
"The railway is the lifeblood of Britain, generating wealth valued at £12.8 billion a year. Every single day, over 4.5m journeys take place on the railway in Britain and this unprecedented growth is set to continue so that, by 2020, another half a billion rail journeys will be made each year.
It is Network Rail's responsibility to run, maintain and develop Britain's 20,000 miles of railway tracks and signalling, 40,000 bridges, tunnels, and viaducts, 6000 level crossings, and 18 key stations. But the rail network we've inherited is an ageing Victorian infrastructure, parts of which date back to Brunel's days and are in desperate need of upgrade and modernisation; electrification, signalling replacement, track and ballast renewals, bridge repairs, switches and crossings upgrades, all of which are absolutely essential to running an efficient, safe and reliable railway that is experiencing ever increasing demands on capacity.
At Christmas and New Year over 20,000 engineers, fondly referred to as our 'Orange Army,' worked on over 500 projects nationwide in some atrocious weather conditions as part of the Railway Upgrade Plan to spend and invest £38 billion into the railway over the next five years to deliver better, faster, greener services, with improved punctuality, reliability and safety.
A mammoth strategic, logistical and operational task as it is, the work is further compounded as the upgrades must be completed while still maintaining an operational service to passengers. We must carry out our engineering at night when trains are not running, during bank holidays or weekends when traffic is low, or occasionally side-by-side a live network. Impact to passenger travel is always a top priority and we try to minimise disruption wherever possible. It's a tricky balancing act of carrying out upgrades to improve future travel, without disrupting current services. Either way, the travelling passenger is always at the forefront of our thinking.
Moving forward
Typically, after major track upgrades are completed, we have to put speed restrictions in place for safety reasons – to allow freshly installed ballast to settle. These speed restrictions can cause disruption to passenger journeys and can cause us to incur significant compensation costs as a result of the disruption to train operators' normal service. This Christmas, for the first time on this scale, a number of track upgrades were carried out under a new, complex methodology that allowed trains to start using the railway at high speeds – in some cases as fast as 125mph – as soon as they had finished, thanks to a series of new, advanced railway engineering techniques allowing us to focus on 'high speed handbacks'. Higher speed handbacks were undertaken in the past by British Rail but had fallen out of use over the last 20 years. Network Rail has reinvented these with modern monitoring and installation practices which allow us to deliver higher speed handbacks in parts of the railway in which they had not been achievable in the past.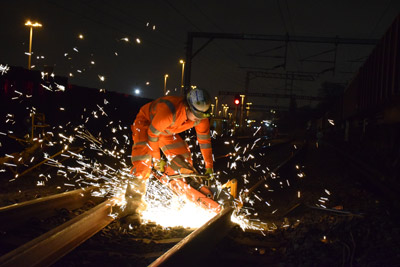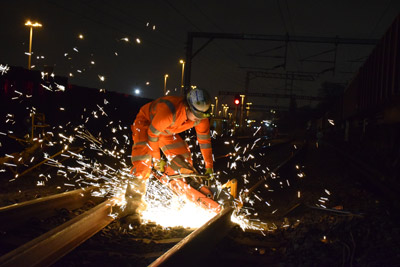 The key to achieving a high speed handback is to ensure track is installed at each stage to its specific design tolerances, that care is taken while tamping to get the track to its final exact co-ordinates and that welding and stressing is completed as part of the core work where sufficient access is available, rather than scheduled for a later date, In short, it's about getting it right first time.
This improved approach delivers significant benefits for passengers, suppliers, Network Rail, train operators and the millions of taxpayers who help fund the railway in Britain:
Safer working conditions as engineers don't need to set up and remove temporary speed boards trackside for train drivers
Faster trains means reduced delays and journey times for passengers
Reduced need for compensation payments to train operators as disruption and delay minutes are reduced
Higher installation quality improves track reliability meaning it needs less maintenance, and reduces the cost of running the railway
Advance techniques – getting it right first time
The increased focus on accuracy and quality and getting it right first time has been the key to achieving high speed handbacks and has led to improved asset reliability and reduced installation costs. A number of advanced engineering techniques have been developed to assist in implementing this approach, including:
3D and 2D dozing and excavation is used to get the bottom ballast stones in exactly the right place, first time, instead of installing the ballast and moving it. This method of working is more efficient and saves time, because if the ballast stones are moved after installation, they are less compacted and require more tamping
Dynamic Track Stabilisation (DTS) and complex machinery such as Variomatic Bomag rollers and triple wackers are used to compact and align the ballast stones to ensure they are lying in a consolidated, uniform and stable position. This provides a solid foundation for the track to lie on. Additionally, we have always used passenger trains to help to consolidate the ballast into place by allowing the trains through at slower speeds, under a 'temporary speed restriction' (TSR) for a period of time. By having right first time construction methods we are now able to end the speed restriction much earlier – reducing a TSR from four weeks to just one.
Placing the track panels in precisely the right place, first time, by making sure the ballast is levelled off to its exact design specification using advanced dozing techniques such as 'total station' or GPS. This remote controls the dozer blades to smooth over the ballast to within 5-10mm accuracy and is much more accurate and efficient than placing the track panels using a tape measure and using the tamper to shift them into place
Accurately measuring the final constructed track position using total station or GPS so that accurate digital data can be supplied to the tamper making the tamping process more precise
Manual packing using hand held tampers on areas of track that cannot be tamped
Fully welded and stressed tracks for line speed
When there isn't enough time to fully weld the tracks, we have new, improved rail clamping systems available to temporarily secure the tracks, including the High Speed Clamping System and 'back hole drilling'. These use long metal plates, drilled and bolted in place to temporarily join sections of rail for up to two weeks, and allow trains to pass at up to speeds of 100mph
We are still evaluating the benefits of these new methods now, but the numbers coming in so far are very promising and match our predictions. Using these techniques, we saved £417,000 in compensation payments to train operators for the switches and crossings, overhead line equipment upgrades and plain line renewal programme on the East Coast Main Line around Doncaster railway station alone. And at Langley on the London North East route, we saved around £175,000 in compensation payments to train operators following the high speed handback of 330 yards of plain line track renewal. These are just two examples, but we predict many more savings across the network as we look to roll out this method of working nationally.
Biography
Steve Featherstone
As Programme Director for Track, Steve leads Network Rail's track delivery programme, including track renewals, enhancement and refurbishment work. Prior to track delivery, Steve was Network Rail's Maintenance Director, responsible for maintaining the national rail infrastructure including, track, signals, overhead lines, telecoms, stations, operational property, lineside vegetation, fencing and level crossings.
Related topics
Related organisations