Mind the Gender Gap: upcoming regulations promise to shed light on inequality in the rail sector
A new report by Osborne Clarke discusses future rules on Gender Pay Gap Reporting in the UK and advises the rail sector on appropriate action.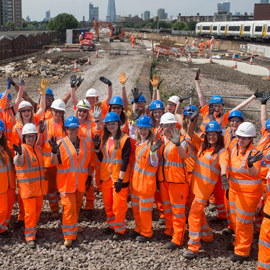 Whilst there is no doubt that the rail industry's culture and practices with regard to the employment of women have improved tremendously over the years, research by Women in Rail  has shown that there is still an obvious and unacceptable gap between the sexes.
This imbalance is now attracting attention from the highest levels. Last November, addressing Women in Rail's annual conference, Rail Minister, Claire Perry, pointed to statistics showing that, despite making up half the population, women made up fewer than one in five people employed in rail, with most serving in low paid and low skilled roles like station assistants.
The government is taking some action to level the playing field. In January, for example, the Department for Transport announced that gender diversity would be at the core of its new skills strategy, with a goal that women will make up 20% of entrants into technical and engineer apprenticeships by 2020.
New rules on Gender Pay Gap Reporting
But the most striking government initiative is its new set of rules on Gender Pay Gap Reporting (GPGR), which are expected to come into force in October of this year. The rules cover all companies in the UK employing more than 250 people. Given the recent growing attention around gender inequality in the industry, they will have particular impact in rail.
What does it mean in practice?
If your company is affected by these regulations then, under current proposals, on 30 April 2017, you will need to take a 'gender pay snapshot' revealing your company's overall mean and median gender pay gap figures, calculated using hourly pay. You will also need to identify the difference in mean bonus pay between male and female employees, over the 12 months preceding 30 April 2017,  and the proportion of men and women in your workforce who received a bonus in that period.
The overall gender pay gap is a percentage. It is calculated by dividing the difference between the average pay of male employees and average pay of female employees by the average pay of male employees.
Once you have taken your pay and bonus snapshot, you will have one year to publish this data, along with the number of men and women in each quartile of your company's pay distribution, on a government portal and on your own company's website. This cycle of annual snapshots followed by a year-long publication window will repeat itself each year from 2018.
How do you know if you're affected?
If your company has 250 relevant employees on 30 April each year, you will need to comply with these rules. At the moment there is no requirement to aggregate employees across a group of companies, so only individual companies within the group which themselves employ 250 or more relevant employees will have to comply.
What are the consequences?
Publishing pay gap figures is certainly the right thing to do, but it does bring challenges.
Internally there may be tricky communications issues to manage and a real risk of losing female talent if figures suggest their career path is blocked.  Gender pay issues may particularly be brought into focus where year on year your data shows no positive movement to equalise pay between the genders.
Externally, large pay gap figures may affect your ability to attract new recruits of both sexes. New entrants to the workforce of both sexes generally have more progressive views about equality and want to work for businesses that demonstrate equally progressive views. Will league tables suggest that your competitors present better career options?
There could be legal consequences, too. If it can be shown that your firm has unjustified gender pay gaps, this will open up your firm to the possibility of equal pay claims from affected staff and claims for sex discrimination. The more you handle employees' sensitive financial data, the more risk there is of mishandling it in some way, opening your company up to data protection claims.
But what if you do not comply? At £5,000, the direct financial consequences of failing to comply with the regulations will be the least of your worries. Rather, the biggest impact will be on your reputation: the government is promising to name and shame those companies that don't follow the rules and your current and prospective workforce will be left to wonder what you are hiding.
What next?
Getting GPGR right has the potential to bring significant value to your company and the industry as a whole. But if you are going to avoid damage to your reputation, your workforce and your bottom line, businesses in the rail industry need to start preparing now.
---
Biographies
Danielle Kingdon and Julian Hemming are Partners in the employment practice at international legal practice Osborne Clarke.