What will the new franchise mean for South West Trains?
Global Railway Review's regular blogger, Graham Ellis, discusses the new South West Trains franchise and how this will affect the choice of trains being used by the operator.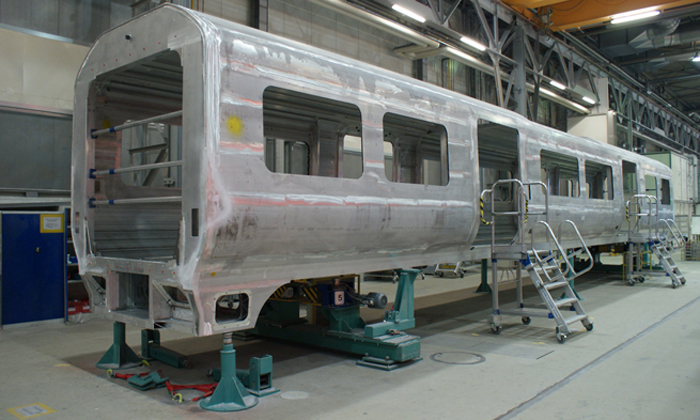 The main body of the Class 707 Desiro City train in assembly (copyright: Siemens)
We have just heard that the bid for the South West Trains franchise has been won by First Group in partnership with MTR from Hong Kong; this will be the first change to this franchise in around 21 years. I am not concerned about that – after all, a change is as good as a rest – but what does concern me is the direction in which this franchise is already heading.
We are starting to hear that the trains ordered by the incumbent operator in 2014 (Siemens Desiro class 707) are to be refused by the new operator as they can get trains cheaper elsewhere.
What I don't understand is how the new operator can refuse these units when they have promised 90 new trains as part of their bid – and we all know that it will take 12-18 months to get these manufactured. What I have been told is that the trains they will refuse to take will actually be in service for around two years, before being returned to the leasing company.
Paying for South West trains
The DfT needs to get a grip of the franchising situation because I cannot see how the cost of the current 'new' South West trains can be paid for by anyone but the passengers, especially if the original franchise stated that the incumbent had to provide new trains within the franchise period, which they have done. Can anyone enlighten me on this? The big problem is that the rolling stock currently being built can only be used on the South Western lines as it is third rail and not overhead power.
The new trains are worth £210 million in total for the fleet of 30 five-carriage trains, which will be delivered by the leasing company, Angel Trains, to the SWT Wimbledon depot in time to start passenger service in June 2017. All units will be extensively tested to ensure reliability and provide SWT staff the opportunity to train on the new locomotives and become familiar with the new systems before they enter passenger service and it was expected that the entire new fleet would be delivered by the end of 2017. Two trains were seen stabled at Clapham Junction in January this year, presumably for route learning and familiarisation etc.
Desiro City trains
The new Desiro City trains will significantly increase the amount of space for passengers and improve on-board facilities. They feature state-of-the-art technology, are lighter than existing fleets and are much more energy-efficient. The trains also feature a light and airy, air-conditioned environment, better on-board train information systems and free passenger Wi-Fi. They also have 'open gangways' meaning passengers can both see through and walk the length of the train much more easily.
The new trains will boost capacity for SWT passengers, allowing more than 18,000 extra passengers to travel in and out of London Waterloo during the busiest times of the day. When they are introduced, it will enable other existing SWT trains to be moved to other parts of the network – thus increasing capacity on other key routes.
What the First-MTR franchise is going to add to an already tight service is as yet unknown, but I look forward to learning more about their plans in the coming weeks and to being able to pass that on to you. Their approach appears to be that they will lease new trains – apparently un-built at this time – at a lower cost than that of the Desiros currently being built.
Comments
In view of this unusual state of affairs I contacted Siemens to see if the rolling stock was capable of being modified for use on other parts of the national network. They told me – and I quote: "The Class 707 is being delivered as 25kV AC capable, fitted with all the wiring and cabling required for 25kV AC operation fitted to all 30 units, but with the major AC specific equipment not fitted (pantograph, transformer etc.). 
"Type testing has been completed in both AC and DC modes and the first two units (707001 and 707002) were transported to the UK in dual voltage configuration so that any UK testing could be completed in AC mode where required. Once it is confirmed that no further AC testing is required, these two units will have the major AC components removed and they will be handed over as DC only. 
"We have secured full homologation for the Class 707 in DC only and dual voltage configurations and we have already received the ORR 'Authority for putting into passenger service' valid for both DC and AC operation."
So it appears that the rolling stock could be converted for use on other lines, but at what cost? And would the SWT seating layout suit other operators, as this stock is used for relatively short distance operations?
When asked for a comment on the new franchise, leasing company, Angel Trains, responded as such: "Angel Trains have been in discussion with Stagecoach and First Group. First MTR South Western Trains Ltd have been announced as preferred bidder and we are currently in a standstill period, and therefore cannot give any specific information about the negotiations."
Related topics
Related organisations