First FLIRT4s – brought to you by BLS
Spacious, speedy and economical, 58 of Stadler Rail's newest generation EMUs will debut on Switzerland's largest regional railway and capital costs are much lower than expected. Edgar Schenk, Rolling Stock Project Manager at BLS, explains more about the rolling stock order placed and the key features of the trains.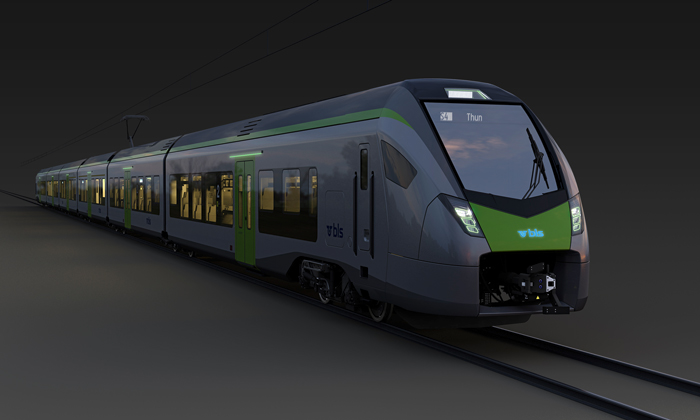 Switzerland's capital region can be deceptive. On the surface are the sightseers' magnets: soaring alps, clear lakes, green meadows and charming cities. Yet beneath the surface, the area around the capital city, Berne, is an economic and political powerhouse, with one million residents and counting.
Both the tourists and locals are demanding ever more commuter and regional transit. The area's railroad, BLS, alone transports 55 million passengers per year in the region, and as of Spacious, speedy and economical, 58 of Stadler Rail's newestgeneration EMUs will debut on Switzerland's largest regional railway and capital costs are much lower than expected. Edgar Schenk, Rolling Stock Project Manager at BLS, explains more about the rolling stock order placed and the key features of the trains. 2030 this number is expected to climb by another third. With this in mind, BLS is keen to boost capacity. Its latest coup is a CHF 650 million order for 58 extra-long electric-multiple-units (EMUs) that will accommodate approximately one-third more riders than the trains they will replace. Starting in 2021, BLS will roll-out one EMU per month for nearly five years – each of them a 105m-long FLIRT4 from Stadler Rail. In addition, with an eye on the distant horizon, BLS has optioned the right to buy a further 82 FLIRT4s in the future.
Spacious
FLIRT4 is Stadler's latest generation of its 'Fast Light Innovative Regional Trains', first built in 2004 and now numbering over 1,000 in Europe, North Africa and the USA. Generation 4 is debuting at 105m-long, rather than the previous generation's 75, so that two of them can simultaneously fit onto the BLS-standard platform of 220m. The duo trains – each with six coaches – boast a joint capacity of 800 passengers; 500 sitting and 300 standing. This soundly beats the 600- to 650-person volume of the trains being replaced, and it also beats their 1. 6m seat pitch with 2. 0m in first and 1. 8m in second class. Seating is vis-à-vis style: two seats by two seats around an aisle in second, and one seat by two in first class.
Swiss law requires that by 2023, at least one gangway per train must be flush to the platform. FLIRT4s go further – all gangways are flush, making entry accessible to everyone. While doorways are not wider than before, entry areas have been broadened to accommodate more standing passengers as well as bicycles, prams and baggage. Also novel for each train is a Catering Zone, with vending machines (for fresh coffee, soft drinks and regional-speciality snacks), counters for food and beverage consumption, plus space for airline-style food and drink trollies. BLS is also considering working with local vendors to offer a hot-meal service on selected routes. For each EMU there will be two toilets – one of them handicapped-accessible – and both will use modern holding tanks, in some cases replacing the old 'drop chute' models. A plentiful supply of power sockets will be available for passengers, and BLS is considering making Wi-Fi available as well. As the FLIRT4s debut, 43 existing trains will be retired. That's right; 58 trains are being introduced to replace 43, to accommodate the ongoing, steady rise in passenger numbers – with even more comfort. Of the 58, 30 will be laid onto regional routes, and the other 28 will carry commuters in and around Bern.
Speedy and economical
Expanding from 75m to 105m as well as serving stop/start commuter lines means that the FLIRT4s will have more 'muscle' than their predecessors. Details are still proprietary, however the new trains will accelerate rapidly and max out at 160km/h.
At the same time, they will consume approximately 10 times less electricity per passenger-mile. Again, the details are proprietary, but what can be said is that there is not one big energy-sparing innovation, rather a panoply of smaller ones: regenerative braking, weight reductions and friction avoidance, with much of the latter two due to the introduction of new materials. All-in-all, these represent another step forward in the evolution of the FLIRT series – not a revolution.
As with the trains they are set to replace, the new EMUs will be one-story, making them more user-friendly for passengers, fitting for the network's many tunnels and less capital-intensive than equivalently sized double-deckers. Capital costs overall are considerably less than expected when this rolling-stock acquisition began. At CHF 650 million, it will still go down as the largest purchase in BLS's history, but this represents a third less than the initial estimate of CHF 1 billion.
And the winner is…
The purchasing process that wound up in May 2017 started in late-2014. Originally, BLS was jointly calling for tenders with another of Switzerland's regional railways, Südostbahn (SOB), which owns and operates a 77-mile network in the country's southeast. SOB then advanced the matter on its own in 2016, ordering 11 trains from Stadler for CHF 170 million. The BLS call initially drew six bidders: Alstom, Bombardier, Siemens and Stadler plus two other undisclosed manufacturers that left the field in early-2016.
Only Bombardier and Stadler presented full, final bids to BLS, and the latter won thanks to both its price and features. Particularly important to BLS was that Stadler's design is extraordinarily light, which not only saves more operating energy but also causes less wear-and-tear on the tracks.
The main manufacturing site for the construction of the FLIRT4 will be Stadler's northeast-Switzerland headquarters at Bussnang, from whence the project will be managed and engineered. Production is expected to begin sometime in 2018.
Biography
Edgar Schenk, business economist and Head of the New Fleet Project, has been employed in the public transport sector for more than 26 years. Before taking up his position at BLS, Edgar worked for the Swiss Federal Railways (SBB) for a period of 24 years, where he headed the division responsible for planning long-distance services.