Bridging the gap between reality and perception of rail freight in America
Since the establishment and development of the rail freight industry, the railroads provide a strong foundation for America to thrive within the global market. Russell McGurk, GoRail President, discusses how U.S. railroads and their suppliers are continually identifying new ways to make the rail network safer and more efficient…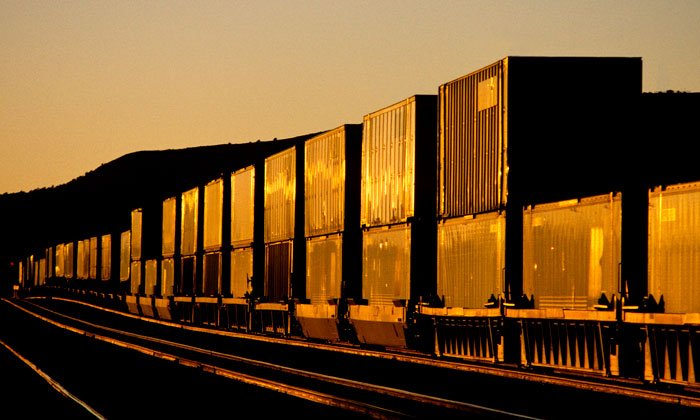 Fifteen years ago, the organisation representing the transportation departments of all 50 U.S. states, the District of Columbia and Puerto Rico released a report demonstrating the immense value1 of America's 140,000-mile rail freight network to the economy and overall quality of life; catching the attention of the leaders in America's railroad companies.
The report detailed how U.S. railroads, which are privately owned companies, annually spend and invest tens of billions of dollars of their own capital to build, maintain and expand rail freight networks that deliver public benefits; supporting jobs and growth in other industries, reducing greenhouse gas emissions, decreasing the demand for trucks and protecting taxpayers from greater highway repair costs.
The problem was that almost no one else seemed to realise. Even majorities of policy elites and 'opinion leaders' inside the Washington Beltway were under the impression that U.S. freight railroads were publicly funded, if not owned outright by the government.
Meanwhile, even as railroads were reinvesting billions of private capital back into the rail network, powerful shippers were lobbying the federal government to re-impose draconian price controls and service restrictions on them.
In response, GoRail2 was formed in 2004 with a mission to educate policymakers about the public benefits generated by privately-owned freight railroads. GoRail set out to demonstrate how national policy decisions, affecting railroads' ability to invest, have real impacts in local communities from jobs and economic development, to air quality and road congestion.
Today, GoRail is a coalition of thousands of community and business leaders, economic development professionals, railroaders, rail suppliers and contractors from across the continent united in the belief that rail freight is a vital component of America's economic future. Our rail advocates convey this message to national policymakers, using local examples demonstrating the importance of rail freight3 to their communities.
A look back provides insight into why today's work is necessary
Prior to 1980, the federal government virtually ran the rail industry in the U.S. under a system of economic and service regulations and tight bureaucratic controls. It didn't work. With the government controlling rail operations and routes and stifling innovation, rail companies could not earn enough revenue to simply maintain crumbling track and equipment. Strategic capital investments in network expansion or improvements were out of the question. Manufacturers, retailers, farms, mines and communities across the nation suffered as a result. A deteriorating rail network meant bad rail service and escalating rail rates. Over 20 per cent of the nation's rail mileage was operated by railroads in bankruptcy and it was deemed unsafe to operate trains at full speed on nearly 50,000 miles of track.
The U.S. Congress estimated that the rail industry's capital shortfall would approach $20 billion by the mid-1980s unless it either nationalised the railroads or implemented reforms allowing them to operate in the free market like other businesses. Fortunately, Congress chose the latter path.
Far from creating monopolies, as some had warned, the decision to partially deregulate sparked a rail freight renaissance in America that fostered real competition and forced railroads to become more efficient, innovative and productive.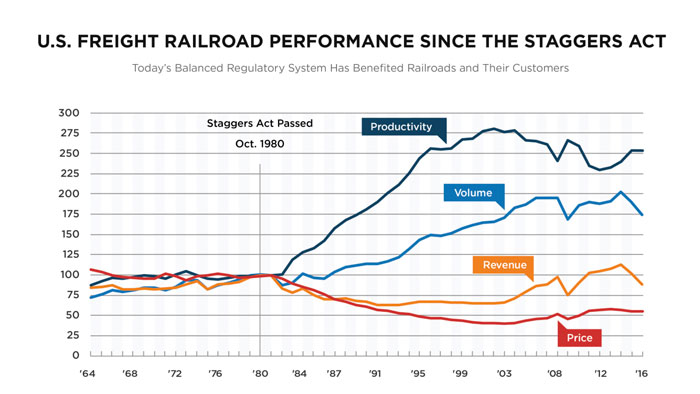 Strict rules remain for the railroads
Today, U.S. railroads still operate under strict federal regulations, but with enough flexibility to make service and investment decisions based on sound economic and business principles. As a consequence, instead of being in a $20 billion hole, as Congress warned nearly 40 years ago, railroads have been spending and reinvesting an even greater amount each year, back into the rail network – totalling more than $660 billion since 19804.
The inability of U.S. policymakers to agree on a source of funding for needed repair and upgrades of U.S. highways, bridges and other public infrastructure makes GoRail's message about the public benefits of private sector investment in rail freight all the more powerful and timely.
We can demonstrate that when more heavy freight moves by rail, motorists benefit from decreased roadway congestion. Taxpayers benefit from less wear and tear on publicly-funded highway infrastructure. The fuel efficiency of trains versus trucks means lower emissions of pollutants and investments in rail infrastructure support over 1 million jobs across numerous U.S. industries.
Nowhere is the value proposition of rail freight more evident than in the rapid development of the North American intermodal network of tracks, roads and waterways and also the efforts to harness the relative advantages of each mode—trains over the long-haul and trucks for short-haul, for example—which creates major efficiencies for shippers and in turn helps keep costs low for consumers.
Robust growth in intermodal freight transport shows how rail companies' long-term infrastructure investments are paying off. Railroads have been working since the 1990s to create the intermodal capabilities they have today, from building new terminals in underserved markets, to expanding track capacity, tunnel clearances and bridge heights to accommodate double-stack trains, to adding new technologies, like high-tech cranes and optical scanners, which allow faster movement and increased productivity.
In this context it is worth noting that 42 per cent of U.S. rail carloads and intermodal units and 35 per cent of annual rail revenue are directly associated with international trade.
According to the U.S. Chamber of Commerce, the North American Free Trade Agreement (NAFTA) has helped facilitate $1.3 trillion in annual trade between the U.S., Canada and Mexico, supporting 14 million U.S. jobs. Overall, international trade supports 41 million jobs across the U.S., including 50,000 rail freight jobs5 worth over $5.5 billion in annual wages and benefits.  
GoRail is helping spread the word about the importance of trade to the U.S. economy and how railroads provide a solid foundation for America to thrive in the global marketplace.
Looking ahead, U.S. rail freight industry investments are driving significant technological advancements and innovation. From positive train control (PTC) installation and implementation to capitalising on emerging software, data analytics, artificial intelligence and autonomous vehicle technologies, among others, U.S. railroads and their suppliers are continually identifying new ways to make the rail network ever safer, more productive and efficient. GoRail is doing its part to make sure policymakers understand this and appreciate the many ways rail freight benefits their communities.  
References
Biography

Russell McGurk co-founded GoRail in 2004 and was appointed President in 2013. He has experience in politics and public policy with over 30 years on Capitol Hill, in state government and political and issue campaigns. He believes that all politics are local and that an informed, engaged constituency can affect the outcome of policy debates at all levels of government.