TEXRail: A sleek new type of train arrives in North Texas
A state-of-the-art premier commuter rail is making its way to Texas – via Hungary. For Global Railway Review, Bob Baulsir – Vice President of Rail and Procurement at the Fort Worth Transportation Authority (FWTA) – provides an overview of what passengers can expect from TEXRail when the vision is complete.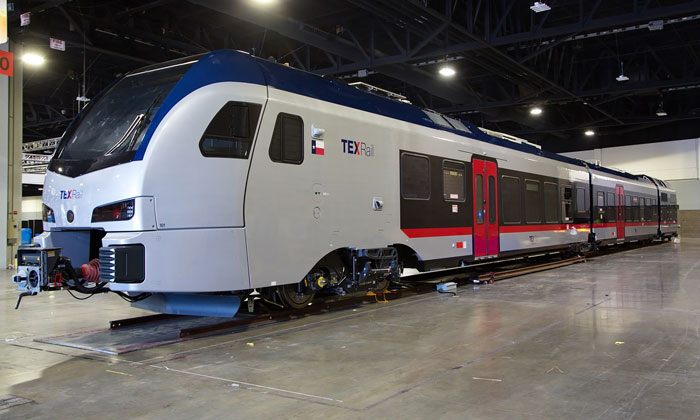 MANUFACTURED by Stadler Bussnang AG, FLIRT 3 trains will operate on the TEXRail line. The exterior of these Fast Light Innovative Regional Train cars are being manufactured in Hungary by Stadler, which is based in Switzerland. The final production and assembly are then completed in Utah as part of the Buy America programme. TEXRail is the first commuter rail line in the United States to feature the FLIRT 3 and travellers who are familiar with European train travel will no doubt welcome this innovative commuter rail option.
TEXRail, a 27-mile commuter rail line, will transport passengers in style between the Dallas Fort Worth International Airport's Terminal B and downtown Fort Worth. Set to open in late-2018, TEXRail will be owned and operated by the Fort Worth Transportation Authority (FWTA), which currently provides a regional bus service, vanpools and paratransit service (door-to-door transportation for disabled individuals) and co-owns the Trinity Railway Express that runs between Fort Worth and Dallas.
About the train
TEXRail will feature diesel multiple units (DMUs) with a mechanical unit in the centre of the train. Designed as a bidirectional train, TEXRail gives the operator the option to sit at either end of the train. The cutting-edge design will feature an all-aluminium body and an articulated train that makes it easy to walk between cars during the ride. Each DMU has 229 seats and a total capacity of 488 with four entry points on each side of the train.
Passengers will enjoy a quiet and smooth ride along all-new rail that is being built along the route and will be offered a premium service that will raise expectations for commuter rail travel in Texas. The trains are Tier IV compliant, which is the highest level for the Environmental Protection Agency for low emissions and environmental sensitivity.
By the beginning of revenue service in late-2018, TEXRail will have eight train sets to be housed at an equipment maintenance facility (EMF) in Fort Worth. Six trains will operate daily while two are kept in reserve at the EMF.
Positive train control will provide enhanced safety by monitoring and potentially controlling train movements to avoid excessive speed or collisions.
At 267 feet in length, the TEXRail train sets are almost as long as an American football field. 
Amenities
TEXRail is a perfect fit for business commuters and recreational travellers. Large overhead racks provide ample space for bag storage and anyone travelling with a bicycle has the convenient option to hang it vertically for safe transport. Level boarding between the train and the platform offers a smooth transition for bicycles, strollers or wheelchairs and – fully compliant with the American with Disabilities Act – TEXRail will have eight designated wheelchair seats in each train.
Seats will be equipped with a drop tray, much like airline travellers experience. To keep up with the smartphone-driven world, each seat will be equipped with a USB charging port and some areas will also feature four-seat work stations, making it ideal to have an in-transit meeting or to play cards with friends.
Furthermore, each train will include a quiet car for relaxing, reading the newspaper or working on a laptop, but, regardless of activity, it's preferable to sitting in traffic behind the wheel of a car.
TEXRail stations
TEXRail has nine stations along its route; two existing stations and seven new. The journey begins at the historic Texas & Pacific Station in Fort Worth, whose building opened in 1931 and was designed in the Zigzag Moderne Art Deco style that was popular at the time. Today it serves as a connection point for the bus service and as the western origin of the Trinity Railway Express service. The building has been renovated over the years, and the upper floors feature upscale condominiums available for purchase, while the lobby houses the T&P Tavern and an ornate ballroom that is frequently rented out for weddings and special events.
Other stations along the route include the Intermodal Transportation Center in downtown Fort Worth, which is the central transportation hub for the area. Most of FWTA's bus routes connect through the station, which also serves the Trinity Railway Express, Greyhound buses, Amtrak trains and a rental car company. Passengers who arrive at this station have the opportunity to explore downtown on either a daily trolley or by using the bicycle sharing station located there.
The first of the two new stations is in Fort Worth, but both are in close proximity to the EMF. Two other stations are in nearby North Richland Hills, where large transit-oriented developments are in progress. New residential options will be available to cater for the hundreds of tenants who clamour to live near convenient public transportation.
Downtown Grapevine is home to what is sure to be a popular stop for travellers with layovers. Located just an eight-minute ride from the airport via TEXRail, Grapevine's station is in walking distance to many restaurants and retail options. The city enjoys a rich history of railroading and is known locally for its wine industry, festivals and vintage train. Grapevine is currently also enjoying transit-oriented development by the TEXRail station, including a 120-room boutique hotel.
In addition to the station at the airport's Terminal B, another station will reach the north side of the airport. This will be a popular stop for employees of businesses there, such as the four large call centres to be set up in that location.
The Arrival of TEXRail
The first TEXRail train cars to be finished in Salt Lake City, Utah, were sent to Atlanta, Georgia, for a stunning debut at the American Public Transportation Association Expo. Regional community and civic leaders joined FWTA leaders in the celebration of TEXRail's arrival. The showcase event marks the beginning of the highly anticipated new era of commuter rail transportation in Texas.
After the event, the train – and another completed set – were shipped to Grapevine for initial testing. Further testing will take place at the EMF, which is almost complete.
Construction is ongoing across the entire corridor with 1,400 field employees who have been trained to work on TEXRail. The average active workforce is 1,000 people in the field each day. The culmination of everyone's efforts will come to fruition very soon. TEXRail is ushering in a new day for the Fort Worth region, and we cannot wait to welcome everyone onboard.
Biography

BOB BAULSIR, Vice President of Rail and Procurement, joined the Fort Worth Transportation Authority (FWTA) in 2014 and brought with him more than 30 years of experience overseeing large transit projects, including rail development, construction, rail facilities and bus rapid transit. Bob has also managed transit system procurement, operations and maintenance facilities, safety and security. Bob retired as General Manager of Administration for the Nashville Transit Authority and the Regional Transportation Authority of Middle Tennessee in 2014. He has worked in public agencies in New York and Ohio, including the Metro Regional Transit Authority in Akron.