ÖBB's Cityjet fleet continues to grow
The ÖBB Group pursues a strategy that includes profitable growth and customer orientation as its main objectives. The train fleet modernisation for local and regional transport makes an important contribution to the implementation of this strategy, hence the reason why ÖBB continues to invest heavily in its fleet – and thereby also in the satisfaction of its customers. Britta Merklinghaus, Head of Business Development for Local and Regional Transport at ÖBB-Personenverkehr AG, highlights the benefits that the new Cityjets are bringing to Austria's railways.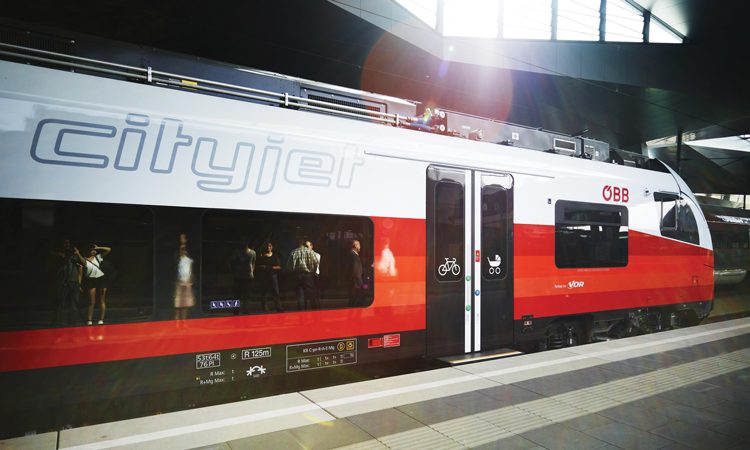 Copyright: ÖBB
ÖBB operates various vehicles for local and regional transport, and some of the train types are reaching the end of their economic lifecycle. The first step toward modernising the vehicle fleet was taken in 2013, when an initial order for 100 ÖBB Cityjets was placed – the first of which has been in operation since December 2015. This allows us to successively eliminate the non-barrier-free vehicles from the fleet over the course of the next few years. By early-2018 Cityjets will be in operation in Vienna, Lower Austria, Upper Austria and Styria. However, this by no means concludes the modernisation of the ÖBB fleet for local and regional transport. A total of 85 further regional trains were ordered at the end of 2016 and will be offering enhanced passenger comfort and a substantial increase in seating capacities throughout Austria as early as 2018.
The 'ÖBB Cityjet' brand for forward-thinking local and regional transport
As a comprehensive Austrian mobility service provider, the ÖBB Group motivates more and more people to leave their car behind and use environmentally-friendly trains instead, with a view to ensuring the long-term preservation of the environment. In order to position ÖBB's regional and S-Bahn trains as a sufficiently attractive alternative and part of a modern lifestyle, ÖBB must offer its customers modern, comfortable trains with an appealing design and well thought-out interiors. With this goal in mind the 'ÖBB Cityjet' brand was developed with its very own design manual – a brand under which ÖBB will operate all of its modern, barrier-free local and regional trains. Customer needs and their comfort are high priorities, so the furnishings are made using high-quality, durable materials that create a friendly atmosphere which is inviting to a wide range of passengers with differing needs. With the tailor-made ÖBB Cityjet, a benchmark for local and regional transport has been created: they offer considerable added value and serve as a model for innovative commuter transport in urban areas.
In order to emphasise the ÖBB Cityjet's close link to Austria, its design is dominated by red and white – the colours of the national flag. The colours are to be used consistently throughout, and at the same time meet all the requirements for visual contrasts as per PRM (persons with reduced mobility) standards. This is reflected in both the exterior design and the decor of the interiors. The entrance doors on the outside; the positions of handles; and possible obstacles such as the edges of stairs, are designed in the colour combination of red, white, grey and black to make them sufficiently visible to persons with visual impairments.
The new trains offer a significant improvement regarding overall accessibility. The ÖBB Cityjet meets the requirements of TSI-PRM, and its design was coordinated and agreed with associations for persons with disabilities. Apart from the visual design, barrier-free access without additional support devices is guaranteed for platforms with a standard height of 550mm above rail level, supported by sliding steps at the two far ends of the train. This allows wheelchair users to access the train by either the front or back entrance. For platforms that are lower than 550mm a lift allows access for wheelchair users. If the lift is needed, this can be communicated using a push button on the outside of the train or an intercom system on the inside.
Two framework contracts to ensure an optimal offer
ÖBB has had a framework contract for 200 electric railcars in place with Siemens since 2010, offering the option to order further Cityjets. However, this framework contract would not be sufficient for the entire modernisation of the fleet of electric railcars used in local and regional transport. At the end of March 2016 a new invitation to tender was launched for a further framework contract to supply 150 electric railcars with a length of approximately 100m and 150 electric railcars with a length of approximately 75m. In September 2016 the contract was awarded to Bombardier Transportation.
These two existing framework contracts with Siemens and Bombardier offer ÖBB the chance to select the best offer depending on its needs, thereby preparing it optimally for the challenges the upcoming years may bring. We foresee that two major factors will contribute to an increased demand for locomotives in the near future. The first is that modernisation of the fleet is urgently needed, as many of the existing vehicles will reach the end of their economic lifecycle over the course of the next few years. The second factor is that railway transportation is becoming increasingly attractive to passengers, due to tariff reforms implemented by the transport associations and the successive establishment of a nationwide interval timetable. With this, the demand for seating capacity will continue to grow further, particularly in Austria's western regions. ÖBB will make the most of this opportunity with its modern and strong fleet for local transport.
The three-part Desiro ML trains provided by Siemens are 75.2m-long. The S-Bahn version with six doors offers 240 seats per train set, while the regional train version with four doors offers 259 seats. All vehicles are 15/25kV multi-system trains by default, approved for journeys in Austria and Germany. Bombardier's six-part TALENT 3 trains are 104.5m-long. Depending on the configuration, they offer between 300 and 350 seats. The four-part TALENT 3 trains are 72.3m-long, offering between 200 and 240 seats per train set. Apart from the 15/25kV options approved for Austria and Germany, there is also the option to buy the TALENT 3 sets with 3kV for Italy or with an authorisation for Switzerland.
The ÖBB Cityjet train sets delivered under both framework contracts are equipped with comfortable, adjustable seats with armrests, tables and footrests; they offer one electrical outlet per double seat; modern passenger information via 15-inch screens; an on-board portal; and spacious multi-purpose areas for prams, bicycles and additional luggage. All Cityjets have a high acceleration force, low energy consumption and reduced lifecycle costs. An optimal use of the interior space ensures that in comparison to previous models, the vehicles offer more seats over the same length. Low-floor entrances guarantee barrier-free access and are equipped with gap bridges at the doors. In addition to a standard toilet, the Cityjets offer a barrier-free toilet, as well as two spaces for wheelchair users and their travelling companions. Special emphasis was also placed on the inclusion of wide portals, open transitions and stronger colour contrasts for customers with visual impairments. Both models can reach a maximum speed of 160km/h.
In December 2016 the first 21 TALENT 3 vehicles were ordered via the framework contract with Bombardier. These are six-part 104.5m-long electric rail cars with approximately 300 seats. They will be delivered as S-Bahn versions with eight doors and will be in operation in Vorarlberg by the middle of 2019.
At the end of 2016, 64 further Desiro ML trains were also ordered through the framework contract with Siemens. These S-Bahn trains with six doors are 75.2m-long and will mainly be operating in Vienna and Lower Austria. After delivery of these 64 Cityjets, the S-Bahn in Vienna, for example, will be fully equipped with barrier-free vehicles towards the middle of 2019.
The state-of-the-art electric railcars delivered under both framework contracts will be operating under the 'ÖBB Cityjet' brand, considerably enhancing the quality of local and regional transport offerings throughout Austria. In addition to this, an invitation to tender for new diesel railcars is planned for the first half of 2017. This will be a further step aimed at equipping the ÖBB's Cityjet fleet for local and regional transport with modern and barrier-free vehicles.
Biography

Britta Merklinghaus, Head of Business Development for Local and Regional Transport at ÖBB-Personenverkehr AG, led the procurement project TALENT3. After graduating from the Technical University of Darmstadt with a degree in Industrial Engineering, she started her professional career in 2008 as a management trainee at Deutsche Bahn. As Project Manager at DB Fernverkehr AG, Britta was responsible for strategic projects in passenger transport. After that she became Head of Department of the central planning division for engine drivers at DB Fernverkehr before joining ÖBB in July 2014.