Signalling developments in Slovenia
In September 2007 the Republic of Slovenia adopted the National Implementation Plan for TSI Control, Management, and Signalisation in accordance with EU regulations. This included the definition of the scope and schedule for the installation of ETCS and GSM-R devices on the Slovenian rail network. For European Railway Review Jože Urbanc, Signalling and Telecommunications Technical Expert at SŽ Infrastruktura, summarises the work and projects involved explaining what has been achieved so far.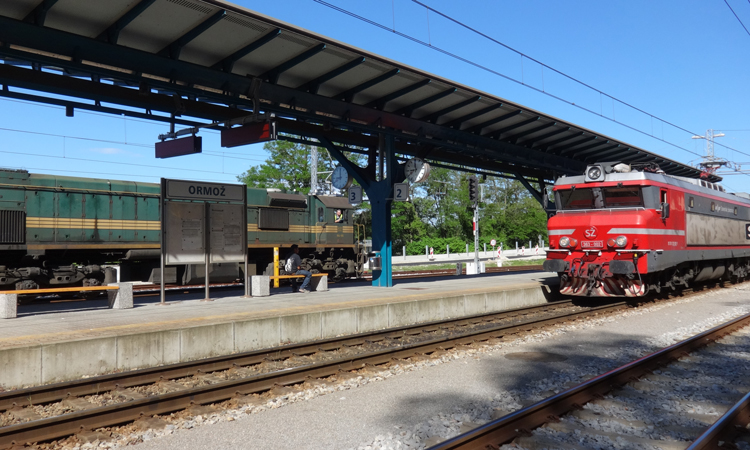 An electric train (front) takes a trial-run on the newly electrified line between Pragersko and Hodoš and meets a GSM-R measurement train at Ormož Station
In Slovenia, the most substantial upgrade to the telecommunications system on the main railway lines was conducted in the late-1990s when the main lines were equipped with a digital dispatcher system built in 1998, in addition to an optical cable network as well as transmission systems. The regional railway lines were not equipped with any optical cable network, but instead were equipped with obsolete analogue dispatcher systems. The systems were built in analogue relay technology and work as independent units. The analogue train radio system (450 MHz) is used for operational communication between dispatchers in traffic management centres and the drivers and was built from 1970 onwards. Different analogue radio systems are used for additional railway services, such as wagon inventory at borders and major traffic nodes; service and maintenance; examination of rolling-stock; and shunting radio.
This was a turning point from a technical point-of-view with Slovenia deciding to introduce a GSM-R system to achieve the following:
Ensure interoperability, including at the level of radio communications systems as well as at the general level of interoperability reflected through the possibility to implement ERTMS/ETCS
Ensure conditions for upgrading the Slovenian railway network with ERTMS/ETCS on both main and regional lines
Unify the radio communications systems into a single system, thereby simplifying the quality of management and giving a relative costs reduction
Establish a single communication platform based on modern technologies that allows implementation of different services throughout the Slovenian railway network (for example video devices; diagnostics; power consumption management; localisation of a train passenger information system; and ticketing).
The Ministry for Infrastructure published a tender in 2009 for the Implementation of a GSM-R System on the Slovenian Railway Network with an objective to prepare documentation. The project was financed by TEN-T funds and the winning consortium was made up of the French company Systra and Slovenian Railway Infrastructure. Over the following two years documentation was prepared in addition to spatial, project and investment documentation, in accordance with Slovenian legislation, plus a preliminary radio design was made as well as detailed technical documentation (System Specifications, Functional Specifications and Technical Specifications etc.). Furthermore, an application form for EU funding for the project execution was prepared.
It is important to note that the project has been successful in obtaining funds. In March 2013 the European Commission issued a decision on the major project 'the Introduction of a Digital Radio System (GSM-R) for the Slovenian Railway Network' which was co-financed from the EU Cohesion Fund (covering 85% of the eligible costs).
The tender for the execution was published in 2012 and successfully completed in the second quarter of 2013. In July 2013 the contract for the execution was signed, with a consortium made up of the Slovenian companies GH Holding & Iskratel (with subcontractors). The subcontractor responsible for GSM-R equipment and integration of the systems is Austrian company Kapsch CarrierCom and execution of works began in September 2013.
In preparation for the technical requirements, special attention was given to the requirements for ETCS (Level 2/3). The GSM-R system will meet the EIRENE requirements for ETCS, such as:
Coverage probability (95% based on a coverage level of 41.5 dBmV/m (‑95 dBm) for speeds lower than or equal to 220km/h)
Capability of supporting data communications for ERTMS/ETCS Level 2/3
Service availability at the BTS site level (minimum 'year-on-year' for each radio > 99.91%) site for sufficient traffic capacity.
We would especially like to emphasise that the GSM-R project will not only bring a new GSM-R system, but also the ability to install ETCS Level 2/3 systems. It is also important to install a new dispatcher system as well as optical cables (and corresponding transmission equipment) along all railway lines. So what has been/will be done?
Installation of more than 1,200km of cabling (optical and power)
Installation of 246 BS + 110 repeaters (antenna towers, containers, power supply, batteries etc.)
Work on more than 250 dispatcher locations
Work on the core network (2 MSC, 3 BSC, SDH & IP equipment)
The set up of three main locations (Ljubljana, Maribor, Postojna) with core equipment for GSM-R and dispatcher system
Establishment of a central control system and management centre (Ljubljana).
Current status and next steps
During the ceremonial opening on 10 June 2016 of the new electrified line between Pragersko and Hodoš, the Minister for Infrastructure successfully made the first call from the train via the GSM-R system and its new dispatcher system.
More or less all construction and installation work is now complete with lots of testing procedures currently in progress (internal tests, end-to-end tests, on the field tests etc.). Additionally, radio measurement campaigns are in progress. The first results are satisfactory.
In the following weeks activities with the Notify Body will begin for the verification of conformity with interoperability requirements. 
We are aware that there is a lot of work still ahead of us but this is a reality when dealing with railway infrastructure – the work never ends! When the project is officially finished, maintenance, system management, upgrades and asset management work begins.
Instead of conclusion
An interoperable rail infrastructure network will be established thanks to Slovenia's GSM-R system which will also be able to follow common operational rules that are arguably even more important for achieving competitive rail services across Europe. Part of the Slovenian railway network is currently equipped with ETCS Level 1 – installed along the main line from the Italian border towards the Hungarian border – and this main line is part of the European ERTMS Corridor D. In the future additional main and regional lines will be equipped with the ETCS system.
In any case, ERTMS (ETCS and GSM-R) is important for the Slovenian and entire European rail network but there are other infrastructure parameters which are essential. We would like to mention a project which has already complete and which is, from a Slovenian railway network position, important.
In 2013 the European Commission confirmed co-financing (from the Cohesion Fund) of a project for the reconstruction, electrification and upgrading of the Pragersko–Hodoš railway line for speeds of up to 160km/h (phase 1 and phase 2).
This project included the electrification of 109km of the existing Pragersko–Hodoš railway line with the implementation of the required reconstruction and upgrading of the line. The entire line section is an integral part of the TEN-T network, i.e. the railway axis Lyon–Trieste–Divača/Koper–Divača–Ljubljana–Budapest–Ukrainian border, representing TEN- T priority project no. 6. The railway axis also coincides with European Transport Corridor V, which is one of the 10 priority railway corridors between the European Union and other European countries defining the future of transport infrastructure development in Europe.
The Pragersko–Hodoš railway line was the only section of Corridor V that has not yet been electrified.
The main objectives that have been achieved are:
Electrification
D4 line category (225 kN/axle or 80 kN/m)
Elimination of level crossings
Speeds up to 160km/h.
To conclude, we would like to point out that ERTMS is necessary, but in itself is insufficient for competitive (interoperable) rail traffic, and we are aware of this.
Biography

Jože Urbanc has worked for the Slovenian railways since the beginning of his career; his first job was as a signalling and telecommunication equipment maintenance engineer. After more than 10 years working in the 'real operational' environment, Jože was promoted to the Head of the Telecommunication Department. His next post was with the Research and Development (R&D) Department, first as a Researcher and then as Head of the department. Since 2009 Jože has been a Member of the GSM-R Project Team.