An optimistic future for contactless ticketing
As the UK Transport Minister Claire Perry announced the demise of the 'tango ticket' by 2018, Principal Policy Adviser Briony Krikorian from The UK Cards Association considers how their Contactless Transit Project could help the UK rail industry achieve this vision.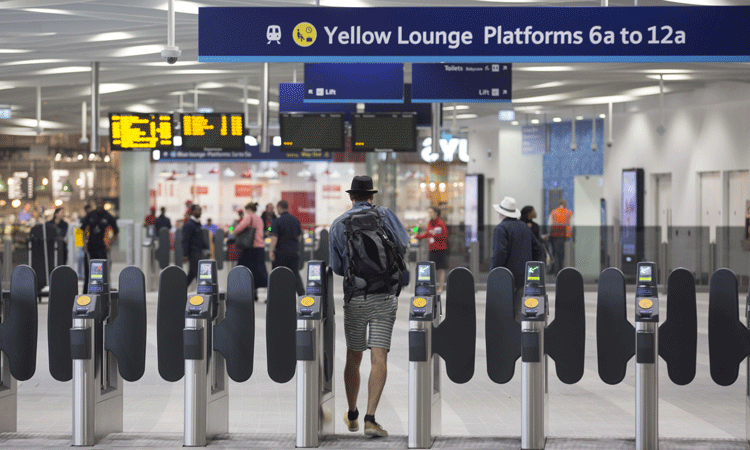 Credit: Network Rail
Whether buying a coffee on the go or paying for a purchase in a convenience store, using a contactless payment card is becoming a popular payment method for millions of consumers in the UK. Customers find paying with contactless to be fast, easy and secure and it has become the preferred way to make lower-value purchases in shops. One in seven card payments are now made using contactless cards and almost half of the debit and credit cards in issue feature this technology. There are also a number of devices appearing that house contactless chips, such as smartphones and watches, as well as wearables like rings and even clothing.
As contactless payments continue to grow in strength, it is natural to extend their use to more areas. At the UK Cards Association our role is to facilitate discussions between the card payment industry and other industries – including retailers, transport and charities – to allow card payments to be adapted for these different environments. In 2010 we started work with Transport for London (TfL) to extend contactless payments to their network, alongside their existing Oyster smartcard systems. In 2012 contactless payments were first launched on TfL buses and in 2014 this was rolled out across the entire TfL network: bus, underground, light-rail and some mainline rail routes.
TfL contactless rollout success
The TfL contactless rollout has been a real success. The most recent figures show that over 300 million contactless pay-as-you-go journeys have been made, on more than nine million unique contactless cards from 80-plus countries. More than one in four TfL pay-as-you-go journeys are now paid for using contactless technology and this percentage is growing all the time. In January 2016 train routes to Gatwick Airport adopted contactless payments, expanding the network and providing a simplified system for tourists and business travellers heading into the capital.
The main reason for the rapid uptake of the contactless proposition is that it is the same price and speed as Oyster, but without the need to top-up the smartcard. TfL has also run an excellent communications campaign encouraging customers to switch to contactless and their customer surveys show once people have switched, they rarely go back to Oyster.
Our aspiration, following the success of the TfL contactless project, is for this transport payment revolution to be rolled out across the UK so that passengers elsewhere can benefit too. A 2014 customer survey of people outside of London, conducted by the consumer research body Transport Focus, found that 69% of people would be interested in using contactless technology to pay for transit.
Since early-2015 we have been leading a project with the rail and bus industries, focused on enabling customers to pay to travel on public transport outside London using their contactless card or a contactless device, such as a phone or wearable. This fits with the UK transit industry vision to move away from paper-based ticketing (currently estimated to be two-thirds of all tickets) to account-based ticketing and to enable customers to complete 'seamless interoperable transit journeys nationwide'. There is a desire to reduce the use of 'bespoke hardware and tickets' and to embrace the technology consumers already have in their hands, such as contactless cards and smartphones.
A range of benefits for train operators
As well as simplifying ticket purchasing for passengers, this would bring a range of benefits for train operators. We would expect customers to make more journeys because buying tickets will be easier. It is also likely that there would be reduced operational costs across the industry owing to the reductions in cash and paper ticket handling and in producing and maintaining as many smartcards.
There is also a clear national and regional political appetite to see an open system like contactless card payments implemented for transit. There are moves to make regional areas more connected for economic purposes – for example, in the so-called 'northern powerhouse' – and a view that this could be facilitated by simpler, faster ticketing options for low-value travel. Tourism agencies also see the value of having an open system for overseas visitors to the UK, who often find the paper ticketing system a barrier to travelling around the UK and are unlikely to buy into a proprietary smartcard system.
To enable train and bus operators to consider whether to introduce contactless payments alongside existing smartcards, we have produced a series of guidance documents. These will deliver a consistent customer experience and ensure systems work across different regions and types of transport. We realise there is not a one-size-fits-all solution to ticketing and we have developed three models to provide for the range of journeys people take.
Model one is for single pay-as-you-go journeys where the fare is known in advance, as would be used on a bus or a tram. Model two is similar to the TfL model where a contactless card or device is used multiple times, and the fare is aggregated at the end of the day. In model three – currently being developed during 2016 – a contactless card or device is associated with a ticket in advance and then used as a form of identity to travel.
Close collaboration with the transit industry has been invaluable to this project and we will continue to work together on the next phase, looking at the third model in more detail. Working with a range of organisations including the Association of Train Operating Companies (ATOC), the Confederation of British Transport, the Department for Transport (DfT), transport bodies in the devolved administrations, card schemes, issuers, acquirers and consumer transport bodies, has been a key part of the project and we are grateful for this cross-industry adoption.
In the next phase of work we will also be looking at the interoperability between the different models, and how the development of a shared back-office could help customers travel seamlessly between transit operators.
While there are challenges to overcome as the project continues, we are optimistic about the future of contactless ticketing. Contactless payments have been a real success since they were introduced, not least on London's transport networks, and we hope the rail and bus industry will continue to be on-board as we embark on this journey.

Briony Krikorian is Principal Policy Adviser at The UK Cards Association – the card payments trade body in the UK representing issuers of debit and credit cards, and acquirers who work with retailers to accept card payments.
Issue
Related topics
Related organisations