Interview Spotlight: Maurice Verheijen, Head of Sales and Operations at Schweerbau GmbH
Maurice Verheijen, Head of Sales and Operations at Schweerbau GmbH, discusses the recent introduction of the first ever high-speed rail milling train to operate on Network Rail's infrastructure.
Why did Network Rail specifically choose the Schweerbau HSM milling train?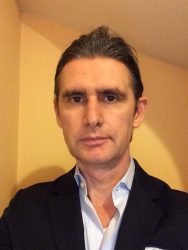 Network Rail had been looking for a high production, cost efficient solution to extend rail life suffering from severe rolling contact fatigue (RCF). Rail grinding had become the established treatment in the UK but, with grinders, takes valuable possession time to treat. Schweerbau had invested in the development, build and operation of a solution from our experience of severe RCF and also operating conventional millers in Germany. In that respect, we were ahead of the game, we took our experience of operating conventional millers and designed our own. We invested in our own solution, which was to develop the world's most productive mobile rail milling train currently on the market, the HSM which cuts up to five millimetres in a single pass to precise target profile and finish not yet matched by either a rail grinding train or conventional miller, making it capable of treating rail with severe RCF more efficiently and accurately. When Network Rail looked at the HSM it had already proven its performance on the DB network in Germany. It has now proven performance on Network Rail.
How does the HSM increase safety and are there any environmental benefits of using the train?
The HSM improves the rail integrity and removes defects, delivering a safer network for passengers and freight. The train is designed so none of our staff are required to work trackside when milling, providing them with a safe workspace. Milling wheels are changed within the train as opposed to conventional millers which change wheels outside the train. The HSM milling wheels are also larger than conventional millers making the process more efficient.
The environmental benefits are a perfect rail profile resulting in less noise, smoother running for traffic and hence fuel efficiency. The machine recycles 99 per cent of the metal it removes.
Overall, the HSM provides the safest, most productive and cleanest rail milling operation currently on the market and we're looking at developing it even further.
What level of feedback has Network Rail provided so far?
Feedback from Network Rail is positive. There is a clear drive within Network Rail to make rail milling a 'business as usual' activity as it is on the continent and Schweerbau continues to support Network Rail to that end. The machine has met all the parameters set by the Network Rail Standards in terms of output quality, cutting depth and production. We are doing what we said the machine could do, and that's positive for all. 
Going forward we have many aspirations to demonstrate our new products to Network Rail. We recognise sometimes the alternative to milling can only be track renewal which is costly and disruptive. We're hoping this opportunity helps us develop an ongoing relationship with Network Rail. We have many other products in progress to add to their portfolio; in particular, the upcoming next generation CM series milling trains for treatment of both tracks and switches.
What makes Schweerbau's portfolio of vehicles stand-out from your competitors?
For more than 30 years, Schweerbau has been one of the main service providers for mobile rail treatment throughout Europe; providing rail profile planing and oscillating grinding services since the late-1980s and introducing the world's first mobile rail milling train during the mid-1990s. In following years Schweerbau developed and introduced further highly innovative technologies including rail milling machines for underground operations and rail rotational planing machines (DHOB technology) suitable for productive, high accuracy and clean machining of rails in turnouts. Our most recent innovative development has been the HSM high-speed mobile rail treatment train, again setting new standards in terms of output, quality and safety.
Today, Schweerbau operates the world's largest fleet of diverse mobile rail treatment trains for both mainline and urban railway systems. Our portfolio of rail treatment trains includes planing, oscillating grinding, milling, rotational grinding, rotational planing and high-speed milling systems.
When it comes to bringing rails back to shape, or keeping them in shape, Schweerbau has all the tools in the box.
Related organisations
Related people