Interview Spotlight: Tim Gray, Managing Director of Hitachi Information Control Systems Europe (HICSE)
Tim Gray, Managing Director of Hitachi Information Control Systems Europe (HICSE), discusses how their products can help the rail industry move forward and what's in store for the company in the future.
What are the main challenges for the rail industry when it comes to signalling design?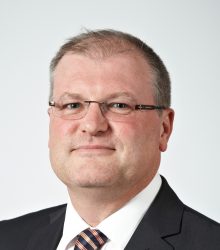 As rail transport demand continues to expand worldwide, it is increasingly important to offer high performance levels. This means guaranteeing traffic flows with minimum disruption and high levels of operational availability, safety and security. New and upgraded networks need to be engineered for resilience against a number of factors, and optimised by interoperable traffic management approaches that maximise system capacity in normal and degraded operation.
The UK has the world's oldest passenger rail network which is stressed as passenger journeys increase over a largely unexpanded route network. The UK Digital Railway programme is seeking a "transformation of the railway through digital train control and signalling" to improve capacity and performance. Amongst many challenges in achieving this vision are the legacy infrastructure and operational rules affecting introduction of modern standards as equipment is renewed, whilst the customer requires increasingly complex functionality systems such as ARS and TMS. At the same time, constrained operational capacity requires phased commissioning during technology introduction. This all leads to additional design work, squeezing scarce skills within the sector and increasing costs during the design cycle. If such progress is to be sustainable, savings will have to be found through more efficient processes.
How does dessan Design help to overcome these challenges?
The projected transport growth requires more efficient networks to be designed and tested plus increased numbers of trains mean that timetables need to be optimised for maximum efficiency.
HICSE's dessan Rail products are developed to improve safety, efficiency and performance. For example, the new dessan Design software enables scheme plan drawings to be easily created and edited using a 'click and drop' library of signalling components. The ability to present outline designs and edit in real time speeds up decision-making when used as part of overall stakeholder engagement and design optimisation. Uniquely the software provides automated validation to check for basic errors, thus reducing rework during the latter design stages and can also export to SDEF, the UK signalling design export format.
HICSE also specialises in high fidelity simulation which can replicate the signalling infrastructure of any part of the rail network. Design errors can be difficult and costly to rectify on a live railway so before committing to, or investing in new or altered infrastructure, it makes sense to make use of this type of technology, especially when engineering and operational options are being considered, to fully test the integrity of a design in a virtual environment.
What are the next steps for HICSE to continue its path to become an innovation partner for the IoT era?
Signalling scheme design is a largely software and data-driven exercise which should easily allow migration to automated design approaches. HICSE will continue to innovate in this area to improve production efficiency via tools for HICSE and third-party project delivery. Data-driven systems running the live railway can also yield valuable information for the wider benefit of the client – so we aim to build on our UK network footprint to extract information from our operational technology (OT) combined with analytical tools from within the wider Hitachi community – this is one part of the global rollout of the Hitachi Lumada platform, so by using our expertise in operational technology and IT, we believe it is possible to create and provide digital solutions that will help to resolve many of the issues faced by our customers. Command and control systems such as traffic management are at the centre of the railway system and are vital in keeping transport systems running seamlessly. We aim to expand our product and service offer into adjacent data-driven areas to enhance the overall customer experience and deliver secure and reliable journeys.
Related organisations
Related people