An interview with Tom Jackson, Vice President of Corporate Marketing, The Greenbrier Companies
Headquartered in Lake Oswego, Oregon, U.S.A, The Greenbrier Companies is a leading international supplier of equipment and services to rail freight transportation markets. In an interview with Global Railway Review, Tom Jackson, Vice President of Corporate Marketing, discusses their corporate commitment and responsibility, investing in robotics, AI and IoT, and what the future holds, including their joint-venture with Saudi Railway Company (SAR).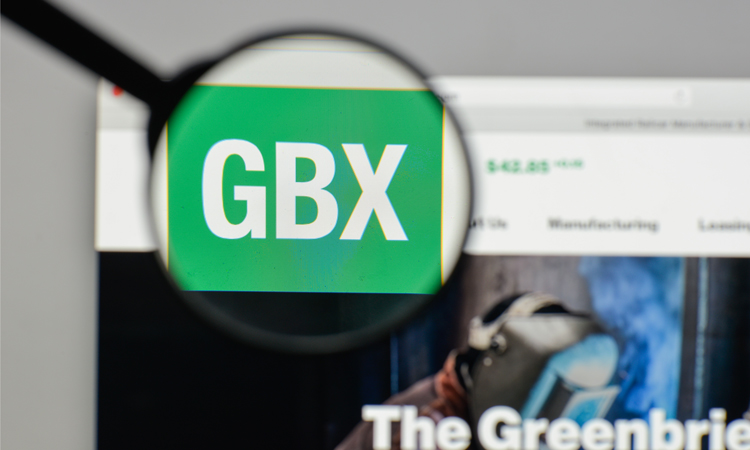 How does Greenbrier ensure quality production and on-time delivery of the railcars it manufactures?
At Greenbrier, our engineers optimise the design of our rail equipment specifically for the commodity being transported. What our customers look for is not only quality of materials and manufacturing, but whether the wagon will simplify their operations, improve safety and be a durable asset for years to come. At Greenbrier, we invest time to understand every aspect of what our customers are shipping: The lading density, angle of repose, loading/unloading takeaway capacity, required internal pressure, number of trips made per month and many more aspects in order to design and deliver a quality product. Our customer is heavily involved in the process, from initial design work all the way through to final sign off. Similarly, our manufacturing teams have quality checks throughout the manufacturing process and are in constant communication with the customer. Over the years, our manufacturing team has built strong relationships with suppliers of quality materials and components. Our supplier network is another key contributor to quality that we constantly monitor and seek to enhance.
What are the main challenges and benefits with leasing railcar fleets?
Leasing rail equipment gets wagons to shippers quickly for the transportation period the equipment is needed. There are several different lease structures available to fit a customer's budget and preferred level of wagon management. Some of our customers prefer to manage their own wagon maintenance and repair. Other customers prefer the ease of a full-service lease, in which Greenbrier schedules and performs all required maintenance to the cars and provides regular status updates on the customer's lease fleet. Leasing is often a good fit for customers looking for a budget-friendly way to explore rail transport. For customers committed to holding a fleet of wagons for a long period of time, often the best path is full ownership rather than leasing. Having said that, it is still very important that you have a capable wagon maintenance team in place to make sure you get the most out of your investment.
How is Greenbrier adapting its products and services in this digital era?
The Greenbrier Companies continues to invest in proprietary technology to provide actionable, real-time fleet management services to our customers. Our fleet management team looks at innovative uses of image recognition tools to give customers access to more information on the status of their rail fleet. Our management services team provides fleet management for over 350,000 wagons in North America and provides industry leading regulatory and mechanical expertise. The actual wagons themselves haven't changed much over the past decade; however, with e-commerce companies such as Amazon shifting the worldwide logistics landscape, our process improvement teams constantly look at necessary product adaptations. The future is being shaped by digital technology all the time and the more mindful we are of that fact, the better we can plan for it.
Additionally, Greenbrier has embraced robotics, artificial intelligence (AI) and the Internet of Things (IoT) in our manufacturing processes around the world. Much of our 22,000 annually produced wagons are manufactured by cutting-edge robotics. This ensures the highest quality, efficiency and the safest environment for our 14,000 global workers. We incorporate AI in our manufacturing systems to develop machine learning processes that quickly identify mistakes and ensure the highest quality. We also utilise IoT where our various machines can communicate and provide real-time information to customers on their products.
How does Greenbrier work to exceed customer requirements and expectations?
Greenbrier began as a wagon manufacturer for just a couple of customer segments. From there we've grown to a worldwide provider of wagon equipment with over 110 unique designs. During our journey, we've realised that customers need more than just an equipment supplier. Most of our customers' businesses are complex, multi-national enterprises with international supply chain needs and challenges. Where Greenbrier goes above and beyond for customers is by being able to offer our Integrated Business Model (IBM). If wagons are properly maintained, they can be a 45-year asset. The Greenbrier IBM has deep expertise in servicing, managing and repairing wagons throughout those 45 years. We are the only global supplier that provides a lifetime service. Whether you have an old fleet, need new wagons or have a fleet from another wagon builder, Greenbrier can help amplify the return you receive from your investment.
What level of training and development do Greenbrier engineers receive during their career?
Greenbrier engineers have been at the forefront of advances in freight wagon and marine barge design and technology for more than 40 years. We combine a wealth of experience with expertise in design, analysis and production that goes far beyond drafting and testing. Our engineer team is changing the way railcars, wagons and barges are designed and built – throughout the industry.
The Greenbrier engineering team receives development opportunities throughout their careers. Being an international wagon builder, Greenbrier connects engineers with diverse skills and experience from around the world to focus on solving customer problems. Greenbrier values the engineering skill set and has promoted several individuals with engineering backgrounds to senior leadership.
How important is it for Greenbrier to exhibit at global trade shows?
Global interest in moving freight by rail has never been higher. Several countries have committed billions towards diversifying and broadening their economies, with rail freight a big part in that. China's One Belt and One Road programme is also driving a focus on global rail transport like never before. For Greenbrier, global trade shows like the Middle East Rail are a great opportunity to showcase our history, identity and commitment to help these countries achieve their goals of a stronger freight rail industry. As private railway operators grow their fleets and expand their operations, global trade shows and events provide the perfect meeting ground for our operations experts to build long lasting relationships with railway operators from growth markets. At Greenbrier, we look for ways to help customers in global markets achieve positive outcomes. Transporting freight by rail is a complex endeavour and working with a trusted partner can make all the difference.
What will Greenbrier be showcasing at Middle East Rail 2019?
At Middle East Rail 2019, Greenbrier will be highlighting the value of our Integrated Business Model (IBM) as well as focusing on a few of our wagon designs that will make the biggest impact in the GCC region. The Greenbrier IBM has a proven record of improving customer outcomes in North America, South America, Europe and the GCC by providing high quality wagons, as well as supporting services throughout the wagon's lifecycle. By working closely with our customers through every business cycle, we've been able to anticipate customer needs and maintain relationships as a trusted resource. The GCC nations are poised to greatly expand their rail freight transportation in the coming years. The backbone for any rail network is the intermodal double-stack wagon and Greenbrier has been the global leader in container freight movement since the early 1980s. In fact, we have supplied over 75 per cent of the world's intermodal wagons. Senior Vice President & President of Greenbrier International, Jim Cowan, will address attendees on the strategies and benefits of Transforming Freight Networks. Beyond intermodal wagons, Greenbrier remains a global leader in the quality design and manufacture of wagons for service in ore, agriculture commodities, petrochemicals, plastic resin pellets and a host of other diverse commodities.
To what extent is Greenbrier taking its corporate responsibility seriously?
As a global citizen, Greenbrier takes its role as a corporate leader very seriously. In all aspects of corporate social responsibility, Greenbrier is mindful of its impact and takes a proactive stance on the health and safety of its employees, customers, industry and the planet. At the highest level, rail transport is over four times more fuel efficient than trucking and offers many additional benefits, including reduced congestion and safer roads and highways. We also aim for continuous environmental performance improvement. We manufacture efficient, durable freight wagons and barges that have sustainable advantages over other modes of transportation and have reduced emissions at some facilities by as much as 60 per cent over 20 years.
At the local level, Greenbrier is also aware of and active in the local communities in which we operate. Through our shared commitment we achieve great things. We believe in lending a helping hand in the communities where we operate and strive to be a responsible corporate citizen who leads by example in charitable giving, volunteering, competitive pay and job training.
We strive to continue to improve our operations and performance as we endeavour to keep all our employees safe. It is the responsibility of management and of each employee to create and maintain a safe, clean and healthy work environment. We strive to identify, evaluate and control risks.
Also, ethical conduct is the basis of our relationships with one another. A sound ethical foundation promotes a discrimination-free work environment that fosters self-respect, loyalty and dedication.
What can we expect to see from Greenbrier over the next 10 years – what does the future hold?
The future looks bright at Greenbrier primarily because rail freight has such positive momentum for several growth markets. As the global freight network becomes more integrated, Greenbrier is excited to work with current and future customers towards building stronger supply chains.
In 2018, Greenbrier and Saudi Railway Company (SAR) announced a joint-venture (JV) investment totalling one billion Saudi riyals (USD $270 million) in the Saudi rail industry. Greenbrier and SAR intend to establish a JV in Saudi Arabia to execute railway projects and supply wagons for profitable growth of the Saudi rail freight market.
The Greenbrier-SAR JV will establish a new multi-modal business centred on creating and maximising existing and new rail routes for freight movement throughout the Kingdom and, ultimately, the GCC region. The JV will invest in assets and infrastructure required to expand profitable rail service offerings to the Saudi market. Based on achieving identified milestones, Greenbrier will provide the JV up to $100 million USD (370 million Saudi riyals) in new wagons, lift equipment and other terminal investment necessary to place freight wagons in revenue service, and will operate intermodal and other freight terminals.
Using its investment syndication model, Greenbrier will facilitate raising an additional $170 million USD (630 million Saudi riyals) in collaboration with SAR and international public and private investment communities. The JV will operate similar to the model of TTX in North America on car supply and can expand to serve GCC nations. Greenbrier will establish a Saudi-based manufacturing/assembly presence.
Pooling brings several benefits to SAR including technology and knowledge transfer, advanced wagon designs and efficient network service design. The JV will promote supply chain efficiencies by increasing local content, reducing the capital burden on SAR, lowering SAR's operating costs and improving the railroad's competitiveness with highway transport. Freight traffic in Saudi Arabia is predominantly transported by truck or by pipeline. The JV will help SAR meet its customers' needs by providing well-maintained wagons in an efficient, network system for general freight traffic. 
The JV is consistent with and will serve the Kingdom's Vision 2030 National Priorities, the National Transformation Programme Strategic Objectives and the National Industrial Clusters Development Programme adopted by the Saudi Arabian government. The JV is intended to create a self-funding business, following the North American railroad model, which will reduce reliance on government funding for the rail sector over time and enhance value.
Our solid foundation in North America, South America and Europe provides a strong basis to be a leader in the GCC market for the long-term.
Biography

Tom Jackson is Vice President of Corporate Marketing at The Greenbrier Companies and has more than 25 years of experience improving profitability within the transportation industry. He possesses extensive knowledge of primary and secondary market research, industry analysis and managing corporate competitive intelligence. At Greenbrier, he oversees the organisation's marketing and sales initiatives in North America, Europe, the Middle East and growth markets such as Turkey and Ukraine. The communications team is involved with advertising, trade show exhibitions and direct digital marketing to railroads, shippers and leasing customers, while the analytics team oversees the global market analysis, customer loyalty programme and product development process. Prior to joining Greenbrier, Tom directed the marketing efforts at Estes Express Lines, the largest privately held LTL trucking firm in North America. At Estes, he successfully authored and developed the corporate five-year strategic plan. Prior to Estes, Tom held executive leadership roles at YRC Worldwide, Roadway Express and FedEx. Tom holds advanced degrees and executive certificates from Ashland University, University of Chicago Booth School of Business and the University of Akron.
Related organisations
Related people