HS2: How will it affect the UK's biggest cities?
By 2033, the UK government hopes a new high-speed rail line will connect London with Birmingham, Manchester and Leeds. Anticipation for the High Speed Two (HS2) link is already having a huge effect, driving up investment and increasing property prices within the major cities along the planned route. Rail Industry Writer, Natalie Wilson, explores how HS2 will affect the UK's biggest cities.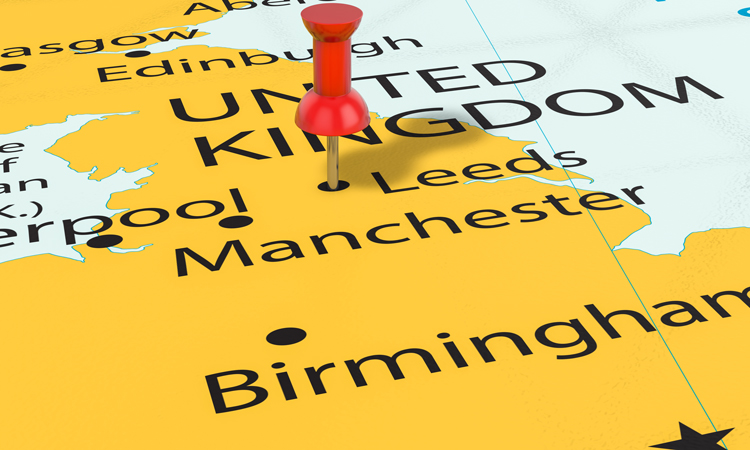 Leeds
Leeds is one of Yorkshire's biggest cities and is sure to be a city to benefit the most with the arrival of HS2, increasing and improving the transport links to Birmingham, London and the East Midlands. Leeds is already a huge financial and legal hub, coming second only to London, and has a population exceeding 770,000. The city's popular university will likely become an even more attractive place to live, study, work and commute from when, or if, HS2 is fully finalised.
This prospect is already having an impact on house prices in the area. According to recent research, house prices in Leeds are set to rise by around 10 per cent over the next five years. An increase in demand for homes to both buy and rent, coupled with the current shortage of available housing, is driving up house prices and rent across the region, including Bradford, Harrogate and York.
But not everyone in Leeds is happy about the HS2 proposal. In particular, those who live in the surrounding countryside, who are in fear that the greenbelt will be destroyed or their towns and villages swallowed up by the railway. A lot of the opposition in Leeds has been formed around the social and environmental impact that it may cause to surrounding villages and communities.
To try and avoid this, the government has set up a compensation scheme for those who find their properties being affected by HS2. Depending on the location of the property and which phase the homeowner may be affected by, some people may be able to sell their home to the government at its "unaffected" value or receive a lump-sum payment.
However, everything is still currently up in the air regarding the Leeds HS2 development. The supporters continue to promote the benefits of a nationwide rail scheme, whilst the critics continue to focus on the downsides. But it is in the interests of everyone to reach a conclusion either way.
Manchester
One of the original arguments for the HS2 scheme was to bridge the gap that sits between the north and south, to bring jobs, homes, investments and economic growth to cities other than London. The Northern Powerhouse and, in particular, Manchester became one of the key focal points for the Northern resurgence, along with other cities such as Leeds, Liverpool, Sheffield and Newcastle.
In recent years, Manchester has undergone some rather significant regeneration work and is now classed as the UK's second city, a title previously held by Birmingham. Home to two huge universities, two of the world's biggest football teams and one of the UK's biggest shopping centres, there's certainly a huge draw to the city.
With many key attractions, the city is a popular spot for international tourists. Furthermore, Manchester is renowned for engineering, science, culture, music and transport, with a long industrial history formed mainly from its integral role in the Industrial Revolution.
Manchester is known for being an appealing place to live, with bustling inner-city apartments and countryside detached homes on offer for a fraction of the price that you would find in London. Currently, the average asking price for a home in Manchester is £175,000, which is a huge appeal for first-time buyers and young professionals. With an efficient HS2 link, there is likely to be an increase in those looking to settle in Manchester permanently.
Manchester is a bustling and thriving cosmopolitan city which has the ability to compete with the biggest cities in the world. This is why Manchester is set to form such a huge part in the HS2 route, connecting London and the northern regions on a much bigger scale than previously seen.
When complete, the journey time from Manchester to London will decrease from 127 minutes to just 67. This huge reduction will mean that commuting to and from the capital will be quicker than the routes currently used for getting to Sheffield, Leeds and Liverpool.
Birmingham
The initial development of the HS2 line is focused on Curzon Street Station, Birmingham's main train station, which is also undergoing revitalisation in order to serve as the main access hub for HS2 in the city. This redevelopment process alone has introduced a whole host of new jobs in the city. As well as this, it also acts as a vote of confidence and is a tangible example of a guarantee from the government to strengthen Birmingham.
As part of the plans for the city, HS2 will also join both contemporary and new developments, including Paradise Birmingham, Arena Central and the Birmingham Smithfield Project, which are a collection of projects that represent a new level of inward investment. Unsurprisingly, HS2 is also having a huge impact on property prices in Birmingham. The average house price in Birmingham is up by around eight per cent since 2017 and is set to rise further, meaning that buyers are jumping at the chance to buy in a location which is being seen as up and coming and affordable.
HS2 represents a new and exciting development for London commuters who are looking to escape the expensive hustle of the city with many flocking to Birmingham, turning the city into a commuter hotspot pretty much overnight. HS2 will slash the commute time between the capital and Birmingham to just 49 minutes, making the city a new and accessible work market for many professionals.
It isn't a stretch to say that Birmingham and HS2 are already showing promising signs of starting a modernised 'industrial revolution'. The city has already solidified the position of having one of the biggest professional, financial and business hubs in the UK, other than London. With Phase One of HS2 set to be complete by 2026, Birmingham will have quick and direct access to one of the biggest and most important cities in Europe, no doubt making it a hotspot for investors around the globe.
Related topics
Related regions
Related people