HS2 and NPR will be catalyst to realise ambitions for Greater Manchester growth
Senior industry figures including senior politicians in Greater Manchester were joined by Northern Powerhouse Minister Jake Berry MP to learn the extent of plans for high-speed rail (HS2) and its role in regenerating the region.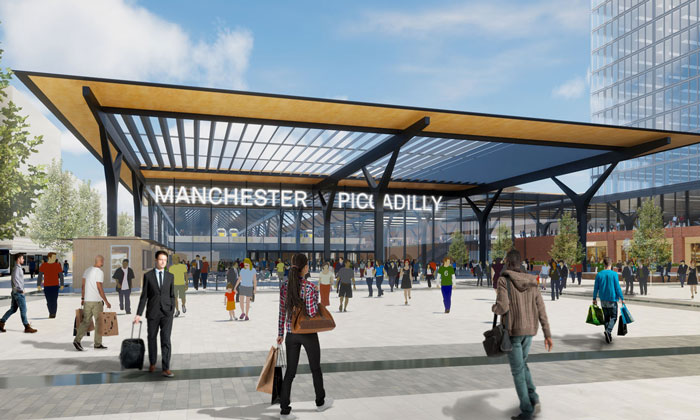 Greater Manchester's senior politicians, business leaders and economic experts were today joined by Northern Powerhouse Minister Jake Berry MP to launch the region's ambitions for high-speed rail (HS2) and the crucial part it will play in stimulating growth and opportunity across the north.
The strategy – 'The stops are just the start' – details how HS2 and Northern Powerhouse Rail (NPR) will deliver new jobs, new homes and new opportunities for Greater Manchester at the heart of the Northern Powerhouse, thus helping to achieve the growth potential within the north of England. It stresses the importance for Manchester Piccadilly to 'build it once and build it right' – maximising benefits and minimising disruption by turning the station, and a new station at Manchester Airport, into true integrated transport hubs that link international, national, regional and local services.
The strategy focuses on four key areas, designed to support the economic growth potential of both HS2 and NPR:
Station design and infrastructure
Improved transport connectivity
Regeneration of land around the stations
Investment in people, skills and employability.
If Greater Manchester's preferred option of a tunnelled high-speed facility at Manchester Piccadilly is adopted, then the surrounding area is expected to provide 40,000 new and sustainable jobs, 13,000 new homes and close to a million square metres of commercial development.
Linking HS2 and NPR at Manchester Airport
The arrival of HS2 and NPR at Manchester Airport also offers the opportunity to create a brand new station that both respects the natural setting and further develops the area. It offers the possibility to create a new diverse neighbourhood with homes, offices and hotels, as well as the potential for 20,000 new jobs over the next ten years.
High-speed rail and improved north-south and east-west connectivity is a fundamental building block to improving quality of life and promoting the north as a place to work, study, live and invest. HS2 is set to arrive in Greater Manchester by 2026 with full operations in place by 2033. The business case for NPR is set to be complete by the end of this year.
Business leaders from major companies, university representatives, community leaders and officials from the Greater Manchester Combined Authority were informed how both Manchester Piccadilly and Manchester Airport rail stations could be redeveloped to maximise the future opportunities for jobs, housing, growth and local regeneration.
The main aspiration for the region is the improvement of journey times, both between the major northern cities and in their connections to London. NPR will connect Manchester to Liverpool, Leeds and Sheffield in around 30 mins and to Newcastle and Hull in under 90 mins.
HS2 will transform the capacity and connectivity of Britain's rail network – not only by providing new, fast travel options between towns and cities and to Manchester Airport, but also freeing up significant capacity on the existing rail networks, enabling more people and goods to be moved by rail.
New integrated stations at Manchester Airport and Piccadilly linking HS2 and NPR will mean Greater Manchester becoming a truly integrated transport hub linking international, national, regional and local passengers with fast interconnected public transport networks including planes, trains, trams and buses.
In the recent Industrial Strategy green paper, the UK Government acknowledged that for too long, the country's economic growth has been too concentrated in London. For the UK to reach its full potential, all cities and regions need to perform at the highest level, particularly as the country moves to reshape its economy in preparation for leaving the European Union.
Commenting on the Governments investment plans, Jake Berry MP, Northern Powerhouse Minister, said: "This Government is spending more than any other in history – over £13billion – to upgrade the transport network across the Northern Powerhouse. 
"The HS2 Growth Strategy highlights the extensive opportunities and benefits that HS2 and Northern Powerhouse Rail will bring to the region. 
The step change in connectivity that will be delivered by both HS2 and NPR is essential for supporting the ambition for an increasingly successful Northern Powerhouse economy, with Greater Manchester at its heart. These major transport investments will support a doubling of the economic output of Greater Manchester to circa £132 billion by 2050. 
Greater Manchester is a booming city region and with a growing population and increasing employment market that will require an additional 227,000 homes in the next 20 years and necessitate more than 600,00 additional public transport journeys per day.
Greater Manchester Mayor Andy Burnham, said:
"This strategy shows how HS2 could bring huge benefits to Greater Manchester and the whole of the north. But we will only realise the full potential of HS2 if we redevelop Piccadilly in the right way, by maximising both the space for development and the frequency of cross-northern services. I will work constructively with the Government to make sure we get these decisions right."
Seven regeneration and growth zones have been identified that will bring 19,000 jobs within a mile of the new integrated station. Sir Richard Leese, Leader of Manchester City Council, said:
"Investment in HS2 and Northern Powerhouse Rail is a once-in-a-century opportunity, not just for Manchester and Greater Manchester but for the north of England as a whole. It has been estimated that if the full potential of the north is unlocked an extra 850,000 jobs can be created by 2050 and improved transport connections are absolutely fundamental to that. That's why getting this station investment right is so crucial and that's why we say the stops are just the start. The Council has developed strategic regeneration frameworks for Piccadilly and neighbouring Mayfield using its considerable experience to set out a vision for delivering jobs and homes." 
Building on a sound base
Manchester Airport is already the UK's principal international gateway outside of London and provides access to a range of international destinations with over 70 airlines operating to around 210 destinations worldwide. It also plays an important freight role, with particular specialism in handling high-value and time-sensitive cargo. New high-speed rail services to Manchester Airport will significantly increase the airport's catchment area, bringing more people and businesses within an attractive rail journey time of the airport. This will, in turn, increase the airport's ability to attract new inter-continental routes to Manchester Airport and further increase the north of England's ability to trade internationally and to develop new global leisure markets.
Sean Anstee, Leader of Trafford Council said:
"Trafford is the economic engine room for Greater Manchester. The development of the HS2 Manchester Airport station within the borough will provide a further boost to the vibrant local economy, while respecting the outstanding natural and historical assets.
As Skills and Employment lead for Greater Manchester it is equally important to me that residents have the opportunity to develop the skills required to ensure that they fully benefit from the jobs created both from the construction of HS2 and NPR and from the economic growth they will generate."
Greater Manchester's Growth Strategy will enable the full potential of investment in HS2 and NPR to be realised, transforming the areas around the new stations and delivering new opportunities for residents and business across the region and the north. document, executive summary, photos and videos are available to download here.
Related organisations
Related people