Women Inspiring Rail: Q&A with Tan Siew Ling, Senior Engineer, YTL Construction
For our latest Women Inspiring Rail instalment, Tan Siew Ling, Senior Engineer at YTL Construction, discusses how she has transformed from being a passenger to now working as an engineer, and how she is passionate to be part of rail's future development.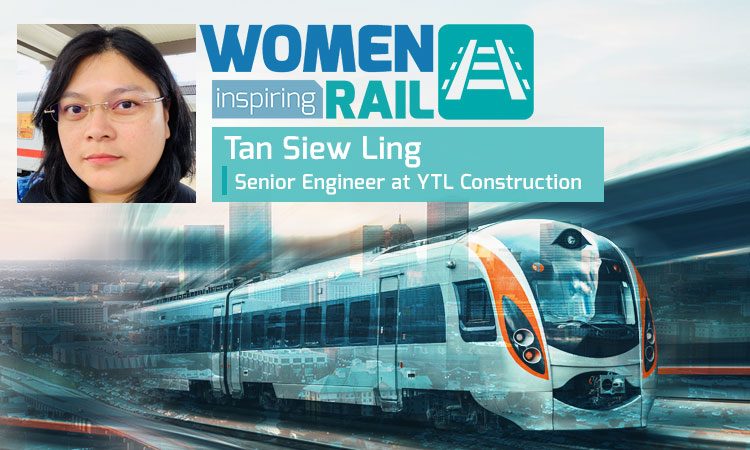 How did your career in rail begin and what does your current job involve?
My first encounter with the rail industry was in 2015, when I was helping a colleague analyse data relating to his track infrastructure maintenance work for the dedicated express rail link between the city of Kuala Lumpur to its airport. Those days of flipping through railway engineering books looking for answers were exciting for me. I wanted to know more about the rail industry, which was quite different from my day job of building and construction at that time. This desire prompted me to study further in rail engineering and its industry within the region, thus providing the foundation to my fundamental knowledge on this subject.
Not long after that, an opportunity was presented to me to get involved in the development of a project to construct a 200km-long, new electrified double-track railway on, and next to, an existing non-electrified single-track, upgrading it from the original 80km/h operating speed to 160km/h.
At the beginning, this assignment was overwhelming to a newbie in rail like me. Nonetheless, I was truly grateful to be surrounded by good mentors who guided me through the whole transition period. I started to pick up my work and take the hard times as a blessing in disguise, and things improved for the better.
What aspects of your job do you find the most challenging/rewarding, and why?
Working as a Project Coordinator for this project, together with my technical background and recently gained knowledge, has helped me to navigate through the vast project documents with ease. I have truly enjoyed studying these documents, which enables me to understand the whole project and its expected delivery. This new task further enhanced my knowledge of the technical requirement for such projects. When the project advanced into execution phase, I was amazed with the hundreds and thousands of issues faced in this seemingly straightforward project. Nonetheless, there are always solutions to problems. The most rewarding part of my involvement in the project is the priceless experience that I gather from issue resolution.
What is it about the rail industry that you are most passionate about?
I think rail transportation will not be a thing of the past. In fact, I truly believe it is a trend of tomorrow and I'm really passionate to be part of its development
Put aside the convenience and comfort of train travel which I really enjoy; the rail industry has the potential to be a sustainable transportation mode. Unlike road transport, rail transit can tackle traffic congestion problems caused by road vehicles that most major cities are facing right now. It provides mass transit for people or goods moving into, away or around a city. Rail transportation with its lower carbon footprint is also environmentally sustainable. Even though it cannot replace air transport due to geographical constraints in some places, it is definitely a cheaper option of mass transportation for middle- to long-distance travel. In the past, it was common to use train to transport commodities from their rural origins to a bigger city. Personally, I think rail transportation will not be a thing of the past. In fact, I truly believe it is a trend of tomorrow and I'm really passionate to be part of its development.
What has been your biggest achievement/proudest moment so far in your rail career?
I have transformed from a train passenger to an engineer who is very much involved in the delivery of a train project. Getting involved and being able to contribute my efforts in other aspects of the rail industry will be my next target.
What have been the biggest changes?
In recent years, train transit seems to be popular and has become one of the most sought-after transportation solutions in Asia. Now and then we will hear news about the commencement of metro rail services for major cities in the region, i.e.: MRT for Kuala Lumpur, airport link at Jakarta, etc. Under this context, it is hard to overlook the 30,000km-long China high-speed rail network, the world's largest high-speed network, which has rapidly developed in recent years.
I am quite certain high-speed rail has become a trend in South East Asia. Indonesia has started to build its own Jakarta–Bandung high-speed link, a Kuala Lumpur–Singapore high-speed rail link is in development and the Thailand government has approved its high-speed rail planning back in 2010 and has recently defined its development stages. Apart from these passenger-oriented services, we are also seeing a number of rail freight projects being developed, thanks to the One-Belt-One-Road initiative by China. One of the most notable projects is in my homeland of Malaysia – the East Coast Rail Link project – which cut short the sea route by connecting the east and west point of Peninsular Malaysia by a rail link. 
Who within the rail community has been an inspiration to you, and why?
As I mentioned earlier, I have a group of colleagues who are taking charge of the maintenance for a dedicated rail link between the city of Kuala Lumpur and its airport. They were the pioneers who introduced me to the rail industry. CK Ng, the Head of the maintenance team became my very first mentor in rail engineering, sparking my interest in the technical aspects of the rail industry. My first encounter in railway engineering was about maintaining the track to ensure it is in a good condition for safe operations. I learnt about the parameters to be monitored for the infrastructure elements of an operating track, i.e. rails, fasteners, sleepers and ballast. By that time, I was pretty excited with my newfound knowledge and considered myself a railway enthusiast.
The rail industry is not only about constructing the track or designing a track alignment. There are policy-making, transportation planning, operational philosophy, safety regulation, public engagement and many more activities happening in the industry.
Earlier this year, I got to know a special lady, Natasha Zulkifli, the founder of Women in Rail Malaysia (WIR). If Ng is my technical mentor of the industry, I would say Natasha and WIR made me see the railway industry from a broader angle. The concept of WIR membership is all inclusive, it does not require one to be technically qualified in the rail industry to be a member. In WIR, I met people from various professions who are giving their best contribution to the rail industry. The whole experience enlightened me and I started to change my rather shallow point of view of the industry. The rail industry is not only about constructing the track or designing a track alignment. There are policy-making, transportation planning, operational philosophy, safety regulation, public engagement and many more activities happening in the industry.
What can be done to diversify the workforce in the rail sector?
There needs to be an awareness that anyone can contribute in the rail sector, regardless of gender, race, level of qualification, etc. In other words, the industry players shall not have any form of discrimination in deploying their workforce. Instead, the industry should be based on meritocracy to utilise the talent available. Let's take the example of the rail industry. If there are significant female police officers or soldiers, why aren't there more female construction workers? Is it because of a general perception that women should not do tough jobs or the industry has created a male-oriented working environment? I guess the employers out there can think about this in order to engage another 50 per cent of the population into the workforce.
What advice would you give to those thinking about pursuing a career in rail?
The world has never been smaller thanks to the connectivity of the internet. Parallel to this, physical connectivity appears to be equally important to everyone now. This can be justified by the increased number of travellers compared to years before. Under this circumstance, the convenience of train travel is more appealing than plane for short to middle distances, i.e.: under 500km. I would say now is the time for the rail industry to bloom. Career opportunities are abundant, ranging from train passenger services, maintenance of the existing railway network, developing new railway routes, and so on. Railway expertise is needed throughout the railway lifecycle – from policy-making, development, operation, maintenance and rehabilitation.
If you would like to take part in the Women Inspiring Rail series, or would like to nominate a colleague to part, please email: Craig Waters, Editor, Global Railway Review.