Women Inspiring Rail: A Q&A with Natalie Leister, Area Manager, Southeastern
For our next Women Inspiring Rail instalment, Natalie Leister, Area Manager at Southeastern, tells us about how her humble beginnings within the rail industry helped her grow to become determined on working to make the company focus more on inclusivity and make train travel and the rail industry more accessible for all passengers.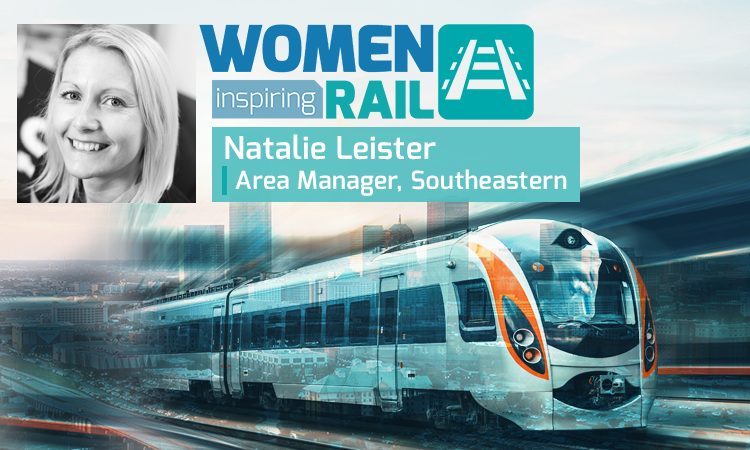 How did your career in rail begin and what does your current job involve?
I left school with very average grades and really wasn't sure what I wanted to do career-wise. I spent the first few years in sales and telemarketing which I felt didn't fulfil my desire to make a difference, so I started to look around at options of where I could achieve that.
My Dad worked on the railway and was always very enthusiastic about the opportunities that were within the industry. Along with the fact that every day is different, I felt that it could be a good path for me and so my applications begun. I applied for what was then a new team of Revenue Enforcement Officers and was lucky enough to be successful in my application. The role really attracted me as it was a role where you were helping people every day. I loved this job and I loved the challenge it brought, dealing with anything from fare evasion to fatalities. I worked with a great team who were supportive, and the role made me thrive not just at work but personally, too. From here I covered the supervisor role and manager role as, with my life changing at home, I felt that management would give me a greater opportunity to make a difference to the staff and our passengers. I've always been a passionate person and having the influence to make changes for the better is what drives me.
I spent the next five years at Southeastern as a Station Manager, before progressing to Area Manager for depots and stations in the Tonbridge area. This saw me manage the experience of passengers, from arriving at one of our stations to travelling on our trains. I loved the variety this provided and the different challenges this presented with having both depot managers and station managers in my team. In my current role I have moved over to managing stations only, which sees me with a management team of six and, in-turn, 230 staff. My role involves so much, from health and safety issues to launching our trial on the Tonbridge line of the sunflower lanyards and 'Just A Minute' (JAM) cards for passengers with hidden disabilities. My role is leading my managers to deliver the best results for our staff and our passengers. Getting feedback from my managers, staff and passengers is how I know I have made a difference.
Along with this, I am the Chair of the WIRE group – Southeastern's women's colleague network group, which was founded in October 2018. From the first meeting of the group until now, we have impacted on lots of things within Southeastern and I enjoy leading the group and seeing positive differences in our business.
What aspects of your job do you find the most challenging/rewarding, and why?
Just like a lot of roles in the rail industry every day is different, so being adaptable is key.
I would say the most challenging thing is balancing all the different aspects of the job and getting it all correct. There are so many subjects, projects and areas that an area manager is involved in; it takes huge organisation at home and at work to ensure that time is managed well and tasks get completed on time. My administration team are my rock at work; they ensure that I have adequate time to complete tasks, and that I am on the best form I can be as an area manager. Just like a lot of roles in the rail industry every day is different, so being adaptable is key. On top of the day job, we also cover roles such as 'on-call', which sees you being the strategic point of contact for any major incident. Doing this with your day job can be a challenge but, once again, this means that it is key to be adaptable and organised. I am extremely lucky to have an amazing family who make it possible for me to be the best version of myself.
The most rewarding part of my job is seeing how it makes a difference to someone, whether it be a manager, a staff member, or a passenger. There aren't many jobs where you feel that you make a difference, but I do believe this is one of them. You have so much opportunity to influence positive change, so it is very rewarding to see something work and be beneficial to the industry and the passengers it serves. You also have the ability to lead changes and empower your front-line teams to come up with ideas. It is really rewarding to see your teams coming up with ideas to make a difference, and then bringing them to life.
What is it about the rail industry that you are most passionate about?
The rail industry is such a diverse and changeable industry, there really is a job for everyone here.
The people. I am passionate about interacting with people, and this job is very focused on good communication. I am never afraid to have an opinion in this industry as I know that the teams I work in all respect each other and are open to debate to ensure that we get to the right conclusion for our teams, our staff and our passengers. The rail industry is such a friendly place to work; the companies I have worked for have always been very welcoming and have cared about me and my life. I think that because the rail industry is such a diverse and changeable industry, there really is a job for everyone here. Once you work within the industry, you can progress in many directions and for that reason I couldn't recommend the industry more. It is an industry that has an impact on peoples' lives. Whether it's getting them to and from work every day, or getting a family to their annual day out in London. Every day is different so there is absolutely no opportunity to slow down or stagnate in a role. It is also such a friendly place to be, where it feels that you are surrounded by a work family.
What has been your biggest achievement/proudest moment so far in your rail career?
I think for me, the recent work I have been involved in has made me very proud. I became Chair of the WIRE group at the end of 2018, and the real work started after our meeting in January. Lots of subjects were brought up about how we could improve as a business. One of the subjects was the menopause. Colleagues and managers were saying that in the UK, and subsequently for everyday business, menopause was a taboo subject. Not only that, but there were a lot of people suffering in silence who were experiencing symptoms that had a lack of support from their GP, or they were supporting someone who was going through this and things were very difficult for them at home. It made me question as a business how we could change this culture. I went out, speaking to staff and managers, and I was surprised to find the consistent message that women and men were struggling with this taboo subject. I started to research awareness of menopause and that is where the journey began with Deborah Garlick from Henpicked. Deborah delivers menopause awareness sessions for managers and colleagues around the UK and America, and she was fantastic in helping to figure out how we could make this work in our business.
In September 2019, Menopause Awareness Month and National Inclusion Week were celebrated by seven manager-awareness sessions and one colleague-awareness session. At these sessions we had brilliant feedback and also gave managers the opportunity to say what they wanted to happen next to help us embed talk of sensitive subjects into our everyday practice. From this, we launched a 'toolkit for managers' on World Menopause Day (18 October 2019) which will helped our managers be informed for the conversations around this topic. I really felt that I was making a difference at these sessions, and having managers and staff approach me to say that the sessions had an impact on their lives at home and at work made the whole process a success. Fifty-five per cent of our workforce are between the ages of 40 to 60, meaning that starting this conversation will make a difference to a lot of our people. And this is just the start!
Another proud moment for me has been my work with Justin Ryan to help passengers with hidden disabilities. In April 2019, my youngest son was diagnosed with autism. Although I had always known that he struggled, I became very aware of the issues he may have going forward – particularly travelling to his new secondary school, which entailed two train journeys to get there. It also made me question what we do as a business for the millions of people who travel on our trains that have a hidden disability. The way someone reacts to my son can have a massive impact on the way he copes, and I wanted to give our staff the opportunity to do the best for every passenger. Having seen the sunflower lanyards, I approached Justin Ryan, our Disability and Inclusion Manager, and asked if we could get involved. Justin had already been working with this and the JAM card.
We worked hard to release a trial on the Hastings to Tonbridge line from 16 October 2019. The trial ensured that we offered the right training and support for our staff, and we hope to quickly introduce this to the rest of the business. We have 'sunflower champions', who have received extra training from the providers of the JAM card, and every member of staff has received online training to help them when dealing with situations. I'm proud of this as I know that there are a lot of passengers who this will make a big difference to. Not only that, but we are also changing things for our people at Southeastern. We are giving them the tools to make the travelling experience the best it can be for everyone. Our staff care passionately about the job they do, and the feedback I have had from people having the training, who are being given the opportunity to know more and deliver better, has been very humbling.
How has the rail industry evolved since you joined? What have been the biggest changes?
The industry has changed from just being about getting trains to their destinations on time, to making the experience from start to finish a good experience.
I think the railway is always changing and evolving. We are in a changing world where the expectations of customers are increasing with their need for not just a service but an experience in every industry. I think the industry has changed from just being about getting trains to their destinations on time, to making the experience from start to finish a good experience. Having managed conductors and stations I know that our focus has been about developing and exceeding anything we have done previously. We now have the power of social media, so information can get to passengers quicker through our Twitter teams and we can get instant feedback on how we are performing, whether it be good or bad.
There have been some fantastic advances in technology which have made our trains, service and information better. From Wi-Fi and entertainment on trains, to customer information screens that tell you exactly where your train is. We are eager for each improvement to make a difference to our people and our passengers. Because the industry and expectations evolve constantly, there is no option to stay still and, personally, that is what I like about the role. I feel that as an industry that has been heavily male-dominated in the past, we are now moving towards more diverse teams which represent the communities we serve. We are evolving in how our passengers use our trains also, with changes to stations for accessibility and hidden disabilities, and I am very proud of the work has been done during my time with the railway.
Who within the rail community has been an inspiration to you, and why?
I find it difficult to name one person for this, really. For me, it has been about the people who have supported me through my career with the railway. In terms of women in rail, I would say my mentor, Siobhan Bradshaw, inspired me to progress and become a better manager. On contemplating next steps in my career as a station manager, I decided that area management was where I wanted to go next. My manager was very supportive, but I felt that having a coach or mentor would help me to change my thinking and become more strategic.
I looked at someone within the business that could provide that for me, and Siobhan was the first person to spring to mind. She is our Revenue and Enforcement General Manager, and she is a very strong woman within our business. She leads a large team and is very passionate about doing the right thing, which is something I really admire. I also admired the position she had within the business, and I was interested to learn more about how she got to the position she has. She has been a fantastic mentor, providing support in my progression and providing encouragement, guidance and advice throughout my area management career. She has also been fundamental to me developing in the WIRE role and helped me reach into areas of the business that I would never have thought before. With her support, I think it has changed my outlook and made me think differently.
What can be done to diversify the workforce in the rail sector? What advice would you give to those thinking about pursuing a career in rail?
Giving people a voice allows us to make informed decisions about where we go next as an industry, and as a business.
We need to get more people applying and seeing that this industry has a career path for everyone. We are making large strives forward to encourage more applications from women into roles that have mainly been male-oriented, such as train driving and engineering, but I believe we have a long way to go. Ellie Burrows, our Train Services Director, wrote a piece recently in the press about 'Thomas the Tank Engine' always being aimed at boys, with male engines and male controllers. Times are changing and we need to change the perception of our children, so they know this industry is inclusive and welcome to everyone.
I think that there are lots of other areas that the industry should be focusing on to be truly inclusive. Areas such as: how we screen applications to get rid of unconscious bias; to look at our policies in supporting colleagues; to look at our business cases and risk assessments so that everyone is included from the start; to ensure that projects are vetted for inclusiveness before they are signed off. We are making strides, and I am proud of the work we have done at Southeastern so far. With groups such as our WIRE group, Mind the Gap group and our LBGT+ community at Southeastern, we are giving groups that are a minority the opportunity to make suggestions to how our business can change. Giving people a voice allows us to make informed decisions about where we go next as an industry, and as a business.
Regarding advice, I would say: don't be scared by job roles that sound like they are complicated. For most of our roles, we give you the opportunity to train and learn. What we would want to see is what kind of experience you can bring to the role. Being a great communicator is key in every role within the rail industry, as poor communication has a dramatic impact on our effectiveness in delivery to our passengers, so communication and being able to find solutions is key. The career possibilities are endless working for the railway so, if you are unsure, find a role you think you would like and then ask for career development. As I mentioned earlier, the industry is a very friendly one, and you will always find people who want to help by giving advice, coaching or mentoring to help you find your way.
If you would like to take part in the Women Inspiring Rail series, or would like to nominate a colleague to take part, please email: Leah Hockley, Junior Editor, Global Railway Review.
Related organisations
Related people