What is the FRA doing to reduce railroad trespassing in North America?
Railroad trespassing is a pervasive and ubiquitous problem in the United States. For Global Railway Review, Starr Kidda, Michail Grizkewitsch and Francesco Bedini Jacobini, from the Federal Railroad Administration (FRA), provide an overview of the data and trends of trespassing on rail rights-of-way and highlight some of the FRA's past and present initiatives to analyse and mitigate the issue.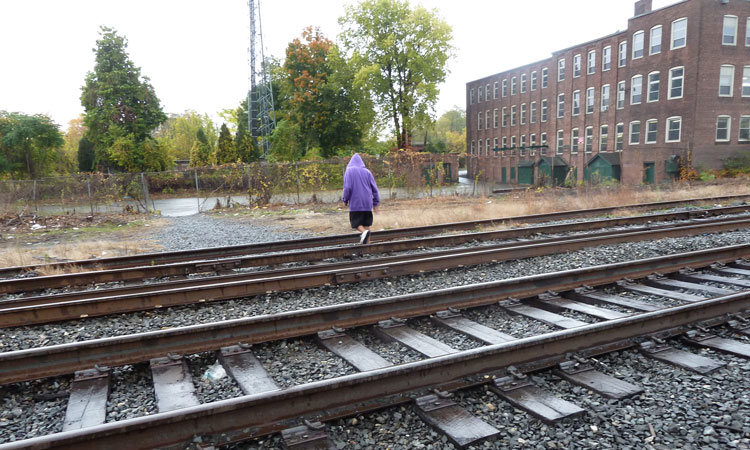 The Federal Railroad Administration's (FRA) mission is to enable the safe, reliable, and efficient movement of people and goods for a strong America, now and in the future. Trespassing on privately-owned railroad property is the leading cause of all rail-related deaths in the United States. More people are struck and killed by trains each year while trespassing than in motor vehicle collisions with trains at highway-rail grade crossings. Between 2012 and 2019, the annual number of trespass-related casualties increased by 27 per cent – from 820 in 2012 to 1,128 in 2019, as seen in Figure 1.
More people are struck and killed by trains each year while trespassing than in motor vehicle collisions with trains at highway-rail grade crossings.
During 2019 alone, 824 pedestrian trespass fatalities occurred. Data indicates that the number of trespassing occurrences on railroad property each year (i.e. people shortcutting across railroad tracks for the sake of convenience) far exceeds the number of fatalities and injuries. This raises the serious concern of the greater potential for even more trespasser events.
Trespassing prevention and abatement is one of FRA's major safety priorities. The majority of fatal incidents that occur at any point along a railroad's rights-of-way (ROW) include trespassers. In 2019, this percentage was 65 per cent of the total. To address this issue, the FRA has conducted several studies, both through its Office of Railroad Safety (RRS) and Office of Research, Development and Technology (RD&T). FRA categorises its trespass prevention efforts into three categories of approaches: engineering, education and enforcement.
Engineering approaches
Research into engineering solutions plays a vital role in FRA's approach to reduce trespassing casualties.
Research into engineering solutions plays a vital role in FRA's approach to reduce trespassing casualties. FRA is funding innovative research in which the use of artificial intelligence (AI) and deep machine learning techniques are explored. In 2018, the FRA – in collaboration with Michigan Technological University (Michigan Tech), Rutgers University, and North Carolina State – began to examine how AI can be applied to trespass detection in real-time and to develop trespass detection algorithm that can be installed on mobile platforms, such as an unmanned aircraft system (UAV). Additionally, the FRA is sponsoring the Volpe National Transportation Systems Center's examination of using fixed cameras with built-in AI capabilities. The results of this research will enable the FRA to develop the tools necessary to help the railroad industry and local communities in identifying trespassing 'hot spots' and significantly improve trespass detection. These tools will also assist railroads and communities in deciding the most appropriate solution to reduce the risks associated with trespassing (e.g. fencing, grade separation for pedestrians).
Research related to public awareness educational efforts
No engineering or enforcement approach, discussed later in this article, can be effective unless there is a strong educational component. The FRA funded two studies (Rail Trespasser Fatalities – Developing Demographic Profiles, March 2008, and Rail Trespasser Fatalities Demographic and Behavioral Profiles, June 2013) to conduct a demographic and market analysis of rail trespass fatalities. These studies established a foundation upon which to build either an outreach or public education programme and shape law enforcement efforts focused on those most at risk. 
Results indicated that "trespassers who are involved in fatal incidents on railroad rights-of-way are most typically identified as white males who are possibly intoxicated, with a mean age of 38, and with low socioeconomic status." 
The FRA also periodically organises Trespass Prevention Research Needs Workshops, where stakeholders have the opportunity to raise concerns and propose new ideas to address the issue. During the last workshop, held in 2015, stakeholders shared existing industry best practices and explored new trespass abatement and mitigation strategies. Three workshops have been held to date (2008, 2012, and 2015).
A key FRA educational outreach effort is its Community Trespass Prevention Program. The FRA has developed and published a guidance document entitled 'Community Trespass Prevention Guide', which details a collaborative step-by-step rail ROW trespass problem-solving approach for local communities. The guide details the Community, Analysis, Response, and Evaluation (CARE) rail trespass problem-solving model, which consists of the following four general steps:
Community: Identification of the scope/extent of trespassing and the associated stakeholders within the community
Analysis: Data collection and analysis on localised trespassing and identification of the underpinning causes
Response: Identification and implementation of the most effective response(s)
Evaluation: Evaluation of the effectiveness of the implemented treatment(s).
CARE's objective is to "create safer communities by fostering the development of long-term trespass prevention strategies through collaborative community problem-solving partnerships to reduce trespass fatalities." 
The ultimate goal is to reduce the number of rail ROW trespass incidents nationwide by promoting partnerships at the local level amongst and between city, town and municipal governments, local operating railroads and other interested advocacy or stakeholder groups. The CARE Guide is but one of several tools set forth in FRA's 2011 Community Trespassing Prevention Guide.
Research related to enforcement
The FRA has found that one of the most effective ways to reduce and mitigate trespassing is through the involvement of law enforcement. In North America, many larger railroads have their own police departments that are responsible for patrolling their ROW. Since local law enforcement agencies invariably have multiple competing demands and limited resources, in 2018, the FRA funded a small grant programme to provide discretionary funding to police departments of any city or municipality that had a documented trespassing issue and had, under their jurisdiction, at least one mile of FRA-regulated railroad track to patrol along the railroad ROW and issue citations or warnings to violators, along with educational materials. The results of this pilot grant are currently under review, however, the outcomes are encouraging – encouraging enough that the FRA is sponsoring a subsequent competitive grant programme with the same purpose.
The FRA has found that one of the most effective ways to reduce and mitigate trespassing is through the involvement of law enforcement.
Other enforcement activities sponsored by the FRA included the use of drones/unmanned aerial vehicles (UAVs) in partnership with the town of Brunswick, ME, as well as an upcoming project through the Consolidated Railroad Infrastructure Safety Initiative (CRISI) Grant Program, where the Florida Department of Transport (DOT), in partnership with the Central Florida Railroad Corridor (CFRC), will be using UAVs to detect and report railroad trespassers.
National Strategy for Trespass Prevention
In 2018, the FRA published a National Strategy for Trespass Prevention on Railroad Property. It focuses on the following four categories of ongoing activities:
Data gathering and analysis
Community site visits
Funding
Partnerships with affected stakeholders.
None of these focus areas alone is sufficient enough for preventing all trespassing. Rather, a successful strategy must include a combination of approaches.
Focusing on data gathering and analysis will enable the FRA to target its resources to trespassing hot spots. Conducting community site visits will help the FRA and other stakeholders build a pool of successful mitigation strategies. Providing the required funding will assist communities directly in securing the solutions and resources that they need to deter trespassing and build the necessary partnerships with law enforcement, railroads and other organisations. The FRA intends to leverage, to the greatest extent possible, all available resources, expertise and local knowledge to combat the problem of trespassing.
Conclusion
The FRA's current analysis of railroad trespassing demonstrates that education and outreach are not enough. Exchange and dissemination of current, relevant data to identify systematically high-risk areas for trespassing incidents is the best way to develop and facilitate the implementation of specific mitigation strategies for communities. Engineering solutions designed to prevent or discourage trespassing on railroad property can be utilised in conjunction with frequent and consistent enforcement of trespasser laws. 

Starr Kidda is the Human Factors Division Chief for the FRA's Office of Research, Development & Technology. Starr joined the FRA in 2013, following nearly five years as a programme analyst for the U.S. Department of Health and Human Services Office of Inspector General. Starr holds a B.S. in Psychology from Davidson College and a PhD in Industrial/Organisational Psychology from the University of Georgia.
Michail Grizkewitsch is a Railroad Trespassing Program Specialist Transportation Analyst in the FRA's Office of Railroad Safety, Highway-Rail Crossing and Trespasser Programs Division, where he has worked since 2004. In that capacity, he partners with federal, state, and local government officials throughout the United States to establish and implement trespass prevention programmes. Michail lead the development of the FRA's 2018 National Strategy to Prevent Trespassing on Railroad Property. He also co-authored an article for the Transportation Research Board on Development, Implementation, and Evaluation of a Community-Based Trespass Prevention Model in 2019. He began his career as a military police officer in the United States Air Force and then went on to become a full-time police officer in Waterville, ME. In 1998, he became a special agent with the Boston & Maine Railroad Police Department, which then led him to the FRA.

Francesco Bedini Jacobini joined the FRA in 2017 where he currently serves as Program Manager for Grade Crossing and Trespass Research within the FRA's Office of Research, Development and Technology. He previously worked for four years with the Illinois Department of Transportation on the Chicago to St. Louis High Speed Rail project. He holds a Bachelor and Master of Science degrees in Civil Engineering, both from the University of Illinois at Urbana-Champaign.