The key role of rolling stock in rapid passenger demand
Steve Lammin, Engineering Director at Govia Thameslink Railway (GTR), discusses why and how GTR invested £2 billion on a multi-fleet roll-out programme and the benefits that this has delivered for passengers and staff.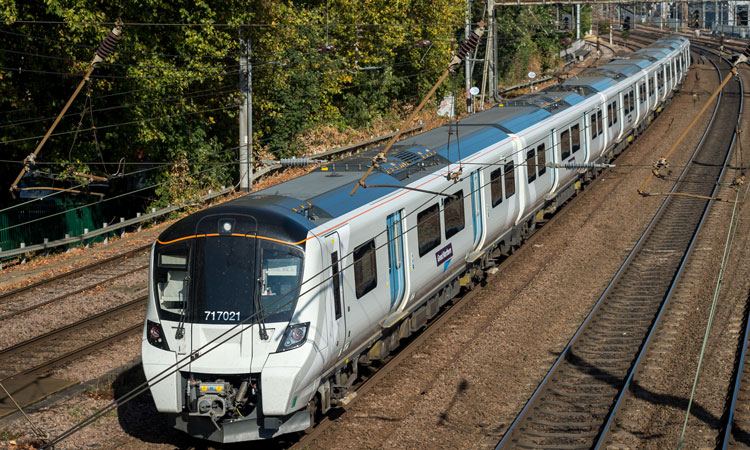 Since the inception of the railway in the mid-19th century, there has been one principle demand challenge that has set new requirements each year – an increasing volume of passenger travel.
In 2019, UK passengers made a total of 1.8 billion journeys, a three per cent increase on the previous year. It is this increase that brings new challenges for rail providers each year as, in 2019, an additional 54 million journeys had to be facilitated that simply weren't in demand the year before.
For Govia Thameslink Railway (GTR) – the UK's biggest rail franchise that operates the Thameslink, Great Northern, Southern and Gatwick Express services – this meant that we needed to facilitate an additional 22.7 million passenger journeys, taking our total to over 341 million journeys for the year.
But how, with such considerable volumes of customer demand, can rail operators sustain these increases, let alone prepare for the future?
Meeting demand
On 1 October 2019, we completed a £2 billion multi-fleet roll-out programme that has introduced more than 1,500 new carriages; turning one of the UK's oldest fleets into one of the most modern.
Simultaneously, we oversaw what is thought to be the biggest cascade of rolling stock since privatisation, with nearly 900 carriages cascaded out of the franchise – many straight into service with other operators – and a further 144 cascaded between routes within the GTR network.
The programme has almost halved the average age of our fleet, as we introduced the new Desiro City Class trains and expanded the Electrostar Fleet, reducing the average age of the fleet from 20.4 years to 12.5 years, with a net increase of 646 vehicles. This, in turn, has transformed journeys for thousands of passengers and provided benefits to businesses, from improved reliability and more streamlined maintenance, to highly valuable leadership/management development.
Of course, fleet expansions alone cannot facilitate an additional 54 million passenger journeys a year. So, what more can rail providers do to best ensure that there is always a consistent and appropriate supply for passenger demand?
Enabled by our fleet expansion, 2018 saw GTR introduce significant timetable expansions, leading to an increase of 400 weekday services, from 3,200 to 3,600 – more than some operators run in total. This expansion helped provide space for an additional 50,000 commuters coming in and out of London at peak times and has increased the number of trains passing through London's central core every hour.
Govia Thameslink Railway (GTR) operates the following services:
Delivering passenger benefits
At the core of GTR's decision-making process is the passenger. Regardless of the project in discussion or targets to be met, the passenger has always, and will continue to be, the ultimate consideration in any decision we make.
But, how can rail providers whose service offering is often seen as just an expectation, find innovative ways to improve the passenger experience?
On 1 October 2019, we completed a £2 billion multi-fleet roll-out programme that has introduced more than 1,500 new carriages; turning one of the UK's oldest fleets into one of the most modern.
We undertook a significant expansion of the Thameslink network, creating direct cross-London services between key destinations – such as Gatwick Airport and Peterborough/Cambridge, and Luton Airport and Medway Towns via south-east London – saving passengers the time and inconvenience of changing onto the London Underground.
With these improvements, the rolling stock has created space for 50,000 more commuters travelling to and from the capital each rush hour and new cross-London journeys, helping support extra passenger volume which, on GTR's services, increased by 22.7 million – the biggest increase in the UK.
For today's consumer, simply going from A to B as quickly and safely as possible is no longer good enough. Instead, businesses are finding new means to attract and retain customers. On‑board passenger information systems have evolved with new rolling stock, with the incumbent older fleet having planned technology enhancement improvements being implemented soon. This will provide the clear demand for on-time, live feed information, amongst other sources of interest for our passengers.
On-train intelligence systems allow us to monitor, record and analyse the fleet's energy, to understand the demand pattern on the railway system, working with our delivery partners to always better our services.
At GTR, we committed further to our sustainability targets and made the following improvements to best align ourselves with the public's preferences. On-train intelligence systems allow us to monitor, record and analyse the fleet's energy, to understand the demand pattern on the railway system, working with our delivery partners to always better our services. Of course, the removal of conventional braking technology to that of current dynamic braking systems recycles our energy usage, alongside improving our braking performance. This, alongside further enhancement in future Automatic Train Operation (ATO) with improved acceleration and deceleration rates, will allow for enhanced timetable introduction.
Furthermore, the 700 and 717 model carriages are 20 per cent lighter than the previous generation, around 100 tonnes lighter per 12-carriage train. This creates less wear and tear on tracks and, combined with the dynamic braking system, makes our trains up to 50 per cent more energy efficient.
Delivering business benefits
Steady improvements in reliability of the new stock, and the continued improved reliability focus on maintenance and modifications of the existing stock, have ensured performance improvements across GTR's fleet. This is despite the complexities of this network and the sheer number of new trains, which have all needed bedding in to busy passenger service.
On-train diagnostics mean many trains can enable quick event management capability, delivering expedient management of degraded mode functionality. Innovative new systems are being developed to exploit and use live data feeds to provide warnings of an expected failure, which will enable our engineers and service control teams to pre-empt any failures before they occur and take preventative measures.
We have also made significant availability improvements across many of our fleets, through changes to our train plan and depot maintenance strategies. This included removing ownership of specific fleet types, improving planning techniques and practices and expanding the Electrostar fleets to be maintained at any one of our four depots, providing the team with greater flexibility for maintenance opportunities.
Furthermore, alongside our industry partners – Siemens and Network Rail – we have either built or upgraded new depots in Sussex and north London, designed to house and maintain new trains, along with additional and upgraded stabling at various locations across our network.
To best facilitate our new maintenance capabilities, the Siemens team is now permanently co-located at Three Bridges, where Siemens lead the maintenance of the class 700s, and Hornsey, where the 717 fleet is maintained by the GTR fleet maintenance team. This demonstrates the diversity of the GTR engineering team, where some 120 trained staff work on several different types of rolling stock, inclusive of the 717s.
This collaborative work between engineering and operations departments, alongside vehicle owners, has supported the introduction of these trains into a network well-appointed to maintain and operate them.
A fleet upgrade project of this scale is unprecedented in modern times, but passengers enjoying the benefits of this work demonstrates the value of delivering such a key project and ensuring the railway meets this ever‑increasing passenger demand.

Steve Lammin is Govia Thameslink Railway's Engineering Director. He has worked within the rail industry for over 25 years, working within multiple areas of asset management, predominantly focused on rolling stock. Steve has a passion for continuous improvement in asset management with the use of technology, information and systems. He is also focused on developing people, talent and inclusivity within the rail sector, working to remove barriers to entry.