Good behaviour on and around rail tracks: 'Railspect'
In 2019 – with the support of the Belgian government, the railway police and the security service of operator NMBS/SNCB – Infrabel launched 'Railspect', a national action plan to tackle dangerous behaviour on and around rail tracks. Bram De Saedeleer, Head of Safety and Punctuality Communications and Campaigns for Infrabel, explains more.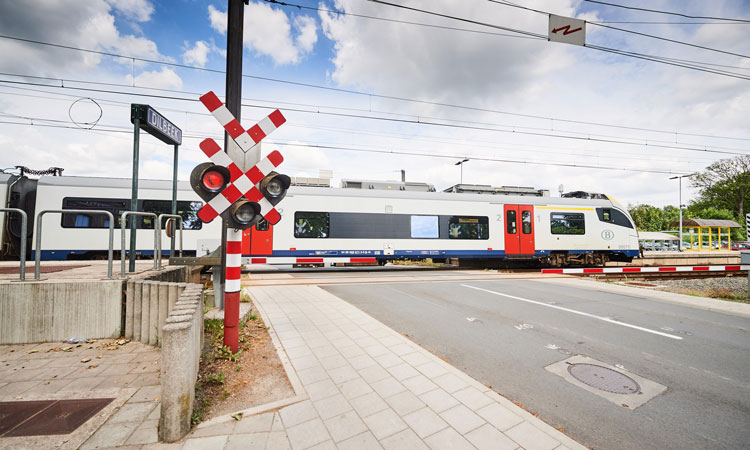 Credit: Infrabel/Benjamin Brolet
We see it in all European countries and, sadly, Belgium is no exception: Railway trespassing and accidents at level crossings are persistent problems that Infrabel – the Belgian railway infrastructure manager – faces daily. To gain an insight into the behaviour of the people involved, Infrabel carried out a study at the beginning of 2019 into dangerous behaviour on and around tracks. Based on these results, we developed a strategy around three pillars to tackle this problem.
Figures and study
Why do people trespass on the railway tracks? Why do they decide not to wait at a closed level crossing? Based on a scientific study, we looked for the motives and, in particular, for ways to avoid these incidents, because the number of incidents and accidents remains high.
Railway trespassing and accidents at level crossings are persistent problems that Infrabel – the Belgian railway infrastructure manager – faces daily.
Of those surveyed, 46 per cent ignored traffic regulations at level crossings in the last six months and 14 per cent of those surveyed walked on the tracks in the same period. Worse still, analysis shows that 77 per cent of these people would violate traffic regulations at level crossings if they had an opportunity to do so. Amongst trespassers, this figure rises to 55 per cent.
In this way we were able to identify four profiles, for both trespassing and level crossings, on which we could focus our actions.
We were able to classify trespassers into the following four categories:
Unconscious trespassers (eight per cent)
Social trespassers (15 per cent)
Rebelling risk takers (32 per cent)
Conscious conformers (45 per cent).
Regarding level crossings, we were also able to distinguish four categories among the participants:
Dangerous doers (18 per cent)
Unconscious crossers (24 per cent)
Opportunistic crossers (35 per cent)
Risk avoiders (23 per cent).
The first two categories are young and middle‑aged people, most of whom come from Flanders (a region located in the north of Belgium). They find their behaviour harmless. The study shows that many young people do not pay enough attention at level crossings because they are totally absorbed by their smartphones – the so-called 'smartphone zombies'. The behaviour of these two target groups (together accounting for 42 per cent) can be influenced by raising awareness. Opportunistic crossers (35 per cent) deliberately flout the traffic regulations. Their attitude cannot be modified through awareness-raising – repression is the only answer here. The last group, the risk avoiders (23 per cent), abide by the rules. These are usually retired males. We would like to use this group as ambassadors for our campaigns in the future.
Despite several awareness-raising actions and the removal of 24 level crossings, the main causes of accidents at level crossings remain the same – for example, non-compliance with the traffic regulations and careless behaviour of road users.
Railspect action plan with three pillars
On 25 March 2019, with the support of the government, the railway police and Securail (the security service of operator NMBS/SNCB), Infrabel launched 'Railspect' (Rail + Respect = Railspect), a national action plan to tackle dangerous behaviour on and around tracks. This plan comprises of three pillars:
1. Repression
For those target groups that are not or no longer susceptible to prevention and awareness-raising, repression remains a means of combating trespassing and accidents at level crossings. That is why Infrabel, Securail, the railway police and local police zones are working closely together to organise targeted actions and monitoring.
In 2019, Securail and the police also rigorously monitored level crossings. During a large-scale monitoring action in September and October 2019, no fewer than 126 official reports were drawn up for violations at level crossings. And anyone caught was hit hard in the pocket. Trespassing on the tracks is a serious offence and is punishable in Belgium with a fine of €80 to €2,000. Ignoring a closed level crossing can easily cost an offender €240 to €3,000.
2. Prevention
Operational measures on the ground are an important second pillar of the Railspect action plan. We are taking the following measures to further increase safety, aimed at both trespassing and level crossings:
Where we can, we are replacing as many level crossings as possible with bridges or underpasses. After all, the lack of physical crossings between a railway and a public road is always safer than a level crossing. In this way, we removed 24 level crossings in 2019. This is always done in close consultation with the authorities concerned.
In 2019, we started to apply identification stickers at level crossings with active signalling. In the event of an incident at a level crossing, it is indeed crucial to react rapidly. But, in many cases, witnesses on the spot or the emergency services are unable to determine the exact location of the level crossing in question. This sticker indicates the number of the level crossing, the railway line, the street name and the municipality.
Also in 2019, Infrabel started placing special warning signs at level crossings that are sensitive to traffic jams. These warning signs are designed to remind drivers not to drive onto a level crossing if they cannot cross it in one go. Drivers should not block a level crossing, just like an intersection on the road, because they run the risk of getting trapped by the barriers.
3. Raising awareness
In addition, Infrabel continues to raise awareness about rail safety through media campaigns aimed at the general public and through smaller local actions directed at specific target groups.
For example, every year we focus on raising the awareness of truck drivers in port areas. Given the high number of level crossings and accidents in these areas, awareness-raising remains essential.
The moving story of an ignored barrier
Our study showed that people in Belgium often ignore traffic regulations near level crossings and tend to ignore barriers and pass through them. This leads to hazardous situations and accidents. How can we raise awareness on this topic and encourage people to act safely?
We chose a less obvious approach and perspective – the one of a barrier itself – telling the moving story of an ignored and forgotten barrier, as a real person. Before officially launching the campaign, we introduced 'Jean-Pierre Barrière' to the public during Infrabel's main PR event. In a fun teaser, we gave the viewers a glimpse of his life as a barrier, including an instruction as to how to brush your teeth without bending an elbow.
A bit surreal, definitely intriguing. What happens next?
Railway crossing blues
Jean-Pierre's story is about emotions. What better way to convey these than through compelling storytelling? Well, music is also a great medium. We chose to use both. Together with songwriters, we wrote an original, hummable song, conveying our serious message in a fun way that sticks in the mind. Probably the first railway crossing blues in the world.
Online
Online, we used a full 65-second edit and meme-like derivatives as social content. A shorter, 30-second edit has been aired on Belgian television, making Jean-Pierre famous. With Jean-Pierre's quirky story, we presented a fresh approach to awareness campaigns. Something worth sharing, talking about and remembering.
Dress like a barrier
To bring Jean-Pierre's story closer to the public, we designed a barrier sweater. A fun, wearable reference that serves as an additional promotional tool. And a great conversation-starter.
Results
The campaign's main objective was to raise awareness. To do so, we needed to make our targets watch our video for as long as possible – viewability rate on Youtube – and to make them interact (like, share, comment) with this video – engagement rate on social media. Aside from the usual metrics (impressions, reach, etc.), we measured the quality of our campaign with those two parameters:
The engagement rate was below the benchmark. We have posted many shorter edits of our video on social media to match with best practices. But, even on social media, people want to be able to see and understand the full story. A shorter version makes less sense and, therefore, people feel less concerned.
But having a viewability rate of almost 40 per cent for a long video of 65 seconds is really a great result – the benchmark for a 60 second video is usually 14 per cent. This means that people are interested by the message and that the campaign performed really well.
To raise awareness, we need time and engagement from our targets. We're not selling washing machines; we want to change behaviour. It is, therefore, a good choice to use storytelling and high-quality, long production content in order to give meaning to our campaign and inspire emotions in people.
Catch them young: Schools
Good behaviour is best learned from an early age, including safe behaviour at level crossings and around tracks. This is why Infrabel has developed tools and teaching packages for primary and secondary education. For primary education, we offer the following tools:
Educational school calendar
An annual calendar full of handy safety tips, which also shows school and public holidays. Teachers are also provided with a concise manual to enable them to point out the situations on the calendar.
Railway safety package
This package includes several modules that teachers can use to give a lesson on railway safety themselves, including, for example, the use of a presentation, posters, a board game, and so on.
Game booklet
Through a colourful booklet full of games, puzzles, quizzes, etc., children can learn through play what behaviour is and is not allowed near the tracks.
VR technology for secondary schools
For secondary schools, Infrabel developed 'The Floor' – an awareness campaign based on virtual reality (VR), tailored to young people aged 12 to 18. A whole class can occupy the vibrating stage of The Floor at the same time. Each participant experiences exactly what happens if you do not comply with the traffic regulations along the track from the viewpoint of someone who steps on the railway tracks. The lifelike 360° film makes young people aware of the dangers.
Before the pupils are given the opportunity to test the special VR experience on The Floor, we first tell them a bit more about the safety rules on the tracks, at level crossings and in stations. Far from being boring, it is an interactive presentation that concerns everyone.

Bram De Saedeleer graduated in 2003 with a Master's in Applied Linguistics and, after a number of experiences in the Belgian media landscape, joined Infrabel as a spokesperson. This job allowed him to gain specialised knowledge of the company's two main priorities: safety and punctuality. For two years now, he has been responsible within Infrabel for the department that handles all safety and punctuality communications and campaigns. Together with his colleagues, Bram swears by a scientific approach based on the four pillars of measure, analyse, develop strategy, and produce targeted actions.