Maersk launches its first rail service from China to Turkey
Maersk's new rail service from China to Turkey will provide customers with reduced transit time of up to 16 days with multiple drop off locations.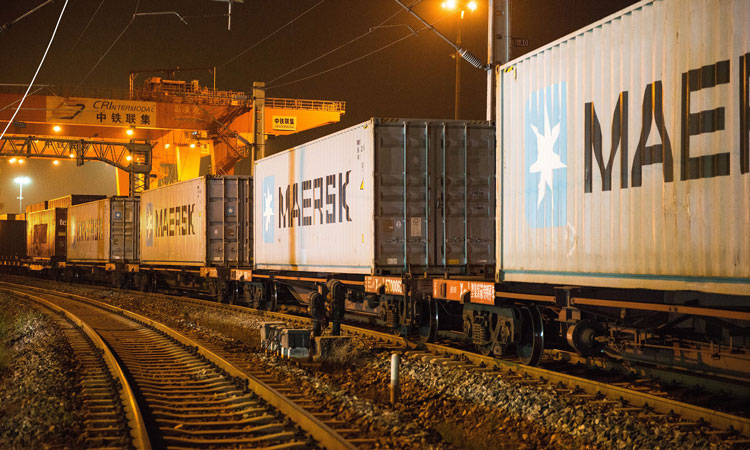 A.P. Moller – Maersk – an integrated container logistics company – has launched its first weekly rail service from Xi'an, China to Izmit, Turkey. Forming part of Maersk Intercontinental Rail's service network, this new route will, in addition to shorter transit time, provide customers with wide network options connecting main locations in China and Turkey with diverse range of pre- and on-carriage services.
Kasper Krog, Head of Intercontinental Rail at A.P. Moller – Maersk, said: "After having successfully launched our Intercontinental Rail (ICR) service from China to Europe three years ago, we have seen increase in demand by our customers for this particular service from different locations across both Asia and Europe. Due to its strategic geographical location, wide industry sector as well as all ambitious initiatives taken by the government to improve the rail infrastructure across the country, we decided to launch ICR in Turkey not only for those companies located within the country, but also as a link between Asia and Europe."
This unique rail service is ideal for customers within the automotive and technology industrial verticals in Turkey and other segments which are in high need of fast delivery to market. Due to a well-connected rail system across the country, ICR is providing its customers with connections to Black Sea, Eastern Europe and Southern European countries via the port of Korfez in Izmit, by using feeder network of Sealand a Maersk Company.
Depending on their supply chain needs, the customers are given further flexibility choosing different Maersk transportation solutions by rail and ocean, as part of the integrated offerings across ocean, logistics and services allowing them to react quickly to changing market demands. Customers will further benefit by taking advantage of using Maersk's own equipment fleet, visibility and operational expertise throughout the journey.