CAPTRAIN España signs agreement to lease new EURO6000 locomotives
CAPTRAIN España has signed a framework contract with Alpha Trains for up to 21 units of the new full electric EURO6000 Stadler locomotives.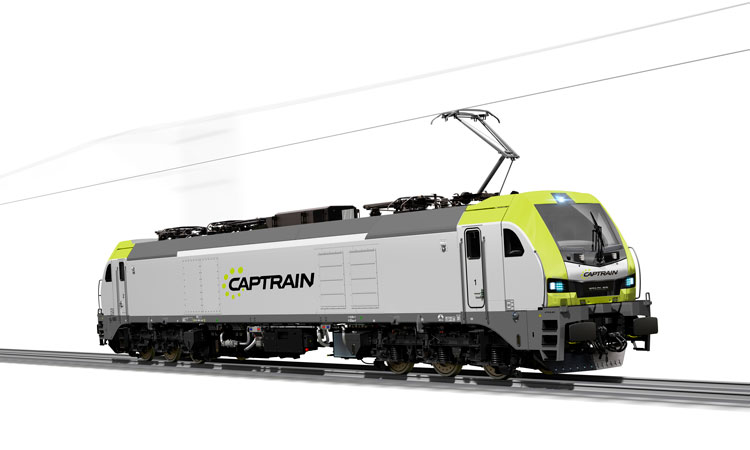 Credit: Alpha Trains/Captrain/Stadler
CAPTRAIN España – the biggest alternative railway undertaking in Spain – and Alpha Trains – the largest leasing company for locomotives and trains in Continental Europe – have signed an agreement to lease up to 21 new-build EURO6000 locomotives. In parallel, Alpha Trains and Stadler Valencia have executed a frame contract for the purchase and sale of such six-axle multi-system EURO6000.
CAPTRAIN España and Alpha Trains have already confirmed an initial order for 11 of these EURO6000 locomotives. Five EURO6000 will have standard gauge and will be certified for the Spanish, French and Luxembourg networks. This will allow those units to be utilised for hauling trains coming from Spain on the North Sea Mediterranean, Mediterranean and Atlantic rail freight corridors. Starting from Barcelona and Tarragona and, later on, Valencia and Bilbao.
The remaining six units will be the first of a batch equipped with Iberian gauge, to operate heavy freight trains in Spain on the new 25kV electrified lines, and in particular, through the soon to be opened Pajares tunnel.
The delivery of the locomotives is planned for the second semester of 2021. The EURO6000s will be entirely manufactured at the Albuixech plant in Valencia. Their main distinguishing feature is their six-axles, compared to the four-axles of the majority of the current European fleet.
This order is the outcome of the close cooperation among the engineering teams of Stadler Valencia, CAPTRAIN España, Alpha Trains and SNCF, which has been ongoing for a substantial period of time. This cooperation has permitted to design this new type of locomotive that will allow the haulage of heavy freight trains (over 1,800 gross tonnes) in the Mediterranean Corridor railway line in Spain, currently under construction in standard gauge. This Corridor has very specific operating and technical conditions, concerning power supply (three voltages) and signalling (three different signalling systems), in addition to very demanding operational constraints, as it is a mixed high-speed passenger and heavy freight trains railway line.
Frédéric Delorme, CEO at SNCF Freight & Intermodal Business, said: "SNCF shows with this decision its willingness to be a pioneer in the development of traffic between Spain and Europe; traffic with enormous potential that the railroad must begin to capture from now on. Rail freight has a very small share in Spain, we are convinced that this is a significant step to start increasing it in the cross-border traffics through the Pyrénées."
Miquel Llevat, President of the Board of CAPTRAIN España, said: "Once again, this shows up the strong commitment of CAPTRAIN España to develop and enlarge the freight railway market in Spain and to maximise the utilisation of the newly-built railroad infrastructures. We will continue pushing for the sustainable and profitable rail transport development, to help the States to fulfil the European Commission target of a 30 per cent rail freight share in 2030."
Fernando Pérez, Managing Director of the Locomotives Division of Alpha Trains, said: "This order strengthens our partnership with CAPTRAIN España and expands our long-lasting relationship with Stadler Valencia. We are very pleased to have placed the order for these EURO6000 locomotives to broaden our portfolio of locomotives to provide an even wider locomotive offering to our customers. We are convinced that in the future the EURO6000 locomotives will be known for their great hauling capacity and reliability."