VIDEO: Network Rail's electronic scarecrow to keep trains punctual in Manchester
A solar-powered scarecrow that mimics the calls of a hawk is being used to ward off birds causing delays to passengers travelling between Manchester and London Euston.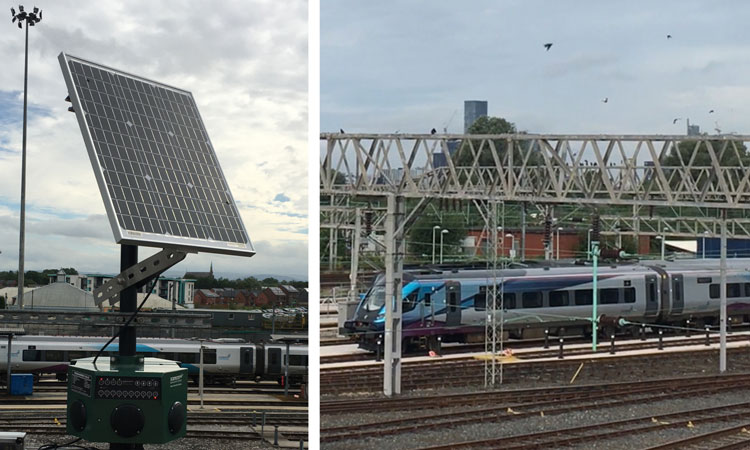 Credit: Network Rail
Large numbers of birds have been damaging the electric arms of Avanti West Coast's Pendolino trains and overhead line equipment giving them power at Alstom depot in Longsight, Manchester.
Now Network Rail and the train operator has installed the device which humanely scares the birds away while protecting them from potential electrocution.
Ridding the depot of birds means long-distance trains will stop being unexpectedly damaged, potentially taking them out of services or delayed in the depot while repairs are made.
This will mean better journeys for commuters, holiday-makers and business people in future.
Phil James, Network Rail's North West Route Director, said: "As we start to welcome back passengers back on to North West railways, they want to know their services are reliable and on time. Birds at Alstom's depot have become a real nuisance but this solution is a win win, protecting both the wildlife and the trains from harm. The electronic scarecrow is one of many methods we're deploying across the North West to make our infrastructure more reliable, so we can deliver on-time train services that people of the North West can be proud of."
Nick Westcott, Operations Director at Avanti West Coast, said: "We're always exploring new initiatives to make our route resilient to various scenarios and customers' journeys more reliable. Birds can delay our trains or cause damage to them and the overhead wires, so working with Network Rail to install an electronic scarecrow will help to deter birds from the railway – improving the reliability of our customers' journeys between Manchester and London."
It's thought birds are roosting on top of overhead line equipment and stationary trains because there is a recycling centre nearby. When they fly or drop twigs on to electrical equipment, their wing spans can cause the cables to trip, leading to a loss of power and the bird's death.
The £2,000 equipment was successfully trialled and installed by Network Rail's Manchester Maintenance Delivery unit team. Since December 2019, Avanti West Coast has experienced a total of 20 incidents across the North West relating to birds on overhead lines or being struck by trains. This caused delays of more than nine hours for passengers (a total of 562 minutes).
Related organisations
Related people