Network Rail investing in latest digital signalling technology in Manchester
As part of the Great North Rail Project, Network Rail is investing £36 million to transform Manchester's railway signalling system and improve journeys for passengers and freight.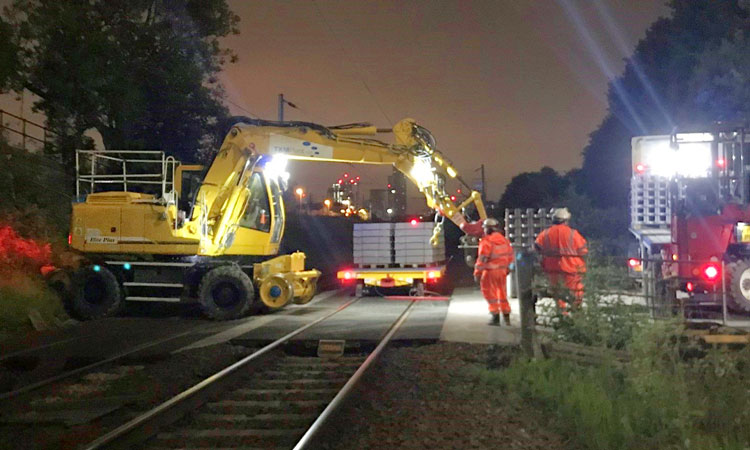 Trafford resignalling work. Credit: Network Rail
Signalling equipment which is nearly 40 years old is set to be replaced as part of Network Rail's Great North Rail Project.
The £36 million work by Network Rail will install the latest digital technology to improve reliability and safety on this important route into Manchester. The upgrade started in August 2020 and will be complete in autumn 2021.
Roisin Nelson, sponsor for Network Rail, said: "This multi-million-pound Great North Rail Project investment into signalling on one of the key rail arteries into Manchester will make passenger and freight journeys across the whole of the North West more reliable. Work like this has never been more important – future proofing this economically important rail link as Britain emerges from the coronavirus pandemic. I'd like to thank passengers and residents for their patience while we deliver this major project to keep passengers on the move, products on supermarket shelves and vital goods going to businesses across the country for decades to come."
Chris Jackson, Regional Director at Northern, said: "The Great North Rail Project is doing a fantastic job in modernising the rail infrastructure and delivering improvements that directly benefit our customers. We will work closely with Network Rail over the coming weeks and months to ensure disruption is kept to a minimum and the improvements are delivered as efficiently as possible."
Kate Green, MP for Stretford and Urmston, said: "I'm pleased to see investment in our local railway. This is already a very busy commuter line, and many of my constituents tell me they'll travel more by train if there are improvements to the service. It's welcome news for passengers and for the vitally important Trafford Park freight terminal."
Signalling equipment between Flixton Station and Manchester City Centre will be modernised, as well as improvements within Trafford Park Depot estate. There will also be signalling upgrades to Freightliner Manchester terminal, DB Cargo and GB Railfreight at the Trafford Park Euro Terminal. This will bring huge benefits to the rail freight companies, increasing the frequency and length of trains they can run and goods they can carry.
Neil McNicholas, Freightliner Managing Director for Rail Services, said: "Freightliner welcomes the proposed delivery of the signalling upgrade in the Trafford Park area, which will further improve reliability for services to and from the Manchester Freightliner Terminal. Crucially, this upgrade will also support the running of longer trains from the terminal, improving the productivity and efficiency of services, reducing congestion on the local road network and supporting decarbonisation."
Ian Kapur, Head of Strategic Access Planning at GB Railfreight, said: "GB Railfreight is pleased that this vital freight route serving Trafford Park is having its signalling and operational flexibility upgraded. This shows Network Rail's commitment in supporting intermodal traffic growth along this important freight corridor."
Roger Neary, Head of Sales at DB Cargo UK, said: "We welcome Network Rail's significant investment in Manchester's signalling system and the fact that it will benefit both passenger and freight operators alike. DB Cargo UK operates a number of important freight services into and out of Trafford Park that will directly benefit from this investment."
To complete the essential improvements, a series of railway closures are needed starting from April 2021.