First five tech firms announced for HS2's Innovation Accelerator programme
HS2 Ltd – the company building Britain's new high-speed rail network – has announced the first five cutting-edge tech firms that will join its Innovation Accelerator programme.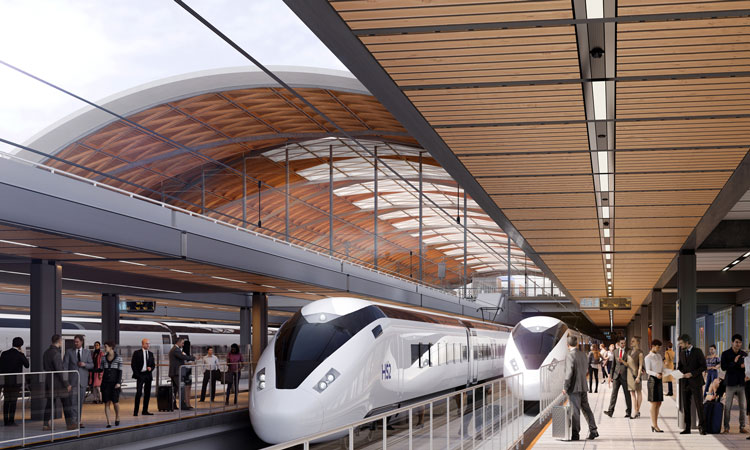 Credit: HS2 Ltd
Focussing on HS2's innovation challenges – productivity; the environment; and the circular economy – the five firms, chosen from 109 applicants to the programme, will receive commercial and technical support from the Innovation Accelerator together with rent-free working space as they develop their technology to help deliver Europe's largest infrastructure project.
After six months of development inside the Accelerator, the firms' solutions will be showcased and pitched to industry investors and HS2's supply chain, consisting of the thousands of companies ranging from the largest international engineers to specialist suppliers to the project. All five start their HS2 development work in September 2020.
HS2 Ltd's Head of Innovation, Howard Mitchell, said: "HS2 is already showcasing the very best of British skills and innovation, and the five companies shortlisted for the Innovation Accelerator today are shining examples of this. The size and scale of this project creates the perfect environment to encourage innovation and develop technologies that can create long-term business opportunities both in and beyond the rail and construction sectors."
The first five companies chosen are:
Buildots
Buildots has developed wearable camera technology that uses artificial intelligence (AI) and state-of-the-art computer vision to automate the tracking of build progress compared to the design and schedule, while reducing and resolving disputes.
Cloudcycle
Cloudcycle has developed technology to optimise the amount of concrete needed to build HS2. Sensors fitted inside cement mixer drums form part of an 'internet of things' solution that learns the properties and qualities of the concrete it is mixing. By enabling real time data management for reliable concrete delivery, on Phase One Cloudcycle's technology could reduce concrete demand by up to 420,000 tonnes; cut carbon emissions by 50 million kg and water consumption by 2.6m litres.
Dendra Systems
Dendra's cutting-edge drone and AI platform could help to both plant and monitor the 140-mile green corridor of seven million trees and shrubs HS2 will create between the West Midlands and London. The solution combines aerial and AI-based technologies that will learn to identify the 46 tree species planted along the route and assess whether they are thriving or are in need of help such as improving land condition or invasive weed mitigation.
NatureMetrics
NatureMetrics' simple biodiversity monitoring kit could help with the creation of HS2's green corridor either side of the tracks by monitoring progress of its newly created woodland habitat. The technology sequences DNA into usable ecology information that shows the distribution of species across a landscape and tracks how habitats change throughout the project lifecycle.
Sensat
Sensat has developed a cloud-based platform to capture, visualise and track infrastructure project data from anywhere in the world. Its 3D visualisation helps engineers collaborate remotely from any location, reducing the need for site visits and enabling progress tracking in a very visual way.
HS2 has now opened the Innovation Accelerator online portal to the second round of applications and is looking for small- and medium-sized firms specialising in the areas of process efficiencies and passenger experience through HS2 stations. Entrepreneurs and tech specialists are invited to apply to join the Innovation Accelerator before the portal closes on 18 September 2020.
Related regions
Related people