Deutsche Bahn announce partnership to improve seamless cross-European train travel
Deutsche Bahn will utilise innovative technology to make it possible for travellers to book their rail journey across multiple international rail inventories and distribution systems directly at railway stations.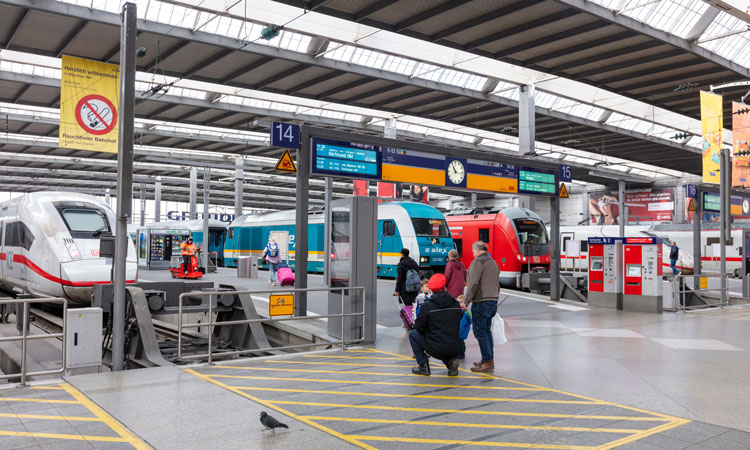 Railways in Europe are becoming an increasingly popular mode of transport for international journeys, especially as we continue to navigate the ongoing COVID-19 travel restrictions. Railway companies are proactively embracing new safety requirements and covering more international routes to bounce back. As they look to encourage more travellers with attractive offers and regain trust, booking cross-European train travel must become seamless, both for the traveller and the rail companies.
Deutsche Bahn and Amadeus have announced an extended partnership which enables travellers to book their journeys across multiple countries and operators including offers from different distribution systems and inventories directly at the train station.
In 2017, Deutsche Bahn partnered with Amadeus to develop a new booking engine. It enables passengers to book rail journeys across Europe online, in one place, and have full visibility of the different offers and their conditions throughout the purchasing process. This solution was first integrated with Deutsche Bahn's website, and now, thanks to the latest agreement, is available for use in Deutsche Bahn Travel Centers inside railway stations.
This booking tool is integrated via a link in the current sales platform used by Deutsche Bahn sales agents every day which means there is no additional login process required for agents. Also, the solution accepts all forms of payments supported by Deutsche Bahn Travel Centers, further streamlining the booking process.
Alexander Mokros, Head of International Partnerships and Industry Partners at Deutsche Bahn Sales, said: "With the technology and expertise of Amadeus we were able to close an important feature gap in our Deutsche Bahn Travel Centres. It allows our staff to easily combine the best available fares of many important European rail companies and offer them as convenient e-tickets to our customers. We fully believe in the renaissance of long-distance rail travel as a safe, convenient and green means of transport and continue our long-term growth strategy. Going forward, we expect travelers across more than 400 Deutsche Bahn stations to use the solution."
Michael Stalter, Head of Commercial, Rail and Ground travel at Amadeus, said: "This is an important milestone for us as we were able to finalise and launch the booking engine with Deutsche Bahn during the COVID-19 situation, a testament to our commitment to bring innovative tools to life and support the industry on the path to recovery. Being our first solution in production for multiple providers and cross-country sales directly in a train station, the booking engine will help Deutsche Bahn and other rail companies garner additional sales volumes and revenues. At the same time, travelers will be able to book more destinations directly from the station – like having the agency in the station."
Rail travel is poised to recover quicker than other modes of transport and become even more popular than ever before across Europe. Intending to reduce carbon emissions by 2050, governments have also been investing heavily and promoting railways. Like the Amadeus and Deutsche Bahn booking engine, the European rail ecosystem is looking at many more large-scale transformative innovations such as digital ticketing, automation, dynamic timetabling – all driven by traveler demand and industry collaboration.