HS2 highlights its efforts to address the rail industry's gender imbalance
On International Women's Day 2021, HS2 has highlighted its efforts in encouraging more women to rail and construction in order to address the gender imbalances of both industries.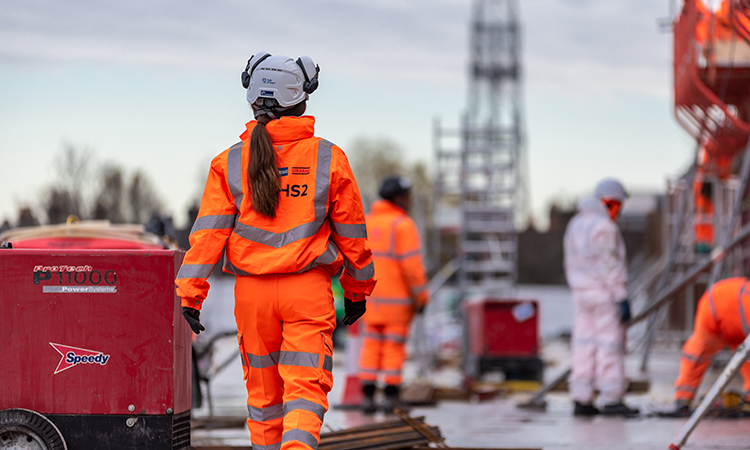 Credit: HS2 Ltd
Women aiming to get back into employment after a career break, or who are looking for a new start, are being encouraged to consider a career on board Britain's new high-speed railway, HS2.
According to Office for National Statistics (ONS) data, female unemployment rates have risen month on month since the period of January to March 2020, and currently stand at 4.8 per cent for the period of October to December 2020. 
With over 20,000 roles still to be created through the construction of Britain's new high-speed railway, which extends from London to Crewe, HS2 is striving to address the gender imbalance that is inherent in the construction and rail engineering sectors. To date, it has exceeded industry benchmarks set for the percentage of Black and Ethnically Diverse, disabled and female employees that make up its workforce.
Maria Grazia Zedda, Senior Equality Diversity and Inclusion Manager at HS2 Ltd, said: "Industries like construction and the railways have traditionally attracted a male workforce, but we're striving to change that. Our culture and employment policies reflect and respect the challenges of individuals juggling work, multiple interests,  parental or carer responsibilities, as we know that's key to attracting a modern and diverse workforce."
"As a values-led organisation, our people come first, and we're proud of the role that our female employees, at all levels, are playing in this once in a lifetime project. We'd like to see more women taking a lead in our sector, and I encourage those who are looking for an exciting new career opportunity to consider our current vacancies," she added.
The ONS' latest Labour Market Overview, UK February 2021, shows that the number of job vacancies in November 2020 to January 2021 was 26 per cent lower than in 2019. 
The sheer scale of the work that is required to deliver HS2 – which is integral to the UK government's Build Back Better COVID-19 recovery strategy – has enabled it to buck that trend, with both HS2 Ltd and its supply chain partners spearheading major recruitment campaigns for both office and site-based job opportunities.
Elena Argirova, Resourcing Manager at HS2 Ltd, said: "We have such a diverse range of roles at HS2, many of which you wouldn't typically link to our sector, which offer the flexibility to combine home and office-based working. We're committed to supporting our employees to reach their career goals whilst introducing measures which enable them to effectively balance home and work commitments."
There are currently over 150 live vacancies within HS2's supply chain, and HS2 Ltd is continuing to expand its own workforce, reflecting progress to date in constructing the first phase of the railway and the recent green light for its extension to Crewe.
In the face of International Women's Day (8 March 2021), HS2 is proud to celebrate the achievements of its female workforce and encourages more women to consider playing a part in revolutionising Britain's railways.