Bombardier wins additional order for 130 ELECTROSTAR Cars from Southern in the UK
Bombardier is chosen by Southern for new train order in the UK…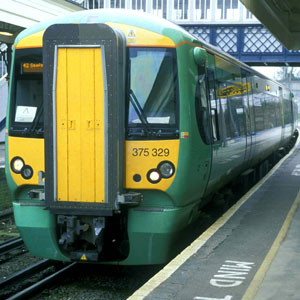 Bombardier Transportation has announced an additional order for 130 BOMBARDIER ELECTROSTAR cars for Southern
Bombardier Transportation today announced that it has secured an additional order for 130 BOMBARDIER ELECTROSTAR cars for Southern. The new trains will augment Southern's existing fleet of Bombardier's award winning electric multiple units. The contract is valued at GBP 189 million (approx EUR 227 million euro / $ 296 million US).
"We are delighted to be awarded this contract by Southern. This is a significant project which emphasises the performance of Bombardier's products in the UK," said Paul Roberts, Chief Country Representative and President of Bombardier Transportation, Services UK and Passenger Fleet Management Service Line. "These vehicles have a proven track record for their excellent reliability and environmental performance which will now benefit many additional passengers in London and the South East. The new trains will be manufactured in the UK with initial production commencing in the latter half of 2012."
Bombardier has a wealth of experience in aluminium train production in the UK, with almost 2,000 ELECTROSTAR electric multiple unit cars produced and in service. The ELECTROSTAR has won numerous awards for its reliability and availability with a variety of operators.
The ELECTROSTAR train is a well proven product providing services for a number of train operators in the UK including c2c, Southeastern and Southern. More recently, ELECTROSTAR-type trains have also been purchased by Transport for London to provide the "London Overground" services on East London Line and North London Railway and by National Express East Anglia to provide services to and from Stansted Airport. The prestigious Gautrain new railway in Johannesburg, South Africa also operates ELECTROSTAR trains.
Chris Burchell, Southern Managing Director said, "The contract with Bombardier supports our commitment to the Department for Transport's High Level Output Specification for railways (HLOS) enabling us to provide additional capacity, performance and safety to all our passengers."
"Following a competitive tender process, we found that the Bombardier solution could meet our challenging delivery timetable, was affordable and also offered compatibility with our existing fleet."
Bombardier in the UK
In the UK's rail transportation industry, Bombardier is the leader in the manufacture and maintenance of rolling stock and is the only remaining train builder in the country. Bombardier Transportation has people at production facilities in Derby and Plymouth and 15 maintenance and overhaul centres across the UK. Bombardier is contracted to service 5,200 vehicles in Great Britain.
Related organisations
Related people