Westminster Council backs HS2 rail link proposals as a boost for business
Transport Secretary Justine Greening, Westminster Council came out in strongly in favour of proposals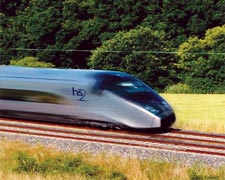 Ahead of today's announcement on the future of the HS2 rail link from Transport Secretary Justine Greening, Westminster Council today came out in strongly in favour of proposals, while calling for more consideration of issues affecting Westminster.
As the vast majority of visitors come into Westminster via train, tube or bus, the continued growth of central London businesses depends on increasing the capacity and effectiveness of public transport. HS2 will ensure rail links to central London are able to cope with the visitor demand.
The 49-minute HS2 link from Birmingham will carry up to 15,000 passengers per hour straight into central London, many or most of whom will head straight for Westminster as the heart of the capital. Providing a fast and direct link to central London from the north of England will provide a tangible boost to the 25% of businesses in Westminster in the retail, leisure and tourism industries.
When responding to Government plans for HS2, the Council asked that more information be provided on the impact of HS2 links to Heathrow. However, its' main concern is that the route through and under Westminster are given further attention, as it is currently planned beneath a Conservation Area. The Council suggested that the proposed route is moved slightly to the North under the West Coast Main Line, to minimise disruption to the local area and community, while still allowing Westminster businesses to capitalise on the tangible benefits the new rail link will offer.
Westminster City Council's Cabinet Member for Business and Enterprise, Brian Connell says: "London is a global City, competing with destinations across the world and our transport infrastructure needs to reflect this and help us to compete.
HS2 is good for business and will bring thousands of people into the heart of London every day. With many Westminster businesses dependent on tourism, a new direct link to the area will offer a big boost for our key industries at a time when it is most needed."
Lee Rowley, Westminster City Council's Cabinet Member for Parking and Transportation adds: "We welcome the proposals to build High Speed 2, which will be just as important for London as the north, particularly in reducing congestion in Westminster. We will continue to work to secure some changes to the route as the bill passes through Parliament, to reduce its impact on Westminster residents, but today's announcement is another step forward in improving transport in the heart of the capital."
Related topics
Related organisations
Related people