Renfe places order for variable gauge high-speed locomotives
The €281.5 million contract has been awared to Talgo to manufacture up to 40 new variable gauge and 330km/h commercial speed powerheads (locomotives), with a contract for 26 powerheads for €195.5 million as the last step in transforming 13 conventional trains into very high-speed trains.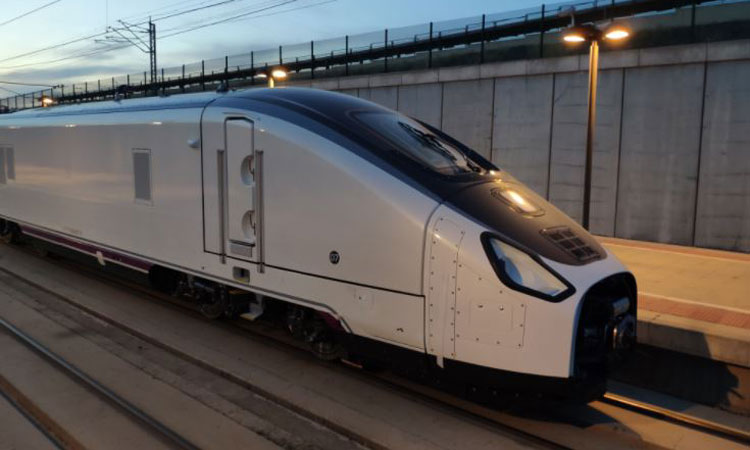 Credit: Talgo
With this contract, Renfe gives continuity to a first contract awarded in February 2018 to upgrade traditional and towed technology trains (at that time without a locomotive) to high-speed trains with the highest features.
Under the existing options in the framework contract, this order also includes the maintenance of the 13 trainsets with the possibility of increasing the scope of manufacture up to 40 powerheads.
The 26 locomotives contracted will be used to provide traction to each of the 13 trains that were already being upgraded. They will be operated in single-pair formations for each train, placed at both ends of the passenger car formations. This will create uniform compositions that will be indistinguishable from the rest of Talgo's high-speed trains and which, like all of them, will have a single low-floor along their entire length, at the same platform level and without steps.
The powerheads will incorporate state-of-the-art technology developed in Spain and already available on Talgo Avril trains. Like them, they will be able to adapt automatically to the two existing track gauges in Spain, which will allow high-speed services to be extended to the conventional electrified railway network. Infrastructure capacity on high-performance lines will thus be exploited to the maximum, and journey times will be significantly shortened in those destinations that they do not yet cover.
Talgo Avril trains are low-consumption, high-efficiency units and are currently in the homologation phase, with daily dynamic tests on the Venta de Baños-Burgos section of the Madrid-Valladolid-Basque Country high-speed line.
As part of the tests required for technical validation, these powerheads of the new Talgo Avril will soon be running at over 360km/h, opening the way for the subsequent entry into service of the 13 upgraded conventional trains.
Extension to a 2018 contract
The initial contract, worth €107 million, included the transformation of 156 Talgo series seven-night service carriages, previously operated by Renfe under the commercial brand 'Trenhotel', into 13 very high-speed trainsets. However, it did not include the manufacture of the powerheads needed to run these trains.
In addition, in 2018, the project already considered an option for transforming 72 additional carriages (six compositions, at that time also without locomotives) to be executed according to Renfe's requirements. This would increase the value of the first contract to €151 million.
Circular economy and decarbonisation
The upgrading of the trains allows a second life to be given to existing conventional Intercity rolling stock, technically modern but unused. In addition, the assets will be converted into very high-speed rolling stock, in line with the principles of reduction, reuse and recycling of the so-called 'circular economy'.
Renfe will receive 43 new very high-speed trains manufactured by Talgo in the coming years. The 13 whose order is now complete and another 30 of the Avril series will significantly increase its offer of seats on all high-speed lines. This will enable it to face the challenge of replacing the modal shift, transferring passengers from air to rail transport, and as part of the efforts to decarbonise mobility in Spain.
With this action, Talgo also becomes the first manufacturer in the world capable of giving a second life to Intercity trains (maximum speed of around 200km/h) and converting them into very high-speed trains.
This is only possible thanks to the unique running gear technology developed by Talgo in Spain, which, since its conception almost eight decades ago, has made all Talgo trains particularly well prepared for high-speed operation, regardless of the segment they are intended for.
Related topics
Related regions