Deutsche Bahn develops resilience strategy for future weather extremes
Based on a new study by the Potsdam Institute for Climate Impact Research, Deutsche Bahn has developed a resilience strategy to protect its network from the impacts of extreme weather and climate change.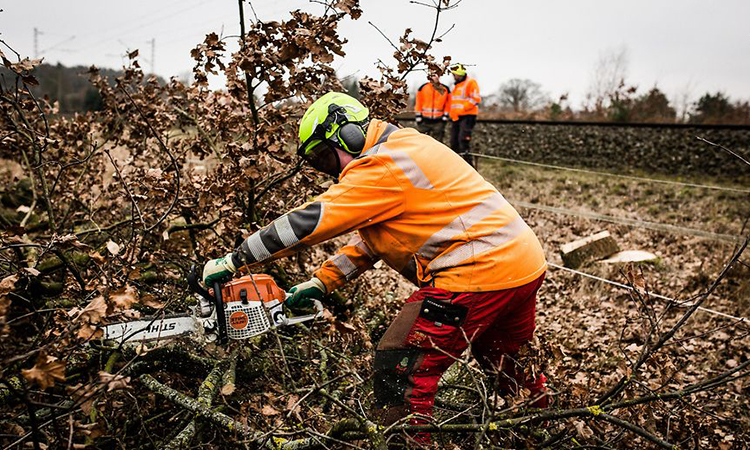 Credit: Deutsche Bahn
Deutsche Bahn (DB) has announced that it is preparing for future weather extremes with a new resilience strategy. The basis for the group-wide package of measures is a new study by the Potsdam Institute for Climate Impact Research (PIK), in which weather experts have investigated climatic changes up to 2060.
The results of the study found that there would be significantly more heat days and less harsh winters in Germany in the future. In addition, weather extremes such as heavy rain and hail would become more common. As a result, Deutsche Bahn is using the scientific data to better prepare infrastructure, vehicles, energy systems and stations against climate consequences. Ultimately, DB's goal is to make its rail network weatherproof so that passengers can travel unhindered and goods can be transported in a stable manner.
Ronald Pofalla, DB Infrastructure Board Member, said: "Climate change has long been a reality – this is made clear once again by the new investigation by PIK. Therefore, the most urgent concern of our society must be the reduction of CO2 emissions. Our ultimate goal at DB: climate neutrality by 2040. At the same time, we will make rail even more weatherproof for our passengers. With the PIK forecast data for 34 transport regions, we have created a good basis for our resilience strategy in order to react even more specifically to local weather phenomena in the future. Disruptions caused by climate consequences on rail traffic can thus be prevented even more effectively."
Prof. Ottmar Edenhofer, Director and Chief Economist of the Potsdam Institute for Climate Impact Research, said: "The data presented for Deutsche Bahn show climate risks for the whole of Germany. These risks affect the railways with its nationwide rail network in a special way – but they ultimately affect us all. If we fire coal, oil and gas and thus emit greenhouse gases and heat up the earth system, then this leads to weather changes. These cause considerable economic damage, today and even more tomorrow. Adaptation is important here. Even more important is a rapid reduction in CO2 emissions, as operated by the railways. Mobility with electricity from sun and wind is the key. Road traffic must follow suit here if German climate targets are to be achieved."
DB's climate resilience strategy will primarily include further optimised vegetation management on the track, as well as robust vehicles and plants, subsequently creating a weatherproof infrastructure. DB is working to achieve more stability in the event of changed weather conditions; for example, through more climate-resistant interlocking technology and energy systems. Sensors will record plant temperatures and environmental conditions in the future, and DB can thus detect possible disturbances caused by climate damage at an early stage and initiate repairs in good time.
For Deutsche Bahn, PIK analysed weather data from 1961 to 2020. Based on this, the scientists developed projections on possible developments in the climate for the years 2031 to 2060 with different computer simulations. PIK considered 11 climate factors, including heat, storms and ice, as well as the development of heavy rain, for a total of 34 transport regions.
According to the researchers, heat continues to increase in the future – with a focus on the regions of Mainz, Karlsruhe and parts of northeast Germany. At the same time, the amount of ice is falling significantly, especially in the western regions. PIK also assumes that the southern federal states and the Hagen region will be affected by heavy rain in the future, which can already be observed.
After the first climate study by PIK in 2018, Deutsche Bahn has undertaken a variety of concrete technical, organisational and personnel measures to prepare itself for the consequences of climate change. With more personnel, more expertise, digital tools and investments of €125 million annually, DB has demonstrably become more weatherproof for its passengers: storm damage caused by trees has decreased by 25 per cent since 2018.
Deutsche Bahn also provides for rail vehicles. All newly purchased long-distance trains are designed for a stable indoor climate – the flagship ICE 4 is even equipped for outdoor temperatures of up to 45 degrees. DB checks the systems on a regular basis – at least every six months – and, in order to ensure the stability of the air conditioning systems on its long-distance trains alone, DB spends a mid-double-digit million amount annually. Older series are overhauled for longer use and re-equipped with climate-resistant systems. The same applies to vehicles in regional transport, as well as DB's new S-Bahn trains.