Deutsche Bahn expands its utilisation of wind power to supply electricity
Approximately 190 gigawatt hours of wind power from the Amrumbank-West offshore wind farm in Germany will supply DB's trains in the future.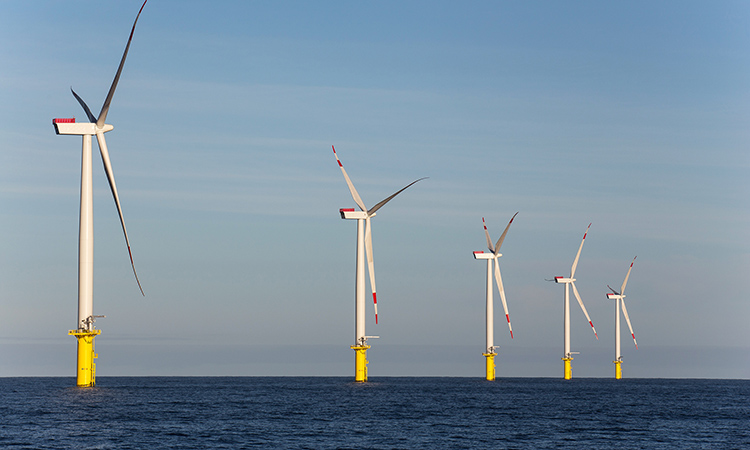 Credit: Deutsche Bahn
Deutsche Bahn (DB) is consistently converting its electricity supply to become more sustainable by utilising even more wind power. Around 190 gigawatt hours of North Sea wind per year from the German offshore wind farm, Amrumbank-West, will drive DB's trains in the future. This quantity alone corresponds to the need for almost six days of electric rail operation throughout Germany.
DB currently holds around a third of the market share of green electricity contracts in Germany, the so-called PPA contracts, without any support from the Renewable Energies Act (EEG). At the same time, up to 153,000 tonnes of CO2 are saved annually compared to the supply from coal power.
DB's partner for the green electricity contract, which will run for 15 years from 2025, is RWE. At the end of 2020, DB had already concluded a 15-year contract with RWE for more than 260 gigawatt hours of green electricity annually from the Amrumbank-West wind farm.
Torsten Schein, Chairman of the Management Board of DB Energie GmbH, said: "DB is advancing the still young German PPA market. Our consistent path to 100 per cent green electricity contributes to the further development of the renewable energy market in this country. Hydropower has proven itself in the railway for over a hundred years. We see great potential for expansion in solar energy and wind power."
Hendrik Niebaum, Head of Commodity Solutions at RWE Supply & Trading, said: "We have a long-standing partnership with Deutsche Bahn. We support them with tailor-made energy solutions and, thus, help the railways to achieve their ambitious climate protection goals. RWE is one of the largest producers of electricity from renewable energies internationally. We are expanding this vigorously; in Germany alone, we will invest around one billion euros in further wind and solar plants by 2022."
Already today, around 61 per cent of DB's traction power consists of renewable energies and is thus far above the public green electricity mix of currently less than 50 per cent. In 2030, the share of green electricity in the traction power mix is expected to be 80 per cent; in 2038, completely 100 per cent. For this purpose, the group subsidiary DB Energie is fundamentally converting the portfolio of power plants and contracts. Renewable energies are gradually and consistently replacing contracts of fossil fuels.