HS2 to pioneer UK-first 'box-slide' bridge over motorway
HS2 Ltd will soon start construction of the first HS2 railway bridge over a motorway, using innovative technology to dramatically reduce traffic disruption.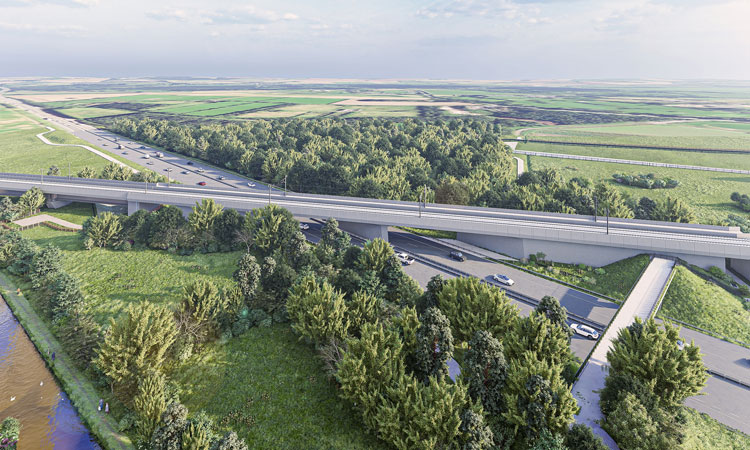 Architect's impression of the 'Marston Box' rail bridge over the M42. Credit: HS2 Ltd
Work is set to start soon on the 'Marston Box' bridge which will carry the HS2 route over the M42 in the Midlands.

The 10,000 tonne bridge 'box' structure has a base, three walls and top slab and will be built on land next to the motorway. Once built, a hi-tech raft will then glide the structure into position. Whilst this technology is used on railways, this will be the first box slide of its kind over a motorway in the UK.
When originally designed, the bridge was going to be a traditional structure, which would have meant significant traffic disruption for motorway users, with around two years of reduced lane widths, 50mph speed limits and weekend and night closures.
But now this unique construction method will see the whole structure built on land next to the motorway and then moved into place in one movement, meaning only two one-week closures of the motorway over a 12-month period. This method also dramatically improves the health and safety of the workforce, who won't need to work in close proximity to a live carriageway.
This section of the route will carry HS2 over the motorway as it heads north to Crewe, or on its southward journey as it loops into Birmingham Curzon Street or continues straight on to Interchange Station in Solihull, Old Oak Common Station and London Euston.
HS2 Ltd's contractor Balfour Beatty VINCI (BBV) has started preparing for the construction of the 'Marston Box' bridge near Junction 9 of the M42 in North Warwickshire. The M42 will be closed for one week for the first stage of preparation work between Christmas and New Year 2021, with plans to move the structure into place during a week's closure in winter 2022.
David Speight, Client Project Director for HS2 Ltd, said: "At HS2 Ltd we're always looking for innovative ways to reduce our impact on local communities, and this UK-first 'box slide' provides a quicker and safer solution."