ÖBB RCG expand network connection to three-border region
ÖBB RCG announce new TransFER connection from Wolfurt to Frenkendorf, which offers end-to-end connection every mile of the way.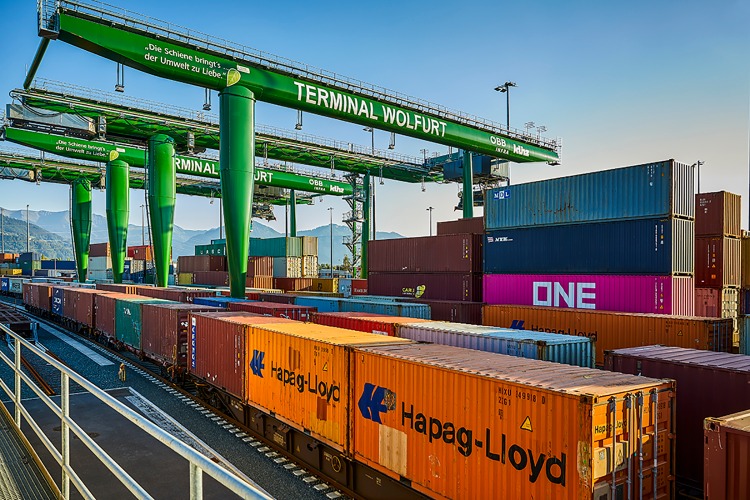 Credit: ÖBB RCG / Lukas Hämmerle
The ÖBB Rail Cargo Group (RCG) is expanding its network with a further intermodal TransFER connection that enables high-frequency connections for maritime loading units to the southern and northern ports of Genoa and La Spezia (both in Italy) as well as Rotterdam and Antwerp.
With the new connection, the RCG, in cooperation with the European logistics service provider Swissterminal, offers efficient and sustainable freight transport between the Wolfurt terminal in western Austria and the Swiss terminal in Frenkendorf. The TransFER is served with three weekly round trips and attractive connections to the RCG's international rail freight network, primarily to northern, southern and eastern Europe.
"The RCG is the second largest rail logistics provider in Europe and the sustainable logistics backbone of the European economy," Clemens Först, spokesperson of the ÖBB Rail Cargo Group board, said. "As part of this mission, we are constantly expanding our network. I am looking forward to working with Swissterminal. Together, we can make another important contribution to sustainable land transport and thus to the climate change."
The Wolfurt–Frenkendorf TransFER is particularly suited to maritime shipments in 20 and 40-foot containers. In Frenkendorf, the RCG, in cooperation with Swissterminal, handles onward transport to and from Genoa and La Spezia on the Ligurian Sea, as well as to the two largest northern European ports in Rotterdam and Antwerp. The RCG will still offer the TransFER Wolfurt–Rotterdam as a direct connection several times a week.
On the request of the customer, the new TransFER can also be organised by the RCG as an end-to-end connection every mile of the way (including First and Last Mile). The customers do not necessarily need their own industrial sidings.
Available in eleven languages with an intuitive user interface, TransNET, the ÖBB Rail Cargo Group's new digital map, sets new standards in the European freight transport market. Users have three options to find their desired connection, they can select go and thanks to choose the starting point and destination for their goods, they can find their connection using our well-arranged list view, or simply click on a location on our map. This opens a world of possibilities, with TransFER connections and combinations that they can link up to best meet their needs. After selecting the relevant route, it is displayed on the map and shows which services are offered at the selected locations.
"The new service will make the Wolfurt rail freight terminal even more attractive for the strongly export-oriented Voralberg economy and the east of Switzerland," Roman Mayer, CEO of Swissterminal, said. "With the connection to the Swissterminal Group network as well as that of our partner DP World, customers benefit from numerous options for onward transport to the north and south of Europe. We are extremely pleased to be able to continually expand our service of sustainable and efficient connections for maritime cargo transport."