Heathrow Express to launch new Onboard Entertainment platform
Heathrow Express will launch an Onboard Entertainment platform, replacing all physical publications previously available to passengers with free online alternatives.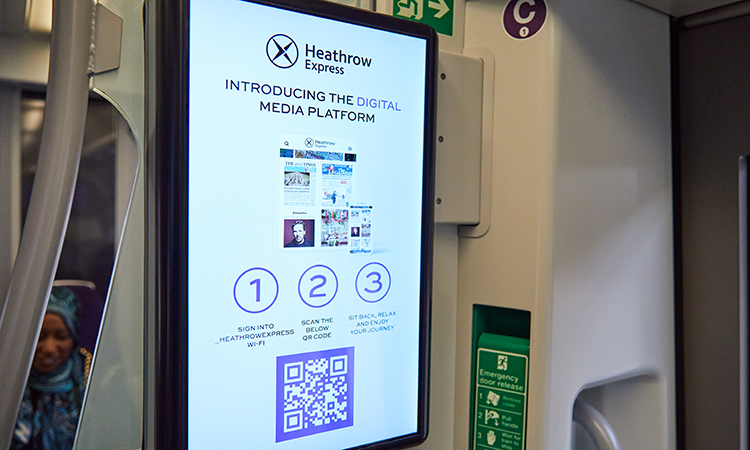 Credit: Heathrow Express
Heathrow Express, the fastest route between Paddington and Heathrow Airport, has announced the launch of its new Onboard Entertainment digital media platform, available to all those travelling on the train.
The Heathrow Express is a premium non-stop train service between London Paddington to Heathrow Terminals. With its electric trains taking 15 minutes, the Heathrow Express provides the fastest, most reliable, and sustainable way to travel to and from Britain's hub airport. As a dedicated airport service, it also offers passengers an easy and comfortable way to travel with its spacious cabins designed to provide extra capacity for luggage.
The Onboard Entertainment platform is a virtual offering, allowing passengers access to a variety of newspapers and magazines for free, in a tranquil and calm space while travelling between Paddington and Heathrow. To access the newspapers and magazines, passengers can simply connect by mobile or device to Heathrow Express Wi-Fi before scanning the Onboard Entertainment QR code. The QR code is located throughout the train, including on digital screens, seat backs and windows, and offers access to media titles including national newspapers, lifestyle magazines and games. Information on both the Heathrow Express services and Heathrow airport can also be accessed via the QR code.
"We are really excited to be able to offer the Onboard Entertainment platform to customers who choose to travel with us on the Heathrow Express," Mark Eastwood, Commercial Strategy Lead at Heathrow Express, said. "We are proud of our position as a sustainable transport option with our fully electric trains and now with this new media platform, which as a result of going digital, saves the equivalent of 850kgs a month in wastepaper, that's 10,200kgs a year. This means that our passengers can have free access to a variety of media while also enjoying the speed and ease that the Heathrow Express offers, improving the onboard experience further."