ÖBB celebrate first anniversary of the Nightjet from Vienna and Innsbruck to Amsterdam
ÖBB are celebrating the first year of the Nightjet from Vienna and Innsbruck to Amsterdam which has saved over 40,000 tonnes of CO2 emissions compared to air travel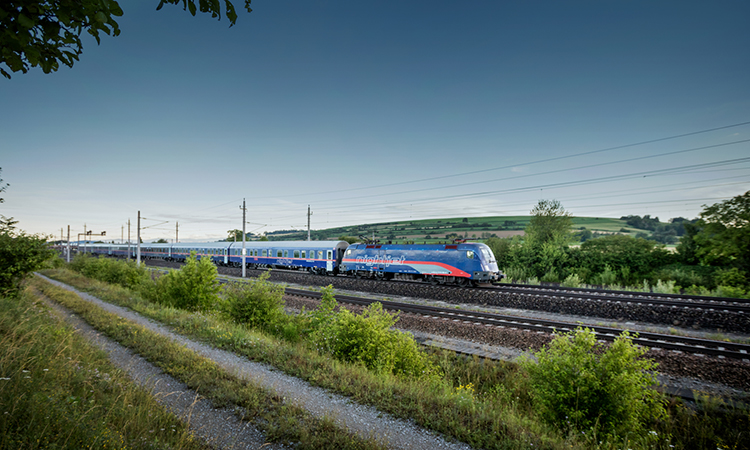 Credit: ÖBB/Harald Eisenberger
ÖBB have celebrated an eventful first year for the Nightjet from Vienna and Innsbruck to Amsterdam. After a Corona-related night train break, ÖBB Nightjets quickly filled up again during spring 2021.
"With our new Nightjet offer to Amsterdam, we have set an important milestone for an even more comprehensive European night train network," Andreas Matthä, CEO for ÖBB, said. "In this way, we enable our passengers to travel safely, relaxed and, above all, in a climate-friendly manner. A single night train from Vienna to Amsterdam can save almost 100,000kg of CO2 emissions compared to an airplane."
"Around six months after the introduction of the Nightjet connection from Zurich via Basel to Amsterdam, SBB can draw positive conclusions," Véronique Stephan, Head of SBB Market Passenger Transport, said. "Since the spring we have had a very high demand, especially for the summer months. The offer clearly meets a customer need,"
"With more than 100,000 passengers in the first year of operation, we are pleased to note that the Amsterdam – Vienna/Innsbruck night train is definitely back," Heike Luiten, Managing Director of NS International, said. "We have high hopes for the future of this connection, as the first year of operation was still marked by travel restrictions due to the corona pandemic. Together with our partners, we are constantly looking for other attractive night train connections for our international passengers".
The consistent expansion of the night train network further strengthens the position of the railway compared to the plane on short and medium-haul routes in Europe. A trip with the Nightjet on the 1,226km route saves up to 350kg of CO2 emissions per passenger. Thus, in the first year, more than 40,000 tonnes could be saved in direct comparison with air traffic. Single seats in the seating car, couchette car or sleeping car can be booked on the ÖBB Nightjets. For the greatest possible privacy, the compartments in the three comfort categories can also be booked as separate compartments, as long as there is sufficient capacity.