CHSRA reach construction milestone in Kern County
CHSRA have placed the final pre-cast girders on Construction Package 4, reaching a milestone for the 22-mile-high speed rail project in Kern County.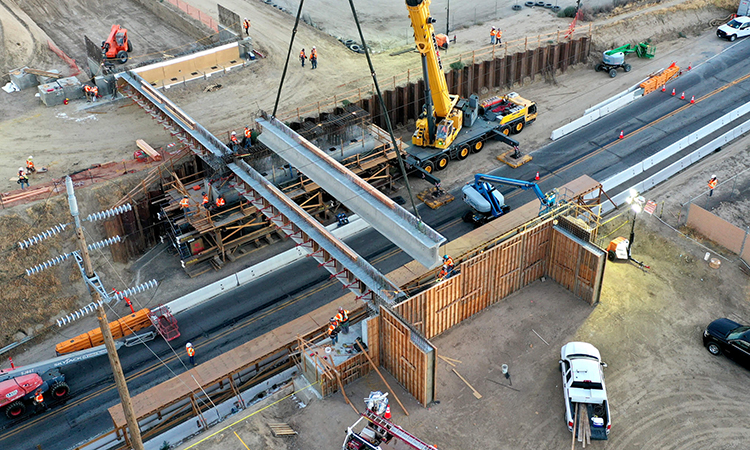 Credit: CHSRA
The California High-Speed Rail Authority, in collaboration with design-build contractor California Rail Builders, have reached an historic milestone as the final pre-cast girders have been placed on Construction Package 4. With this placement, all structures along the 22-mile stretch of high-speed rail between just north of the Tulare/Kern County line, and Poplar Avenue south of the city of Wasco, are now in superstructure construction. A video of the process can be found below:
Through the night, 12 pre-cast concrete girders were placed by construction crews over the State Route 46 underpass in Wasco. The work is being done to create a bridge that will carry high-speed trains parallel to the BNSF railroad.
Previously, crews installed 15 pre-cast girders at the Merced Avenue Grade Separation south of Wasco. Those girders spanned more than 177 feet and are some of the longest manufactured by subcontractor Con-Fab California. Earlier this spring, the last four of 120 pre-cast concrete girders were placed on the pergola section of the Wasco Viaduct. 
Since the start of construction, the California high-speed rail project has created more than 8,000 construction jobs, a majority of which go directly to those living in the Central Valley. There are currently 119 miles under construction in the Central Valley with more than 30 active construction sites.
A video of the girders being placed can be found below:
Related topics
Related regions