High-speed rail progress continues to boost California economy, report shows
The California High-Speed Rail Authority's latest Economic Analysis Report shows that investment in the high-speed rail project is lifting California's economy and contributing to economic benefits across the state.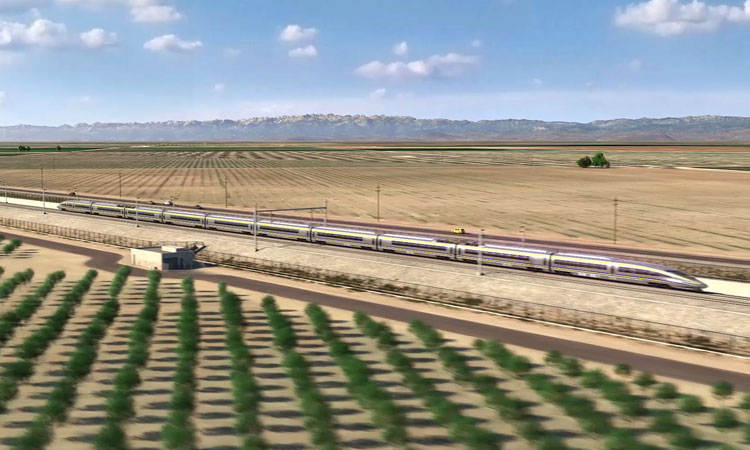 Credit: California High-Speed Rail Authority
Investments in California's first-in-the-nation high-speed rail project are pumping billions of dollars into California's economy and contributing to positive economic benefits across the state, according to the California High-Speed Rail Authority's (Authority) latest 2022 Economic Analysis Report.
Authority CFO, Brian Annis, said: "High-speed rail creates jobs and generates income for Californians while paving the way for the state's future transportation. We look forward to our continued partnership with the federal government and our local partners as we build this transformative project for California."
10,000 construction jobs
In February 2023, the Authority celebrated a historic milestone, announcing the creation of more than 10,000 construction jobs since the start of high-speed rail construction. Most of these jobs have gone to Central Valley residents and men and women from disadvantaged communities.
Fresno Mayor, Jerry Dyer, said: "This project is not only reconnecting the Central Valley to the rest of the state, but it is improving the economic prosperity of our region. Creating good-paying jobs gives our residents the opportunity to send their kids to college, buy homes and continue to invest in their hometown. High-speed rail will transform the Valley and California and will be a model for the country."
Driving economic activity
These jobs are the result of the project's investment of more than $9.8 billion since 2006 in its planning and construction. More than one of every two of these dollars have been invested in California's disadvantaged communities, driving economic activity in these areas.
The Authority estimates a total of 80,000 job-years have resulted from the project so far, causing $6 billion in total direct labor income earned by workers on the project, and $16 billion in total economic activity.
Completing Merced to Bakersfield would result in a total of 325,000 job-years of employment and a total economic activity of $65.1 billion. The Authority defines job-years as the equivalent number of one-year-long, full-time jobs supported by the project. For example, if one full-time job is supported for two years, it represents two job-years.
As of December 2022, more than 760 certified small businesses throughout the state are also building high-speed rail. To date the Authority has paid more than $1.3 billion to certified Small Businesses, Disadvantaged Business Enterprises and Disabled Veteran Business Enterprises in California for their work.
Under construction
The Authority has begun work to extend the 119 miles under construction to 171 miles of future electrified high-speed rail from Merced to Bakersfield. The project has more than 30 active construction sites in California's Central Valley, with the Authority having environmentally cleared 422 miles of the high-speed rail programme from the Bay Area to the Los Angeles Basin.
The Authority's economic impact analysis is updated annually and reflects data as of June 2022. The latest 2022 economic impact analysis can be found here.