GB Railfreight opens new health and wellbeing centres in London and Doncaster
The centres will offer preventative, convenient healthcare for all GB Railfreight employees, contributing to a safer, healthier and happier work environment.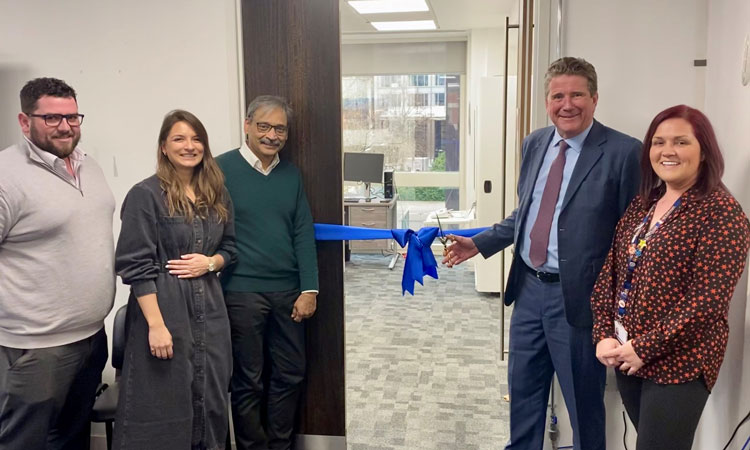 From left to right: Scott Walton - GB Railfreight, Dr Isabella Fernandes, Dr Manuel Fernandes, John Smith – CEO of GB Railfreight, Tracy Taylor. Credit: GB Railfreight.
GB Railfreight (GBRf), the operator of rail freight services across the UK and employer of over 1,300 staff, has announced the opening of new health and wellbeing centres in its London and Doncaster offices. 
GBRf aims to be the safest and most supportive rail freight business in the industry. The centres cost £22,000 to build and are equipped with the latest technology to check hearing, vision, blood pressure, and complete electrocardiograms (ECGs) as part of GBRf's industry-leading health and wellbeing onboarding for all train managers and rail operators.
The same health checks will also be offered to all existing drivers as part of their annual checkup, and will be made available to HQ staff undergoing their Personal Track Safety training. All medical tests will be overseen by GBRf's Chief Medical Officer, Dr Manuel Fernandes, who brings with him over 30 years of medical experience.
Staff health and wellbeing
Health and wellbeing is core to GBRf's sustainability strategy. The introduction of two new centres will deliver the important checkups needed to ensure the health and safety of GBRf's frontline staff are supported and prioritised, confirming they are fit to operate locomotives and ultimately decreasing the number of accidents caused by ill health.
"We're delighted to be delivering further on our commitment to the health, safety, and wellbeing of our employees," said John Smith, CEO of GBRf. "The introduction of these two medical centres is about more than just new healthcare facilities – it signals our continued commitment to keeping the physical and mental wellbeing of our employees at the forefront of what we do – ultimately protecting our people and our services. We have intentionally invested in providing accessible, convenient healthcare solutions that make it easier for all staff to receive the medical attention they want."
Dr Manuel Fernandez, Chief Medical Officer for GBRf, said:"These new centres provide state-of-the-art equipment allowing us to bring more preventative medical care in house than ever before. This means reduced waiting times, greater convenience and more flexibility for our people – helping to put them in the driver's seat of their own health and wellbeing, no matter what journey they're on."