Stadler to service GB Railfreight's new fleet of hybrid locomotives
Stadler have signed a contract with GB Railfreight to service and maintain their latest hybrid locomotives from 2025.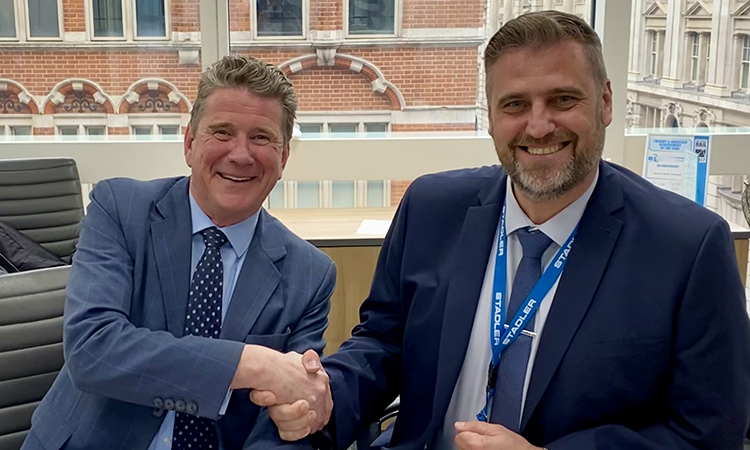 John Smith (L) and Paul Patrick (R) - Credit: Stadler
GB Railfreight (GBRf) and Stadler have signed an agreement that will see Stadler Rail Services be responsible for all aspects of service and maintenance GBRf's latest hybrid locomotives from 2025. This news follows GBRf's contract with Stadler and Beacon Rail to manufacture and deliver 30 new Class 99 bi-mode Co'Co locomotives. This deal marks the start of a long-term partnership between the organisations.
Beacon Rail will own the new hybrid fleet, and GBRf will be the lessee. The UK government's electrification rollout, when complete, will enable the Class 99s to run on electricity across all UK routes and reduce emissions by 585,000 tonnes of carbon per year. High quality and reliable servicing is critical to ensuring the fleet can deliver this impact.
GBRf has agreed with Stadler that they will maintain the 30 locomotives at a new depot in Leicester, where they will receive tailored maintenance solutions to ensure a high quality of service. Stadler will manage overhauls, spare parts, material supplies, vehicle repairs, mobile service support, data and maintenance software.
"The service agreement with Stadler for the Class 99 locomotives brings together its design and maintenance divisions to ensure that rail freight continues to lead the decarbonisation of supply chains," John Smith, CEO of GB Railfreight, said. "Continued private sector investment in the industry-leading Class 99s and their maintenance facilities, demonstrates a commitment to modernising and growing the rail freight sector in the UK to help deliver the government's net zero ambitions."
"We have established a strong foothold in the UK over recent years and are delighted to have been awarded another Service contract, based on our proven track record and expertise in this field," Paul Patrick, Managing Director of Stadler Rail Service UK, said. "The locomotives that Stadler will be responsible for will pave the way to a greener and more efficient rail network, supporting the industry's ambition of promoting modal shift from road to rail. We are pleased to be supporting the government's targets to decarbonise the UK railway by 2040, which will benefit our clients, British business and society alike."