New rail cargo connection to Ukraine established
ÖBB Rail Cargo Group (RCG) is, in cooperation with the Ukrainian Railways, connecting Ukraine to its intermodal network with the new connection TransFER Vienna–Kyiv.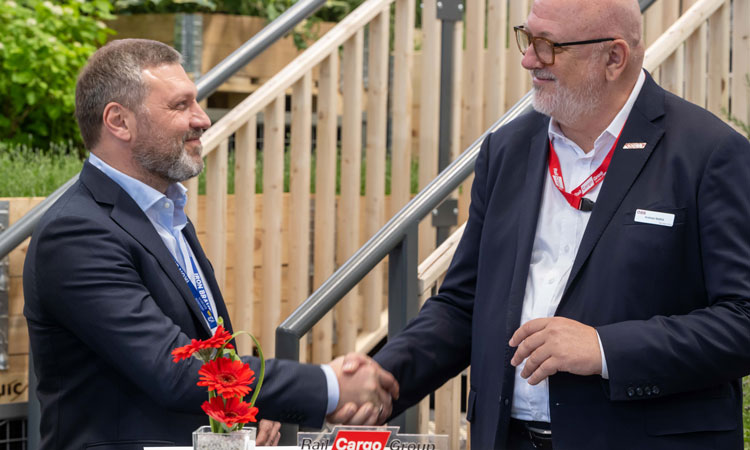 ÖBB CEO Andreas Matthä and Viacheslav Yeromin, Member of the Management Board Ukrainian Railways. Credit: ÖBB/Heller
As a leading rail logistics provider in Europe, ÖBB Rail Cargo Group (RCG) already offers a wide range of intermodal TransFER connections across the entire Eurasian continent.
But with a new connection between Kiev and Vienna with stops in Budapest and Lviv now announced, the ÖBB freight subsidiary now offers the first regular, high-frequency intermodal connection between Ukraine and the numerous hubs in Central Europe.
An important step in the right direction
Rail freight has proven its systemic relevance in maintaining supply security during the numerous international crises. ÖBB CEO, Andreas Matthä, said: "It is not only Ukraine that benefits from being included in the international network of ÖBB Rail Cargo Group; the whole of Europe must grow closer together as far as rail freight transport is concerned. This is an important step in the right direction, for the economy, countries and the environment.
Viacheslav Yeromin, Member of the Management Board of Ukrainian Railways, said: "Ukraine is essential as a source market for European supply chains – especially in the area of raw materials and agricultural products. Through quality transport products, we want to ensure the country's integration into the European transport network to efficiently connect our producers as well as our receiving markets with European ports and logistics hubs."
Supporting Ukraine: keeping the economic engine running
ÖBB RCG has been intensively supporting Ukraine with transport and logistics services since March 2022. In the segment of agricultural products alone, more than two million tonnes have been exported – more than 100 trains per month and more than any other freight company in Europe.
Many advantages for customers
In cooperation with Ukrainian Railways (Ukrzaliznytsia/UZ), RCG thus connects Ukraine with the European Union (EU) and beyond. This brings many advantages for customers: 
Full access to RCG's maritime, continental and Eurasian connections
Trucking service to any European destination – starting from Budapest and Vienna
Fixed schedule and attractive transit times
Weekly departures in both directions.
Traction in Europe on standard gauge will be provided by RCG from the Ukrainian border as a one-stop service. It will also handle additional logistical services such as terminal services, import and export customs and much more. On the broad gauge up to the Ukrainian/Hungarian border, the partner Ukrzaliznytsia will take over.