Video: Brightline celebrate completion of Orlando construction
Brightline are celebrating the completion of the Orlando expansion which generated more than 10,000 jobs and over $6.4 billion in economic impact for Florida.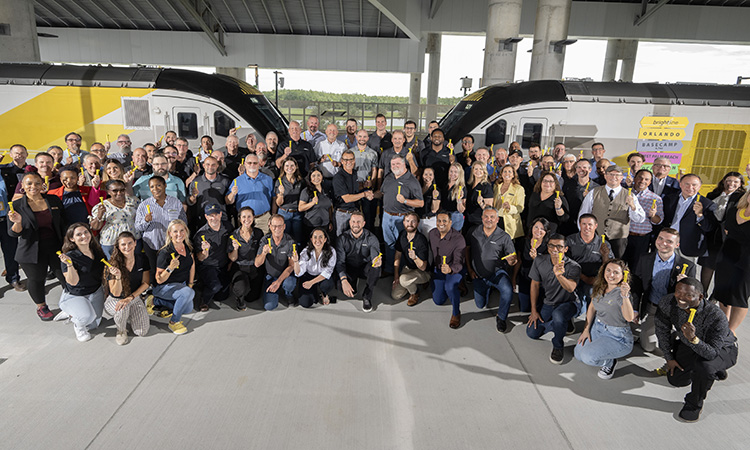 Credit: Brightline
Brightline have celebrated the completion of construction to Orlando, paving the way for the launch of service between Central and South Florida in summer 2023.  Brightline's Orlando expansion broke ground in June 2019, one year after operations began in South Florida between its Miami, Fort Lauderdale and West Palm Beach stations. Additional stations were opened in downtown Boca Raton and Aventura in 2022 as construction to Orlando continued. Brightline is the first private entity to deliver an intercity rail system since Henry Flagler built the railroad more than a century ago.
Brightline construction (Phase I & II) generated more than 10,000 jobs and more than $6.4 billion in economic impact to the state of Florida (according to economic studies). Construction teams worked more than seven million hours battling through the COVID-19 pandemic and supply chain shortages to finish the 170-mile corridor extension.
The Orlando expansion
Brightline's Orlando extension project is divided into four zones, which includes a state-of-the-art vehicle maintenance facility, tenant buildout of the Orlando station at Orlando International Airport, 56 bridges, three underpasses and upgrades to 156 railroad crossings.
Zone 1
Basecamp – Brightline's vehicle maintenance facility – located on a 62-acre site south of Orlando International Airport. The 138,000 square foot facility spans the length of two football fields and is large enough to service 16 trains daily with a fully automated train wash and an 80,000 gallon biodiesel fuel farm.
Brightline Orlando Station – 37,350 square foot train station located in Orlando International Airport's new 80,000 sq. ft. Train Station. The train station connects directly to the airport's new Terminal C and the automated people mover "Terminal Link" connects the Train Station to the rest of the airport facilities including Terminal A and B in under five minutes. Station buildout includes signature Mary Mary Bar, MRKT Place, a BrightKids children's play area and SMART and PREMIUM lounges.
Zone 2
This 3.5-mile section is located in the heart of Orlando International Airport and represents one of the most complex and challenging areas of construction for the entire project. The engineered double track travels under active airport taxiways and over tug roads and includes six bridges, two underpasses and several airport improvements, including a new traffic interchange configuration and the airport's first roundabout designed to assist with traffic flow.
Zone 3
The 35-mile corridor of new rail alignment follows the Beachline Expressway/SR 528 corridor between Orlando International Airport and Cocoa. Efforts include three million cubic yards of excavation, 5.4 million cubic yards of embankment fill, 865,000 square feet of mechanically stabilised earth into permanent retaining walls, 100,000 linear feet of piling, 18 new bridges, three underpasses, drainage installations, track and signalisation installation and 60 track miles of new rail.
Zone 4
This 129-mile corridor of existing track between Cocoa and West Palm Beach was upgraded from Class IV to VI (allowing service up to 110mph) and included a second main track built parallel to the existing track. Work includes the shift of 56 miles of existing track, construction of 100 miles of new Class VI track within the existing right of way, rehabilitation of 28 miles of existing sidings, the installation or relocation of approximately 80 turnouts and crossovers, relocation of fibre duct parallel to the ROW, and upgrades and added improvements to 156 railroad crossings. Work also included replacement of 19 bridges including two movable bridges, the replacement of the Loxahatchee River Bridge and the rehabilitation of the St. Lucie River Bridge. 
Safety Components and crossings
Brightline has made crucial safety improvements at all 156 railroad crossings along the 129-mile corridor from Cocoa to West Palm Beach. Those improvements vary per crossing, but include new crossing gates, signal systems, pedestrian gates, pavement markings and roadway profiles. Where trains will operate above 79mph, crossings have quad gates or medians to prevent motorists from driving around lowered crossing gates.
Engineering achievements
Some of the innovative engineering on the Orlando expansion includes:
Box-Jacked Tunnels – Brightline used a box-jacking method for the first time outside the northeast to build two train underpasses in a fraction of the time it would take using conventional methods. Precast concrete boxes under two Central Florida roadways took just weeks to complete, compared to traditional underpass methods that would have shut down local roadways for nearly a year. Hydraulic jacks were used to move the concrete boxes, each weighing more than 3,000 tonnes, the equivalent of 15 Boeing 757's, standing three stories high and holding three semi-trucks end-to-end. The installation moved at approximately 3 feet per hour, running 24/7
The St. Lucie River Bridge, Martin County –

Among the work on 56 bridges connecting Central to South Florida on the Brightline route was the rehabilitation of the 100-year-old St. Lucie River railroad bridge in Stuart, Fla. Brightline crews worked 24/7 in May 2023 to complete the infrastructure work that included the replacement of the mechanical, electrical and control components of the bridge. Boaters will now see several benefits, including dependability of bridge openings and closings, which will reduce the risk of extended unplanned closures

The Loxahatchee River Bridge, Jupiter, Palm Beach County –

The second movable bridge on the project, the 583-foot-long Loxahatchee River railroad bridge in Jupiter, Fla. was built in 1926, and was replaced with a brand-new structure bringing improved reliability and efficiency to the bridge in 2022. Due to the type of construction work and necessary safety precautions, installation of the new drawbridge took place over a seven-week period in April and May of 2022. Brightline rehab work on the bridge also included full replacement of the electrical system and operating machinery and the addition of a second track. Boaters now see improved dependability of bridge openings and closings and additional clearance for small watercraft. A new small craft navigation span was added at the south end of the bridge, increasing the vertical clearance by 14" to allow more vessels to pass without the need to open the drawbridge.
The future
For the next phase, Brightline will continue critical high speed train testing throughout the corridor between West Palm Beach and Orlando and will test up to 110mph through Brevard County in July 2023. In addition to testing, Brightline recently completed its final rail and track cutover on the 170-mile project, which integrates a new second track into the existing corridor. Once testing is complete, Brightline will conduct crew certification and revenue service demonstration.
"Completing this project is the culmination of more than a decade of dedication, determination and hard work," Mike Reininger, CEO of Brightline, said. "Our team has shown its relentless ability to navigate and overcome challenges to bring us where we are today. We have built something remarkable, and I am excited to see millions of people ride brighter."
"It is an honour to witness the completion of construction for this project," Patrick Goddard, President of Brightline, said. "This is a testament to the commitment, collaboration and extraordinary innovation of the Brightline construction team and I commend every member of our team for their tireless dedication, expertise, and determination in being a key part in connecting the state of Florida through rail."