4.9 million journeys in two weeks on Southeastern for Paralympics
More than 4.9 million passenger journeys were made on Southeastern services during the London 2012 Paralympic Games…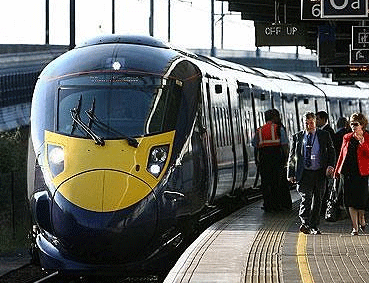 Southeastern today announced more than 4.9 million passenger journeys were made on Southeastern services during the London 2012 Paralympic Games.
Charles Horton, managing director of Southeastern thanked passengers for helping to make the Games transport a success and said: "We carried around 100,000 extra passengers every day during the London 2012 Paralympic Games, including around a million journeys on our Javelin® service. Our passengers helped make the Games a success by changing the way they travelled to avoid the busiest times. We'd like to thank them again for listening to the travel advice, for altering their journeys and for their patience during this truly memorable event."
Southeastern highlights for the London 2012 Paralympic Games:
4.9 million journeys were made on Southeastern services, including 1 million journeys on the Javelin® service in the two week period of the Games.
The busiest day for the Javelin® service was on Saturday 8 September with around 95,000 journeys, 30,000 of these journeys were made before 10am.
The average punctuality for the two week period was 95%*
More than 2,700 disabled passengers were provided with assistance to board and alight from services. This is an average of 225 passengers a day, nearly seven times more than on a normal day.
Extra train services were added to the Paralympic timetable to cater for the increased demand and late night Javelin® trains were placed on standby to help transport spectators home from late running events at the Olympic Park. Around 1000 extra temporary staff were working at stations to help with crowd management and to provide extra assistance to passengers.
Mr Horton added: "All 4,800 full-time and temporary employees; from the station staff to the train drivers, the assisted travel coordinators, the engineers and maintenance crews to the operational teams in the control centre – they all worked exceptionally hard to provide a good service for our passengers. I'm proud to see such positive feedback from our passengers and spectators; we had planned for this event for two years and we've learnt a great deal. We will continue to work hard to provide the best possible service in the future."
*On time is measured of trains within 5 minutes of the printed timetable.
Related organisations
Related people