Centro welcomes Prime Minister's commitment on high speed rail
A commitment by the Prime Minister and his Transport Secretary to press ahead with the HS2 high speed rail link was welcomed…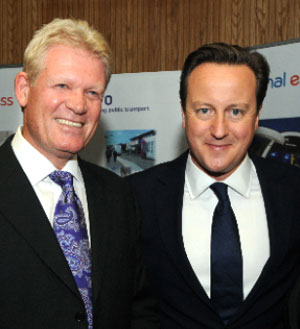 Centro Chief Executive Geoff Inskip meets Prime Minister David Cameron at the Conservative Party Conference in Birmingham
A commitment by the Prime Minister and his Transport Secretary to press ahead with the HS2 high speed rail link was today welcomed by Centro, the region's transport authority.
The unstinting support for HS2 expressed by David Cameron and Patrick McLoughlin at the Conservative Party conference in Birmingham was today described by Centro Chief Executive Geoff Inskip as "tremendous news for the West Midlands".
"Our research confirms HS2 will bring 22,000 jobs and £1.5bn per year to the West Midlands," he said.
"It will also release capacity for more passenger and freight services on our increasingly busy existing lines. This announcement is exactly what we wanted to hear and cements the continuing cross-party support for HS2."
Mr Inskip had earlier met the Prime Minister at a Centro reception organised as part of the conference being staged at the city's International Convention Centre.
Mr Inskip also outlined plans to ensure people in the region got the best possible deal from HS2 during a Centro fringe event entitled 'Shaping the National Transport Agenda to Benefit the West Midlands.'
Mr McLoughlin later told the Conservative Party Conference: "I will be cracking on with HS2…we cannot afford not to build it.
"At the start of this year, the government committed to build a new line not just to Birmingham but on to Manchester and Leeds."
Mr McLoughlin said he would soon be publishing detailed plans for the route north of Birmingham (phase 2) connecting the West Midlands with the East Midlands, North West and Yorkshire. He said he wanted even more parts of the country to benefit.
"So we're launching a study on the way to get fast journeys further north still with the aim of getting the journey from Scotland to London to under three hours, because this will be a scheme for every person in Britain," he said.
Prime Minister David Cameron again reiterated his commitment to HS2.
He described HS2 as 'very important infrastructure' and said it was just the beginning of a network that would go from London to Birmingham, Leeds and Manchester and up to Scotland as well.
Related topics
Related organisations
Related people