Women 1st Shine Awards and Top 100 Club recognise best female talent in rail
Female leaders from the rail sector have been recognised at the 2014 Women 1st Shine Awards, where seventeen leading businesswomen were also inducted into the Women 1st Top 100 Club…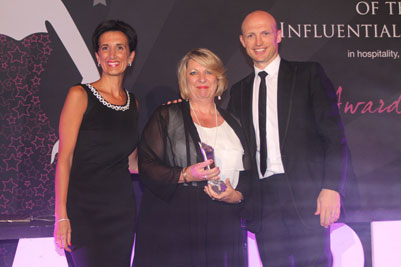 L-R Tea Colaianni, Merlin Entertainments; Karen Boswell, East Coast Main Line Company Ltd; Matt Dawson MBE
Female leaders from the rail sector have been recognised at the 2014 Women 1st Shine Awards, where seventeen leading businesswomen were also inducted into the Women 1st Top 100 Club. 
The ceremony, held at the London Marriott hotel in Grosvenor Square, was attended by over 150 industry leaders and hosted by ex-rugby union star and now television presenter, Matt Dawson MBE.
Organised by Women 1st, this annual event aims to recognise and celebrate female talent in hospitality, retail, passenger transport, travel and tourism, shining a light on individuals who show outstanding talent, aptitude and initiative in their roles and recognising the mentors and businesses that support their careers.
Karen Boswell, managing director for East Coast Main Line Company Ltd. scooped the coveted Woman of the Year Award (sponsored by Merlin Entertainments), while Norma Unwin, route operations manager – First Capital Connect at FirstGroup, was also acknowledged as a positive role model by the judges in the same category.
The Women 1st Top 100 Club lists the most influential women in hospitality, passenger transport, travel and tourism. Its members have reached the pinnacle of their careers and act as positive role models providing motivation and guidance for the next generation of leaders.
The 2014 inductees into the Top 100 Club from the rail industry are:
Clare Burles, HR Director, East Midlands Trains
Julie McComasky, HR Director ScotRail, First Group
Karen Boswell, Managing Director, East Coast Main Line Company Ltd.
Loraine Martins MBE, Director of Diversity and Inclusion, Network Rail
Simone Roche, director of Women 1st, commented: "I'd like to congratulate all the winners and also say well done to all the finalists for getting this far. 
"The Top 100 Club and the Shine Awards give us a chance to recognise individuals, mentors and businesses that make a real difference to the companies they work for and to our industry, and demonstrate just how many talented women we have in our sector.
"Both our winners and shortlisted finalists are an inspiration to their industry and are great examples of the drive, commitment, enthusiasm and sheer passion required to make it. Crucially, they also provide excellent role models for tomorrow's female leaders, helping to ensure that our industries build a strong pipeline of talent for the future."
Women 1st is a campaigning arm of People 1st, the leading skills and workforce development charity for employers in the hospitality, tourism, leisure, travel, passenger transport and retail industries.
It was launched in 2009 to address the issue that large numbers of women were leaving the hospitality, leisure, travel and tourism industries each year and the imbalance between men and women at senior levels. Subsequent research has shown that both passenger transport and retail face similar problems, and the initiative now covers the whole tourism and visitor economy sector.
To find out more about the Shine Awards and for the full list of winners visit www.women1st.co.uk/awards. The full Top 100 Club list is available at www.women1st.co.uk/top-100.
The Women 1st Shine Awards is sponsored by Unilever Food Solutions UK and Ireland, and the Women 1st Top 100 Club is sponsored by Fraser Giles Partnership.