ContiTech's sustainable solutions for tomorrow's rail transport at InnoTrans
From spring systems and bellows materials for rail vehicles to hoses for railway operations to air actuators in pantographs: ContiTech is an experienced partner for the rail vehicle industry, offering innovative rubber and plastic products that meet the highest demands…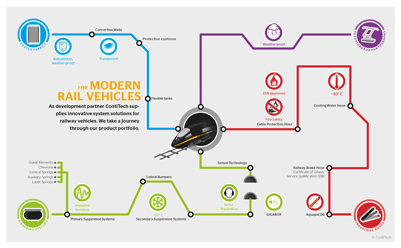 From spring systems and bellows materials for rail vehicles to hoses for railway operations to air actuators in pantographs: ContiTech is an experienced partner for the rail vehicle industry, offering innovative rubber and plastic products that meet the highest demands. In line with the guiding principle "Engineering Next Level", the business divisions of ContiTech are tailored to the increasing requirements of the different markets. And it's not just about components and systems, but also joint developments with customers that render rail transport fit for the future.
With many years of expertise in materials and development, ContiTech offers products known for their quality that boast a long service life even under the toughest conditions. Areas of application with extreme temperatures place high demands on spring systems in rail vehicles. For such application conditions, ContiTech has developed the K air spring: It withstands temperatures as low as -50°C and is an example of the comprehensive development expertise of ContiTech.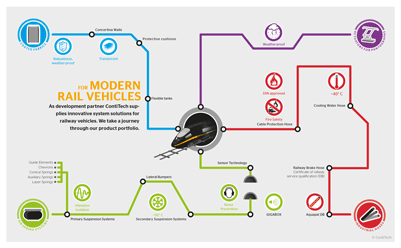 ContiTech air springs and spring systems increase comfort and safety in metro trains, streetcars, and high-speed trains. In doing so, they increase the appeal of environmentally friendly rail transport for passengers. At the same time, they help reduce noise pollution in cities and congested areas. For years, ContiTech has been particularly active in research projects for lowering noise in railway freight transport and offers solutions that considerably reduce rail traffic noise. 
In the replacement sector, MEGI® springs and air spring systems help increase the service life of rail vehicles, and in doing so help make rail transport more sustainable. Its strong global partner and trade network enables ContiTech to respond quickly to market demands. A good example of this successful network comes from the UK. For many years now, ContiTech has been working successfully with its sales partner Ferrabyrne in Littlehampton, providing British customers with a comprehensive service. This is a success story that can be applied to global structures.
Adaptation to new fire standard
Even before its coming into force in 2016, ContiTech products already satisfy the requirements of the new European fire standard EN 45545. The ContiTech rail hoses, for example, have already been successfully tested according to the new uniform European fire standard EN 45545-2. ContiTech is also working to adapt its air spring systems to the new fire standard. In the process, the company is using the synergy effects from the Continental Corporation, building on the know-how from other business divisions.  
In continuous, long-lasting service
As a flexible transition system between individual cars, bellows materials are in constant movement and must withstand falling rocks, UV radiation, rain, and snow. ContiTech product solutions meet these requirements in a reliable way. They travel in high-speed trains as well as in metro trains. 
Air actuators in pantographs are also especially durable. In power transmission, they generate the right amount of pressure required to bring the conductor lines into contact with the overhead line. Lightweight, highly durable, and maintenance-friendly, they can withstand extreme weather conditions and are resistant to UV radiation and dirt.
ContiTech will be showcasing these and other product solutions for the rail vehicle industry at InnoTrans in hall 9, booth 501.
Related topics
Related organisations