New East Coast franchise starts
Rail minister Claire Perry visited King's Cross station today (2 March 2015) for the official launch of the new Virgin Trains East Coast service between London and Scotland…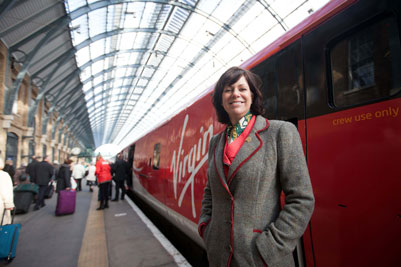 Claire Perry viewed the first train to wear the full Virgin Trains East Coast livery
Rail minister Claire Perry visited King's Cross station today (2 March 2015) for the official launch of the new Virgin Trains East Coast service between London and Scotland.
The service will transform rail journeys along the East Coast Main Line, with more seats, more services and new trains, underpinned by £140 million of investment. This follows the government announcement in November 2014 that it had awarded the East Coast franchise to a consortium of Stagecoach and Virgin.
During her visit Claire Perry viewed the first train to wear the full Virgin Trains East Coast livery. She also welcomed the launch of the company's new £3 million fund, which will allow passengers and communities along the route to suggest how their experience can be improved.
Claire Perry said:
"Today is the start of a new chapter for the East Coast franchise. Passengers will benefit from thousands of extra seats, new connections and improved services between London and Scotland. The deal also means more than £3 billion will be returned to taxpayers.
"We are investing record amounts in building a world-class railway as part of our long-term economic plan."
The new franchise, which runs until the end of March 2023, will bring benefits for passengers including:
23 new services from London to key destinations, with 75 more station calls a day
plans for new direct links to Huddersfield, Sunderland, Middlesbrough, Dewsbury and Thornaby
3100 extra seats for the morning peak time by 2020, with an additional 12,200 seats across the fleet
faster journey times, with regular service to Leeds in 2 hours and Edinburgh in 4 hours
65 state of the art Intercity Express trains brought into passenger service from 2018, totalling 500 new carriages
a £140 million investment package to improve trains and stations.
Virgin Trains East Coast is also reducing long-distance standard anytime fares by 10%, which could save passengers travelling from Edinburgh to London around £15 on those journeys. A new website, smartphone apps and other technology improvements will further improve door-to-door travel for customers, including planning journeys and buying tickets.