Todmorden Curve railway line opens for the first time in 40 years
Todmorden Curve, a stretch of railway in the north west of England, has reopened further to a £10 million investment.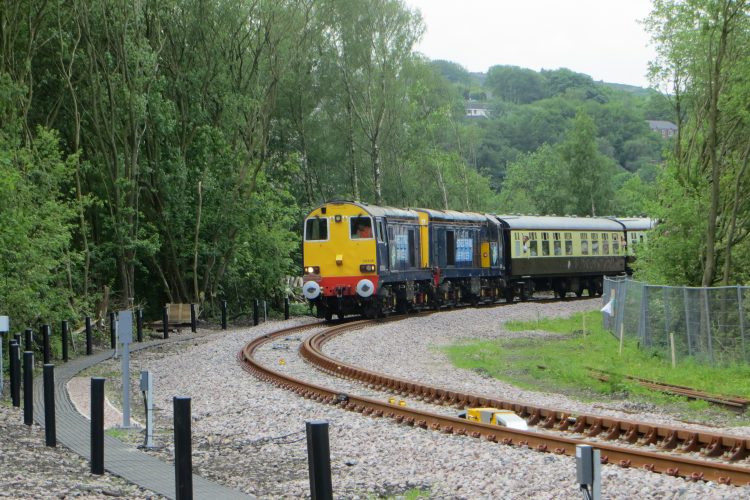 The line, which provides a direct link between Manchester and Burnley, reopened for the first time in over 40 years.
The inaugural Northern Rail train service began on Sunday 17th May 2015 following a £10 million investment from Burnley Borough Council, Network Rail and Lancashire County Council. The first commuter service began with the 0818 from Blackburn on Monday 18th May.  
The new 300m-long section of rail provides a vital link between the lines from Preston to Hebden Bridge and Manchester Victoria to Leeds and removes the need for rail customers to change at Preston or Hebden Bridge, reducing journey times by up to 25 minutes between Manchester Victoria and Burnley.
Terry Strickland, area director for Network Rail, commented on the reopening: "The reopened Todmorden Curve is a significant improvement to the railway in this part of the country and will allow services to run directly between Manchester Victoria and Burnley Manchester Road for the first time in decades. We have worked closely with Burnley Borough Council, Lancashire County Council and Northern Rail to make this happen and it is an excellent example of partnership working to help deliver a better railway for passengers."
County Councillor John Fillis, Lancashire County Council cabinet member for highways and transport, said: "It is a fantastic achievement by everyone involved to re-establish the direct service from Burnley to Manchester which will extend opportunities for local people and have a real impact on the economy. It shows what can be achieved when partner organisations are clear about their priorities and work closely together to deliver them. The working relationships established will be instrumental in the ongoing transformation of rail services in East Lancashire. I look forward to the service being a great success, paving the way for better trains and faster journey times in the future."
Councillor Mark Townsend, leader of Burnley Council, added: "We're delighted to have a direct service to Manchester from Burnley once again. It will bring clear benefits to our economy in terms of access to the job market and establishing Burnley as a commuter town. Our outstanding countryside is even easier to reach for visitors. It's a real milestone in our continuing success story and one we wish to celebrate."
Alex Hynes, managing director for Northern Rail, said: "We are delighted to be able to celebrate this milestone in railway history with our partners. We're committed to bringing better services, improved stations and a wealth of local opportunities to the region and this new service is a positive step in the right direction for all concerned."