SBB Bözberg railway tunnel contract delivers boost to transalpine rail freight
Swiss Federal Railways (SBB) has awarded Implenia a SFr 145 million contract to replace the existing Bözberg railway tunnel with a new 4 metre twin-track tunnel further increasing the shift from road to rail freight. The new tunnel will encourage the shift of transalpine freight transport from road to rail. Once complete the tunnel will […]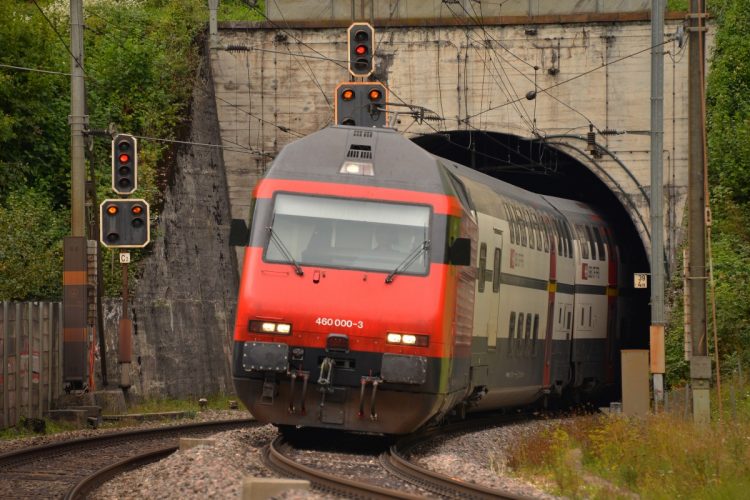 Swiss Federal Railways (SBB) has awarded Implenia a SFr 145 million contract to replace the existing Bözberg railway tunnel with a new 4 metre twin-track tunnel further increasing the shift from road to rail freight.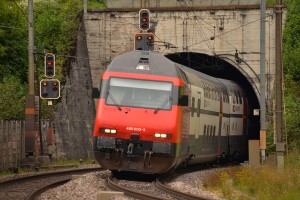 The new tunnel will encourage the shift of transalpine freight transport from road to rail. Once complete the tunnel will enable containers with a corner height of 4 metres to be transported along the route. Construction is expected to commence in spring 2016 and will become operational in 2020. Five emergency exit cross-shafts from the new to old tunnel will be completed by 2022.
Installation sites are being set up at both the northern entrance to the new tunnel, located near Effingen and the southern situated at Schinznach-Dorf. The main drilling work will be done by a tunnel boring machine starting at the Schinznach-Dorf site. Excess spoil from tunnel boring will be transported via a newly constructed loading station on the Schinznach-Brugg-Wildegg transport route. This will save a total of 56,700 lorry journeys along the roads from and to Wildegg.
As well as building the new track, the SBB contract includes the installation of some electrical equipment and conversion of the existing twin-track tunnel, which is not big enough for 4 metre containers, into a service and rescue tunnel.  Implenia will also carry out all planning for the total construction.
Detailed plan of construction at the Schinznach tunnel portal (picture: SBB)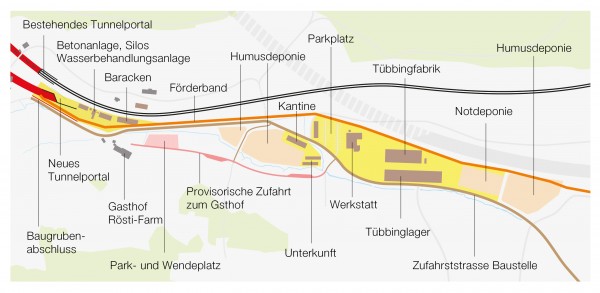 Related topics
Related organisations
Related regions