Jernbaneverket awards Follo Line contact to OHL
The Norwegian National Rail Administration (Jernbaneverket) has awarded the third engineering, procurement and construction (EPC) contract for the Follo Line Project to Obrascón Huarte Lain S.A. (OHL). The Follo Line Project is currently the largest infrastructure project in Norway stretching 22 kilometres on a new double track line between Oslo Central Station and the public […]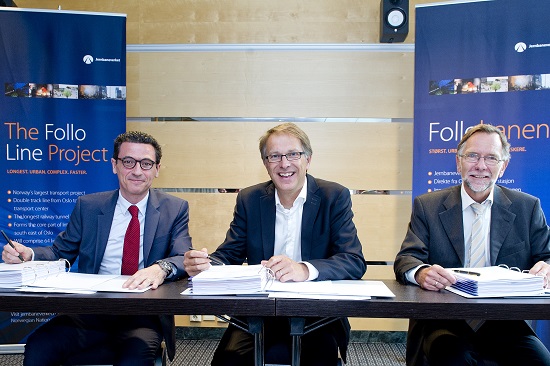 The Norwegian National Rail Administration (Jernbaneverket) has awarded the third engineering, procurement and construction (EPC) contract for the Follo Line Project to Obrascón Huarte Lain S.A. (OHL).
The Follo Line Project is currently the largest infrastructure project in Norway stretching 22 kilometres on a new double track line between Oslo Central Station and the public transport hub at Ski. Contruction work will involve a 20 kilometre railway tunnel (twin bore), extensive works at Oslo Central Station, construction of a new station at Ski and necessary realignment of the existing inbound Østfold line.
The agreement, worth 2.3 billion NOK, is one of six EPC contracts in the Follo Line Project signed by Europe Area Director Mr. José Emilio Pont Pérez from OHL, Deputy Director General Mr. Gunnar Løvås and Project Director Mr. Erik Smith from the Norwegian National Rail Administration (Jernbaneverket). The OHL contract covers the public transport hub of Ski and the open section between Langhus and Ski.
Project Director Mr. Erik Smith commented on the signed agreement: "OHL has become our third main partner to make this mega project a success. We are looking forward to start the main works at Ski and we are aware that many residents in the Ski area will follow the construction work closely. OHL has experience from execution of high-speed railway further south in Europe, and it is a pleasure to welcome the company to Norway."
The Follo Line is scheduled for completion in the end of 2021, and forms the core part of the InterCity development southwards from Oslo.
Related topics
Related organisations